One of the top suspects in the assassination of Haitian President Jovenel Moïse will face charges in the United States after authorities extradited him to Florida.
Officials allege that Mario Palacios was part of the mercenary group that assassinated Moïse in July. He previously served as a member of the Colombian military.
Authorities arrested Palacios in Panama on Monday as he was being deported from Jamaica to Colombia, Reuters reported.
He is set to make his first appearance in U.S. federal court Tuesday afternoon in Miami, making him the first person allegedly involved in the assassination to face formal charges.
Palacios is expected to be charged with conspiracy to provide material support resulting in the death of a foreign leader and conspiracy to kidnap and kill a foreign leader, according to the Miami Herald.
He was allegedly being held in Jamaica on an immigration violation and is believed to have been one of the main executors of the assassination plan.
Claude Joseph, the former Haitian minister of foreign affairs, wrote on Twitter that the arrest is a "step in the right direction."
"I take note of the arrest of Mario Palacios in Panama and his current detention in the United States. It's a step in the right direction," Joseph tweeted. "I urge the Haitian authorities to collaborate with the American authorities so that, within the framework of the extradition treaty of August 9, 1904, this main suspect in the assassination of President Jovenel is extradited to Haiti to answer questions for justice."
Moïse was murdered in his private home in Port-au-Prince, the nation's capital, early in the morning on July 7 by a group of individuals who broke into the residence. His wife, Martine Moïse, also suffered injuries during the attack but survived.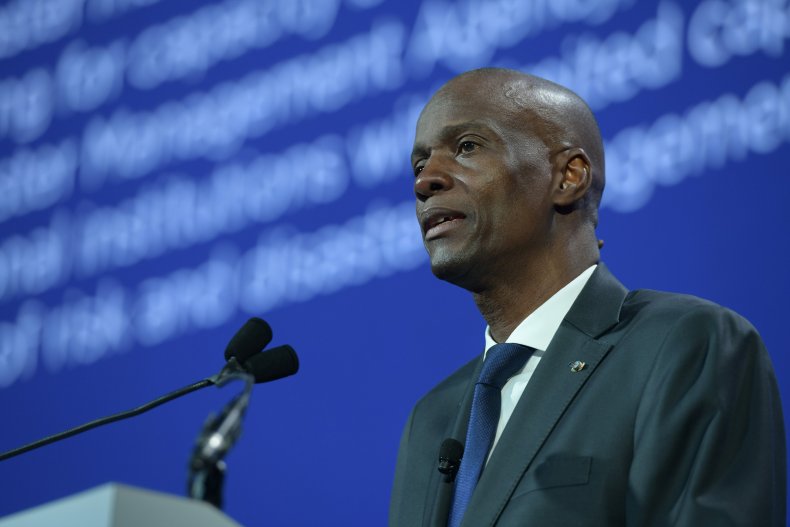 Since the assassination, Haitian authorities have arrested 44 suspects believed to be linked to the attack, but none have been formally charged. One suspect died from complications of a coronavirus-related illness, while the judge conducting the investigation released four others, the Herald reported.
Among those who have been arrested include 18 former Colombian soldiers and a Miami resident who was arrested in Turkey in November.
Moise, a former banana exporter, became president in 2017—taking about 55 percent of the vote in the November 2016 election—after a period of political crises. Leaders of different political parties in Haiti disputed the results. During his tenure, he faced accusations of corruption and dealt with protests over fuel prices.