Kansas Man Looking for Keys in His Couch Finds 6-Foot Snake Instead
A man in Rose Hill, Kansas, had a surprise when he was looking for his keys in the sofa: a six-foot boa constrictor.
Butler County Deputy Fire Chief Melvin Linot told WMBF that the unidentified homeowner called the police as soon as he saw the snake, and a crew came out right away. Linot removed the snake on Monday morning, stating that the animal was "very gentle, very docile."
"I messed with him a little bit, and I took my gloves off. You could handle him real easy," Linot told the station. The reptile was removed from the home without incident.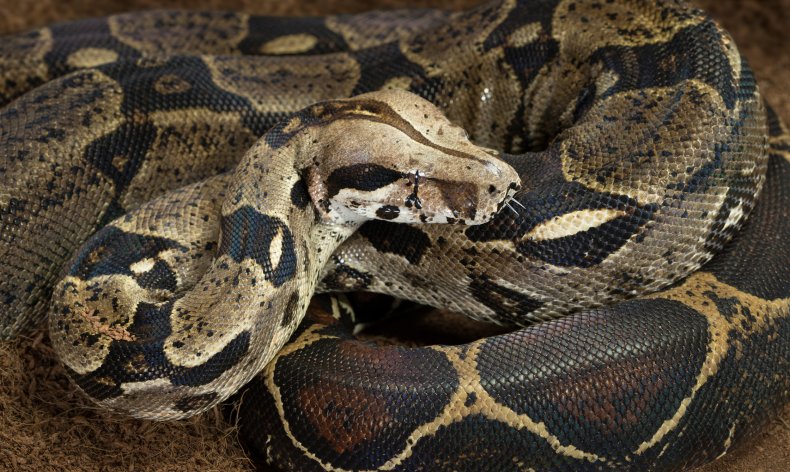 According to the fire department, the man had lived in the home for four years and had never owned a snake. The animal was taken to a local pet shop for safekeeping until the owner comes forward. If nobody claims it, it may be donated to a traveling educational reptile program.
The fire department posted about the incident on its Facebook page, along with a request that if anybody knows who the snake belongs to, they should give the fire station a call.
Many locals shared their own snake stories in the comments, with one stating, "I lost [a] ball python in my house in December and she did not come out of the heating ducts until August."
In the photo, the snake displays a lump a foot or so down from the head, appearing to indicate that it ate recently. It appears to be in good shape and relatively healthy.
It is unknown how the boa constrictor made its way into the man's house.
Snakes often seek dark, warm spaces to seek shelter, especially in the colder months.
In 2017, WTVR reported on an Englewood, Florida, man who discovered a massive boa constrictor had been living in his attic after his family complained about noise from above.
Reptile experts believe that snake had been nesting in the insulation for as long as four years, based on shed skin that was left behind after the reptile was removed.
Red-tailed boa constrictors are commonly kept as pets because they are nonvenomous and fairly even in temperament. However, they are notorious escape artists, and there are dozens of reports of pet boas getting out of their cages and invading places as diverse as car engine compartments, dresser drawers and washing machines.
Kansas Man Looking for Keys in His Couch Finds 6-Foot Snake Instead | News