Man Loses $2.4 Million Betting on Kentucky Derby Favorite Essential Quality
Jim "Mattress Mack" McIngvale made history this weekend by betting $2.4 million on one horse at the Kentucky Derby. Then he made history by losing all of it.
McIngvale, a businessman from Houston, wagered nearly two and a half million on Essential Quality, who was the favorite to win the race with 2-to-1 odds. He said earlier this week that he planned on betting up to $4 million at Churchill Downs, with $2 million of that going on Essential Quality.
McIngvale is known in the greater Houston area as "Mattress Mack." Sometimes he makes wild wagers on Houston-area teams to win titles. In return, he runs specials at his Gallery Furniture stores that coincide with his bets. If the team he bets on wins their championship, then those who bought a certain amount of money in mattresses will get their purchases refunded.
He did the same with this year's Kentucky Derby. He ran a similar campaign at his stores that, if anyone who bought mattresses worth at least $3,000, they would get a refund if Essential Equality wins. Those customers could refuse the full refund for 150 percent of that refund with in-store credit.
Essential Quality finished the race in fourth place behind Derby winner Medina Spirit, runner-up Mandaloun and third-place finisher Hot Rod Charlie.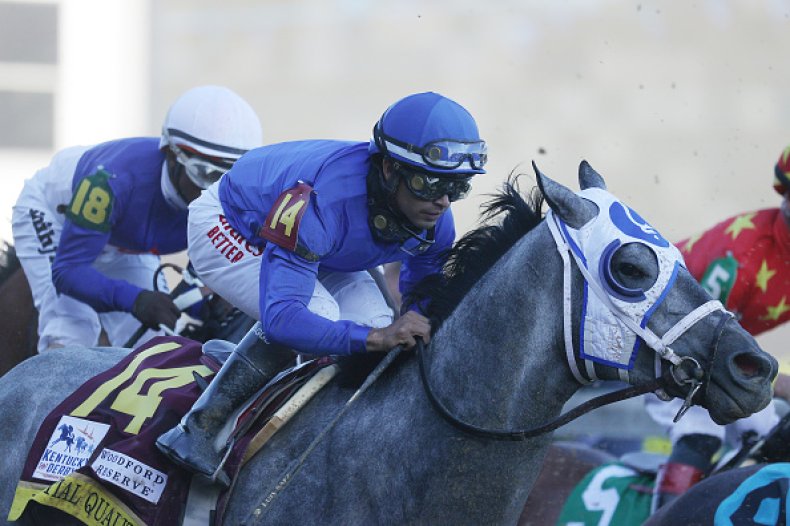 Mattress Mack had faith in the favorites at Churchill Downs, according to confidence in one interview last week.
"I think it's going to be a straight win ticket, but I may bet some exactas as well, some high-dollar exactas obviously wheeling Essential Quality," McIngvale told Horse Racing Nation. "I can't wait to get to Louisville and watch Essential Quality hopefully win—and win lots of free mattresses for these customers."
But since Essential Quality did not win, McIngvale likely recuperated some of his losses by selling a few mattresses.
In 2017, McIngvale refunded money because his hometown Houston Astros won the World Series. In 2019, he lost his bet on the Astros.
Earlier this year, he placed $3.4 million on the Tampa Bay Buccaneers to win Super Bowl LV, and he cashed in. Then for March Madness, he bet $1 million that the University of Houston would win the men's NCAA basketball tournament. The Cougars had 9-to-1 odds, and they made the Final Four, where they lost to eventual champion Baylor. McIngvale would have won $9 million.
He promised that if Houston would've won it all, those who purchased mattresses with at least $3,000 not only would have gotten their money back, but an extra $1,500 on top of that.
McIngvale's not all about gambling, wheeling and dealing, though. When Hurricane Harvey devastated the greater Houston area in 2017, he opened up his furniture stores for misplaced Houstonians, giving them a place to sleep, shower, eat and begin working to get their lives back on track.
He's also given back to the local communities through charity work through not only his business, but with the help of some of the local sports legends—particularly Astros, which are undeniably his favorite team in the Bayou City.