Tom Anderson, a gay resident of Taunton, Massachusetts, said a random driver attacked him in his own front yard late last month over a rainbow flag that Anderson hung outside his home.
"We had put the flag up maybe an hour beforehand," Tom Anderson said. "It was Pride month," he said, meaning the month of June, a time where LGBTQ people and their allies commemorate the contributions and struggles of the LGBTQ community.
A man driving by Anderson's home stopped his car, exited his vehicle and attacked Anderson in his own yard. The man swore at him, called him an anti-gay slur and then punched him in the face.
Tom's husband of over nine years, Jacob, watched in horror from their front porch. The assailant then returned to his vehicle and sped off.
The attack knocked out Tom's two front teeth and tore his upper lip, requiring several stitches, according to WFXT.
Another driver who witnessed the attack stopped to help the two men and later provided details to police about the attacker and his car. Police have said they're still investigating but haven't named any suspects.
"I'm more worried about [the attacker] getting away with it and thinking 'Okay, this is okay to do," Tom said.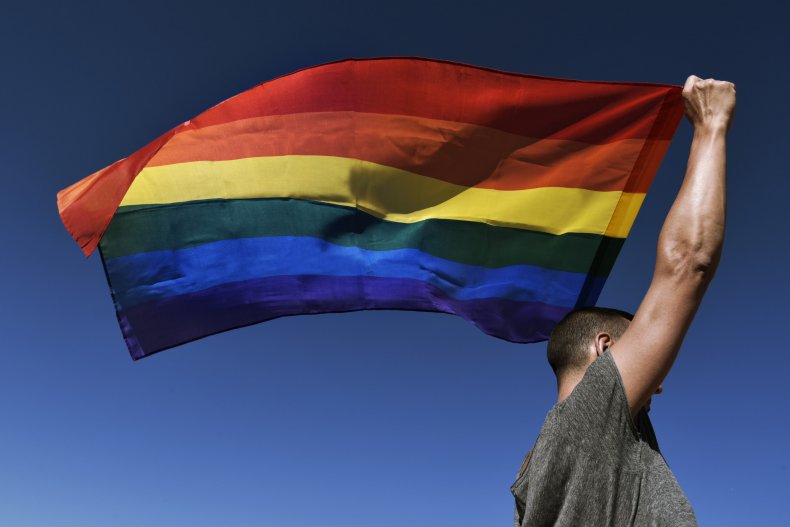 Jacob said that since the attack, friends, neighbors, coworkers, other community members and complete strangers have offered outpourings of support, both online and through small gifts. One person even gave the couple a security camera to help protect their home.
Tom has said that the attack has made him just want to fly the LGBTQ Pride flag from his home year-round rather than for the one month he had originally intended.
"It's definitely a hate crime just based on the words he used," Jacob said of the attacker.
In 1996, Massachusetts added sexual orientation to its 1983 hate crime law which adds legal penalties for those who deliberately attack others based on their perceived membership among a certain race or social group.
Typically, prosecutors of hate crimes point to an attacker's words or histories as proof of their bias against a targeted group.
Massachusetts's hate crimes law allows survivors to seek injunctions requiring perpetrators to avoid those they harmed. The law also allows survivors to pursue financial penalties for medical costs, emotional distress and any other damages.
In 2004, Massachusetts became the first U.S. state to offer its residents legalized same-sex marriage. The U.S. Supreme Court declared same-sex marriage legal nationally in 2015.