Man Loses 'Love of His Life' After Lying About Religion and Marrying Ultra-Orthodox Woman
Eliyah Hawila, a Lebanese man who moved to the U.S. with his family in 2015, has lost his wife — and part of his identity — after it was discovered that he was faking his religiosity.
Hawila, 23, told Israeli TV, as reported by The Times of Israel, that growing up he was not religious. Though his father "used to pray and fast like regular Muslims," his mother was not religious and he felt no connection to Islam.
"The first thing I remember googling was Jewish Bible, and I got a copy of the Tanach, a PDF," he said. "I felt, you know what, this is right, this feels like the word of God. So I started looking up even more and more, Jewish laws, Jewish prayers."
He said he began "coming out to people" as Jewish, which resulted in being spit on and death threats. After moving to the U.S., he thought he would now be able to practice Judaism as he pleased and sought out local synagogues.
The Times of Israel reports that he was turned away from a reform community in Houston when he inquired about converting officially.
"When I got rejected, I started just saying I'm Jewish. My name is Eliyah, and this is the name I chose for myself because I love the story of the prophet Elijah," Hawila said.
Tablet Magazine reported earlier this year that after a survey it conducted, it found that trends suggest that more people are converting to Judaism. The article says that the publication sent surveys to 100 rabbis of all Jewish denominations and got responses from 79. Thirty-four, which is 43 percent, said they were performing more conversions than previously in their careers. The articles notes that while the old stereotype existed that most people converted for marriage, nowadays that reason is not as prevalent.
Hawila became active in the Jewish community, and met his soon-to-be wife on a Jewish dating site where he "falsely presented himself to her as observant," Rabbi Yossi Lazaroff, the head of the Chabad house in Texas A&M University where Hawila attended, said in a statement obtained by The Times of Israel.
Newsweek contacted Chabad at Texas A&M University but they did not respond in time for publication.
Lazaroff said, according to The Times of Israel, that when asked by the bride and her family about Hawila, he told them that his "conduct did not reflect that of a fully observant Jew." He said he trusted that the rabbi who officiated the nuptials would have done his due diligence.
As suspicions began to arise, Hawila created stories to cover his tracks. He says his wife and her family, who come from an ultra-orthodox Syrian Jewish community in Brooklyn, found an ID with his birth name, Ali Hassan Hawila, printed on it.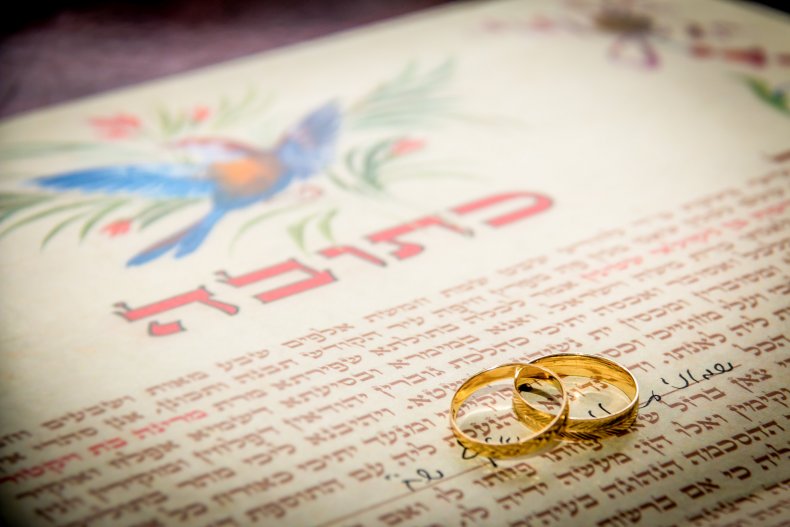 He said he was on a mission and part of the National Security Agency, The Times of Israel reported.
After the wedding, suspicions remained when none of his family members attended the nuptials. His wife's father took to Google and made contact with Hawila's father, who revealed the truth.
"So I started making even more stuff up, I ... I ... I was panicking, and they took her away from me, they separated her away from me," he said.
Now, he says while the woman is the love of his life, he understands if she won't give him a second chance.
The Times of Israel notes that even if he were to convert, which is still his goal, due to an edict within his wife's community as of 1935, members of the community are not allowed to marry converts.