Man In MAGA Hat Flashes Gun As Restaurant Employee Asks Him to Wear a Mask
An unidentified, middle-aged man wearing a red "Make American Great Again" cap entered RJ's Bob-Be-Que Shack—a restaurant in Mission, Kansas—without wearing a mask, something required by June 29 executive order issued by the state's Democratic Governor Laura Kelly.
When a 17-year-old employee named Arlo Kinsey told the man that the customer needed to wear a mask, the man said he had an exemption to the governor's order, lifted up his shirt and revealed a gun in the holster upon his hip, according to the Kansas City Star.
Kinsey interpreted the man's gesture as a threat and wondered if the man was actually going to shoot him.
"All we're asking is that you wear a mask for a couple of minutes," Kinsey told the publication. "We could have taken your order outside if you didn't want to. But you go into an air-conditioned area without a mask on, and if I tell you to wear one, you're going to shoot me? Wow. I make $8.50 an hour, plus tips—for this?"
Kinsey went into the back kitchen area and told the restaurant owner, Bob Palmgren, what had transpired. Palmgren then walked to the front counter to confront the man.
Palmgren, who said he likes Trump, claimed that he got into an escalating back-and-forth with the man, eventually telling him, "Everybody's got problems. But it doesn't make a difference. You don't have a mask on.... Your gun's not going to kill coronavirus, now get the hell out of here."
The man left before he could be identified. It's unclear if surveillance cameras captured the man's image on video. Newsweek reached out to the restaurant for comment.
"I get people in here that don't want to [wear a mask] and think that we're a small place so we won't enforce it or something," Palmgren said. "But if everybody gets sick, then I'm out of business. So I've got to enforce these rules."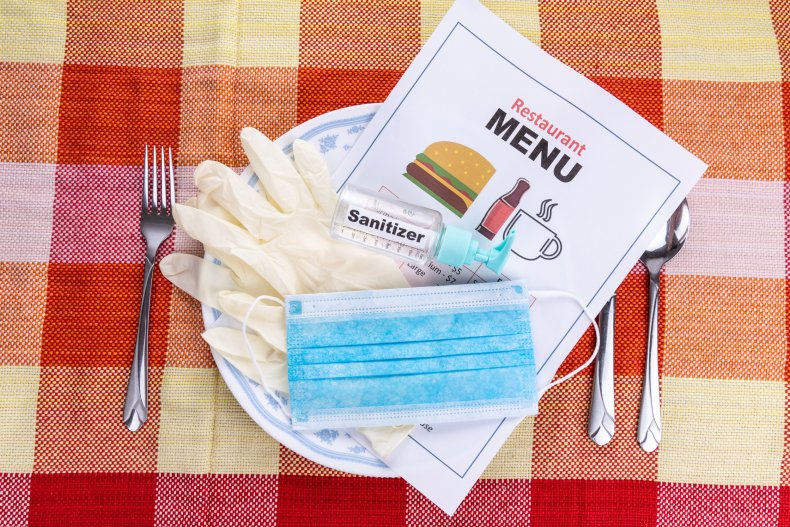 The publication notes that memes have been circulating on social media among online gun groups claiming that state open- and concealed-carry laws for firearm owners require that anyone carrying a firearm not wear a mask, but no such laws exist, federally or in Kansas.
Johnson County has the highest number of COVID-19 related deaths in all of Kansas's 105 counties. As of July 13, the county has had 3,160 confirmed coronavirus cases, putting it just 10 cases away from being the county with the highest overall number of cases.