Man With Mask Not Covering Mouth Yells at Maskless Woman: 'You're a D***head'
A woman filmed a man attempting to argue with her over face coverings in a London Underground station; he used vulgar language to ridicule her for not wearing one.
Twitter user "@naijagyaldee" wrote that the altercation happened late Sunday night at a station along the Underground's Central Line. The video, which the woman initially posted to her Instagram story, begins with a blue bearded, mask-wearing man yelling as he walked toward her.
[Editor's note: This video has some vulgar language and should be viewed with caution.]
"F***ing sort your s*** out," he told her, walking along the near-empty platform to get closer to the woman. The woman, who goes by Duana W on Instagram, added a text overlay to the video suggesting the man's rant was "completely unprovoked."
The man, holding a pair of headphones, walked even closer to the woman as he continued yelling: "Yes, film me, cause you're a d***head without a mask."
The woman remained silent and continued filming as the man got very close to her camera, waving his hand as he called her a "c***" and a "nob head" for "putting peoples' lives at risk." The woman wrote over the video that the man was "all up in my face with a mask that dont even cover his big mouth."
The man inquired as to whether the woman had a medical exemption that would keep her from wearing a face covering, to which she did not reply. A bystander attempted to intervene, asking the man to leave the woman alone.
"No! Put a f***ing mask on!" he shouted, turning to argue with the bystander as the video cut off. A selfie of the woman, who was seen without a mask, appeared next with the caption: "nob 'ead," referencing one of the insults that the man had hurled at her.
The woman heard the man cursing down the station's platform as soon as she arrived, she wrote in a message to Newsweek. A few bystanders stepped in to try and get the man away from her, and another woman stood with her until the train arrived.
While British Transport Police has contacted the woman, she told Newsweek she does not wish to get police involved because she believes "it will be a waste of time."
In a statement following news of the incident, a British Transport Police spokeswoman said: "We are aware of this video that is being circulated on social media and our officers are looking in to it further," appealing to the public to provide them with additional information.
Newsweek contacted the British Transport Police for further comment but did not hear back in time for publication.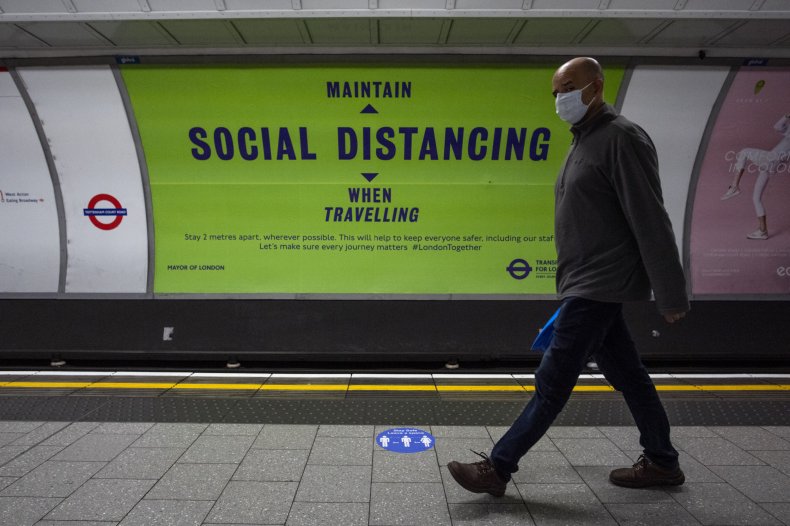 Twitter users jumped to the woman's defense as the video circulated on social media.
"He doesn't even have his own mask on correctly, his whole bottom lip is hanging out!" one person wrote in response to the video.
Another person said the man had no right to enforce the city's mask mandate.
"I don't care if he wants everyone to wear a mask, it doesn't give him the right to try & enforce that notion on others," another said. "If he feels uncomfortable with you not wearing a mask, then he should, you know, following his damn rules and keep his distance from you"
In a statement posted Monday to her Twitter account, the woman who filmed the video wrote that the man "came into my personal space harassing me" and was "clearly looking for a fight."
"I doubt he cared for anyones health as he claims when he clearly doesnt care for his own," she said, adding that she does wear a mask when she feels one is needed.
"It wasn't needed on a virtually empty, socially distanced, hot central line platform at 11 pm on a sunday night," she said. "I can assure you no one was put at risk by me not wearing it."
Face coverings have been required in London since July 24 on all public transportation and shops, according to the mayor's office.