Man Not Funding College for Fiancee's Brother 10 Years After She Died Backed
A man refusing to pay college fees for his late fiancee's little brother 10 years after she died has been cheered online.
The 40-year-old took to Reddit for an impartial opinion, sharing the situation to the site's Am I The A**hole forum, under username u/Unable_Sandwich9545.
Student loans are a substantial debt affecting millions, with website Education Data stating the average cost has more than doubled in the 21st century.
The website noted the average cost to attend college in the U.S. is $35,551 per student, per year.
President Joe Biden announced a plan last month to give Americans "breathing room" in student loan repayments. A statement from the White House noted "...for too many, the cost of borrowing for college is a lifelong burden that deprives them of that opportunity."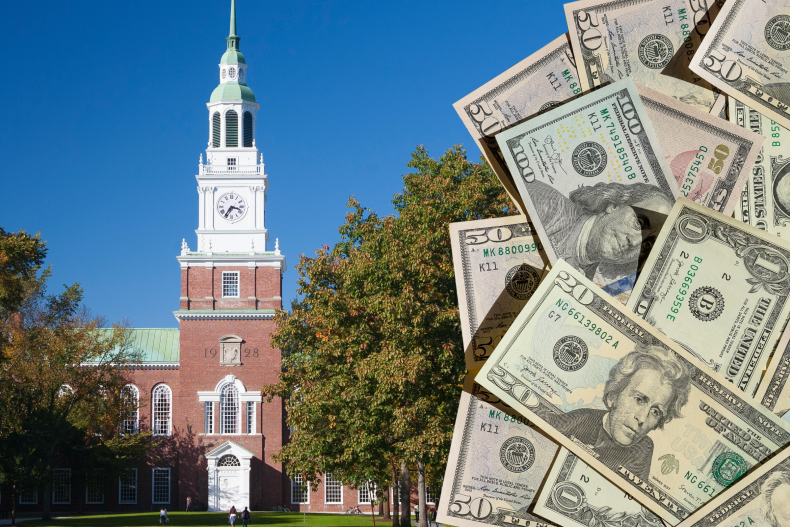 The man explained he lost his fiancee, MG, after she was hit by a car 10 years ago when she was 24.
They'd been dating for 18 months, and MG moved to California after graduating to start their life together; as such, her parents blamed her fiance for her death.
"When she died they took the body back to Maine and told me not to come to the funeral. They said that they would have me removed. I respected their wishes. I had to find out where her grave was from one of her old roommates," he said.
He claimed the one time he visited her grave he bumped into her mom and brother, who lashed out at him.
"She lost it on me. It was my fault that she was in city far from her family and it would not have happened if I hadn't dragged her to California. He told me he hated me like only a seven year old can," he said.
He moved away, never went back, and is now married. But her family recently got in touch, asking him to fund MG's little brother's college fees.
The Redditor explained he was named as the beneficiary on MG's life insurance, and after a leave of absence where he admitted wanting to "join her," he used the cash to quit his job and fund a startup.
He claimed while "not Oprah rich," he does well for himself and could easily afford the tuition, which is for Dartmouth College, he clarified in the comments.
The Ivy League institution stated students are billed six weeks before each term starts, with tuition and fees totaling $83,802 for the year. The college pointed out first-year students also have additional orientation fees of $453.
They broke down the costs as $60,687 for tuition, $10,881 for housing, $1,971 in fees - including orientation - and roughly $7,218 for food.
The site noted: "Plan to arrive on campus with sufficient funds for your out-of-pocket expenses. You will need an average of $1,015 per term to pay for your own books, supplies, laundry, toiletries etc. These indirect costs will not appear on your college bill."
The website noted additional charges, such as health insurance, travel and equipment should also be budgeted for.
Dartmouth's website also stated that 94 percent of students received loans or scholarships in 2022.
The chart below, provided by Statista, shows college debt across America.
Despite that, the Redditor was torn over whether to help the family that were once destined to be his in-laws. He voiced his turmoil, saying: "These are people who I thought would be in my life forever and they abandoned me at the lowest point in my life. I had friends but I have no other family. They didn't just abandon me. They made it worse.
"Now they need my help. They say that if I don't give them the money they will have to take out a mortgage on their house to pay for his education. They said I was in the wrong to even keep the money and that it should have gone to them to begin with.
"I loved these people once but they destroyed me. The money they want is negligible to me. I could give it to them without in any way compromising my lifestyle. I want to brag about how little it will affect me but I feel petty. It's just not much to me but it is life changing to them.
"My wife says it's my choice. I want to punish them for how they treated me. But I know MG would want me to help her family."
The post, which can be read here, has amassed more than 8,000 upvotes and comments, as he was hailed "not the a**hole."
The top comment, from SlartieB, racked up 18,000 upvotes, saying: "NTA and the truth is, that money is gone. You spent it when you needed it, that was her gift to you and her choice that she made. What money you have now, you earned yourself. There is no debt to be repaid, no obligation to fulfill, nothing they are entitled to. What you can afford is irrelevant."
Others agreed, with Stinkybuttfart420 writing: "They deserve OPs money less than any other random person for taking their grief out on him, especially when he was obviously grieving himself. There is no universe where these a**holes deserve your money."
Amegami pointed out: "If she wanted them to have the money, they would have been the beneficiaries."
Although OGrouchNZ added: "However. The brother was only 7 and has been influenced by his parents. OP may like to help him out in honor of his sister, but OP should do it directly and not through the parents."
Newsweek reached out to u/Unable_Sandwich9545 for comment. We could not verify the details of the case.
If you or someone you know is considering suicide, please contact the 988 Suicide and Crisis Lifeline by dialing 988, text "988" to the Crisis Text Line at 741741 or go to 988lifeline.org.
Do you have a similar monetary dilemma? Let us know via life@newsweek.com. We can ask experts for advice, and your story could be featured on Newsweek.