Man Forced to Pay $178k to His Ex-wife for the 30 Years She Dedicated to Housework
In a landmark ruling, a woman in Argentina has been awarded a payout from her husband for the housework and child-rearing she did during their three-decade marriage.
The country's National Appeal Court confirmed that an unnamed 70-year-old woman, identified only as M.L, from the Palermo neighborhood of Buenos Aires will receive eight million pesos ($178,000) from her husband. This is a record payout for such a case, Clarin Sociedad reported.
The couple's roles were defined, with the husband going out to work and the woman staying at home.
The couple separated in 2009 and divorced in 2011. The court ruling stated the woman had experienced financial difficulties while the husband "lived a good life."
In making the decision, judge Victoria Famá took into account the fact that the woman, who was an economics graduate, had given up her career to stay at home.
She also considered how her husband had left her when she was 60, at retirement age and too old to enter the job market.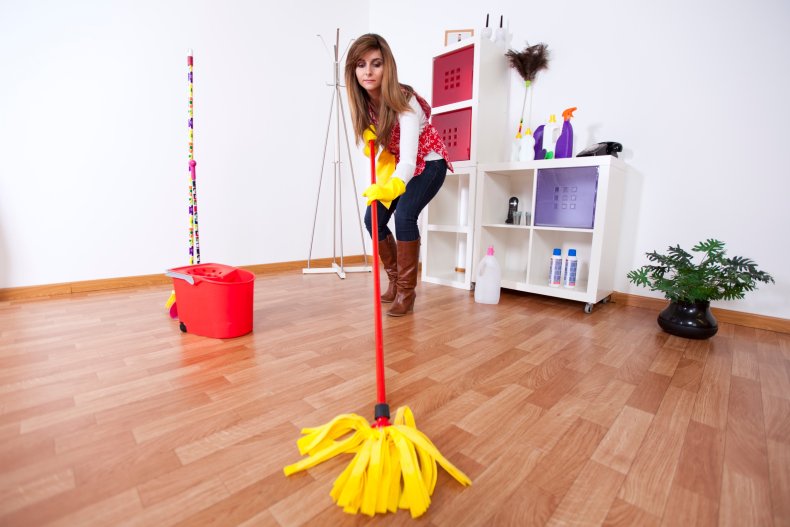 "The economic dependence of wives on their husbands is one of the central mechanisms through which women are subordinated in society," Famá said in her ruling.
"In most families, women still mainly assume the burden of domestic chores and the care of children, even when they work outside the home," the ruling added.
The amount awarded was considered "reasonable to re-balance the disparate economic situation of the spouses resulting from the marriage and its breakup," the judge said.
The woman's lawyer, Laura Gabriela Carranza Acuña, described it as a "very novel" ruling, but would not comment further, owing to the privacy of a family court case.
Family law expert Eduardo Sirkin said the amount awarded was "unprecedented."
"What was demonstrated here is that you have the right to financial compensation, as long as you prove the impact that the divorce has had on the person," he said.
Meanwhile, Lucia Martelotte, deputy executive director of the Latin American Justice and Gender Team (ELA) said: "This verdict is very novel because it acknowledges that what we do in our homes is a job, care tasks are a job because they involve time, effort and skills.
"But this goes unseen and women do not get a salary for that."
Women do more unpaid work at home than men in all 10 of the most developed countries in the world, according to the OECD.
The Bureau of Economic Analysis assessed that in 2010 GDP in the U.S. would have gone up nearly 25 percent if "non-market services" like childcare, and housework were taken into account, according to Econlife.com.