Man Praised for Petty Revenge on Mom Who Wore White Dress to Son's Wedding
A man has been praised as a "hero" online after deliberately pouring red wine on his mom's dress at his brother's wedding.
That's not normally the kind of behavior anyone would condone but he had his reasons, starting with the fact that she turned up for the big day dressed in white.
Few wedding traditions are as steadfastly observed as the rule that dictates the bride wears white and that doesn't look like changing anytime soon. In a 2021 YouGovAmerica poll of 759 married U.S. adults, the majority (50 percent) said they were in favor of keeping the practice in place.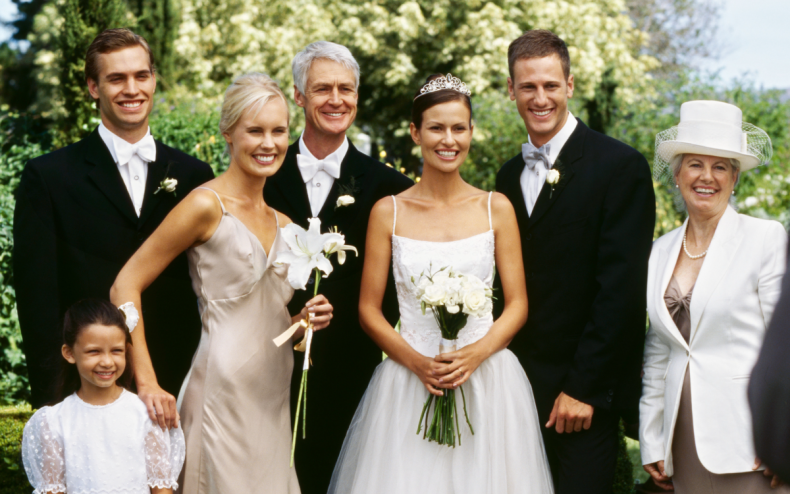 It's also something of an unspoken rule that none of the guests in attendance wear white. According to wedding dress designer Madeline Gardner the reason behind this is obvious enough.
"When you're a guest at a wedding, the most important thing to keep in mind is not to upstage or upset the bride," she told wedding planning website The Knot. "It's safe to stay away from any outfits that are predominantly white, cream or ivory."
So you can understand the man's fury when he arrived at his brother's wedding only to discover that his mother had come in "an incredibly frilly white bridal dress."
"Her dress was much more of a bridal dress than the brides that day as well," he explained in a post shared to Reddit under the handle WeddingHeroGuy554.
According to the man writing in the post, which has been upvoted over 21,000 times, his brother had been with his partner for seven years before they wed and he is especially fond of his new sister-in-law, describing her as a "wonderful woman."
All of which made his mother's behavior that day that much more difficult to bear, with the man hitting out at her for deciding "that one of the most important days in her oldest child's life MUST be made about her in some way."
According to the man, his mom ended up being "the talk of the whole event for all the wrong reasons." He said that his mom had endured a fractious relationship with his sibling and fiancée and they were not even sure she would turn up on the day.
They only saw her as they walked down the aisle, with the man describing his sister-in- law as appearing "livid" when she saw what their mom was wearing. They had particular reason to feel aggrieved too, as her son had actually purchased a dress for her to wear to his wedding.
As the day progressed, the man said he felt increasingly conscious of the fact his "mother was going to ruin this day" so decided to "take one for the team" with a bit of petty revenge.
"We were served glasses of red wine at lunch, and I asked for mine to be filled to the brim," he wrote. "I walked over to where my mother was sitting and "tripped," dousing her perfect white dress."
He feigned an apology with the mom forced to travel home in what he claimed amounted to a "4 hour round trip" to change into another dress, meaning she missed much of the big day.
According to the man, his actions won him praise from both the Maid of Honor and bride, with the latter later sending him a bottle of red wine thanking him "for the best wedding gift you could have given us."
The wedding party were not alone in praising the man's actions either, with many more taking to social media to commend his handling of the situation.
Zachatack7 commented: "Real heroes don't wear capes... they spill wine" with YoJimGeez adding: "They don't wear the cape, they spill the grape."
SnooDoughnuts7315 said: "Salute to you on putting your mom in her place," while OPofThisSpecificPost commented: "This is the best thing I've read all day, thank you."
Jamster_1988 joked: "The bride needs 2 super soakers. One filled with water and the other red wine. Water for any 'surprise proposals' and the wine for people in white."
More-Masterpiece-561 commented: "You saved the most important day of two people's lives and it's a good thing your sister in law's marriage is starting with her knowing someone in her in-laws is a good person.
SnooLentils9851 agreed, writing: "Bravo for standing for your brother's more special day."
Newsweek has contacted WeddingHeroGuy554 for comment.