Man Shot During New Zealand Mosque Attack Played Dead to Survive: 'I Was Calm Because I Would Be a Martyr'
A worshipper caught up in the Christchurch, New Zealand, mosque shootings that left at least 49 people dead said he pretended to be dead so he would not be targeted by the shooter.
Mustafa Boztas said he was listening to the sermon inside the Masjid Al Noor mosque when he heard gunshots.
He told Stuff: "Everyone started running and screaming."
He then raced to the corner of the room before being shot in the leg and falling to the ground.
"I was on the ground faking it that I was dead," he explained, "in my mind I was calm because I would be a martyr."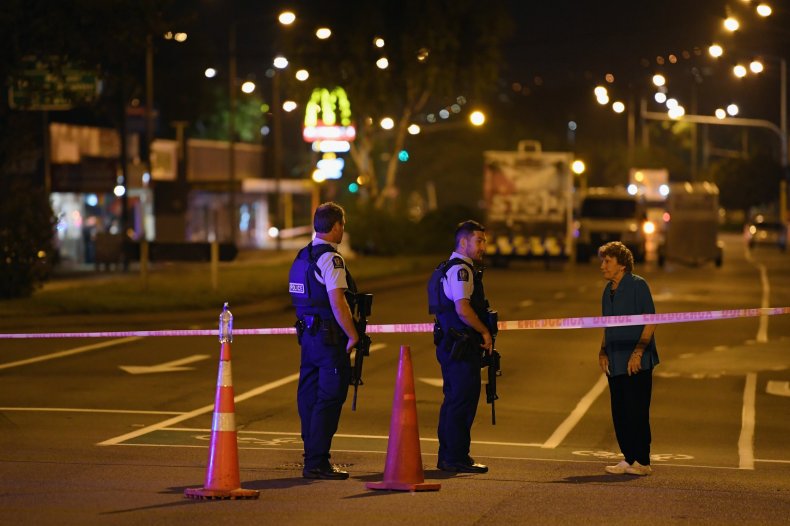 After the gunfire stopped, Boztas made his way outside, where he saw another man running away toward the window. He said he then tried to save a young high school student who was on the ground in the parking lot.
"I did CPR, as I have my first aid certificate," said Boztas. "I tried save him with one leg shot but unfortunately he was already passed away so I closed his eyes and heard more shooting so I ran."
Boztas is being treated in the hospital with a gunshot wound to his leg and liver damage.
Other survivors have described their fear as the gunman fired his rounds.
Mohan Ibrahim was among around 400 people praying inside Masjid Al Noor mosque when the shooting began.
"I didn't get a glimpse of the gunman as I was in the next room, but all of a sudden we heard the shots being fired and people just started running for their lives. I'm still in shock," he told the New Zealand Herald.
Mulki Abdiwahab, 18, had just finished praying in the women-only room with her mother and among children and the elderly when she heard the gunshots.
"My mum grabbed my hand, and then we just we ran outside. Everyone was in chaos, just running for their lives.
"We just kept running, and running. The gunshots kept going on for about a good 10 minutes," she told Radio New Zealand.
Anwar Alsaleh was in a small bathroom washing his hands before prayer when a gunman walked in. He took cover and rang emergency services pleading for help.
When he got through to the ambulance, he told them: "There's a big massacre, please send help and call the police because they're continuously shooting."
He said he heard the gunman say: "F…ing Muslims we're going to kill you today," Stuff reported.
A 28-year-old man has been charged with murder and is due to appear in the Christchurch District Court on Saturday morning. Three others are in custody, but one of these people is not thought to be connected to shootings.