UFO Sighting in North Carolina: 'Oh My God, What is That?'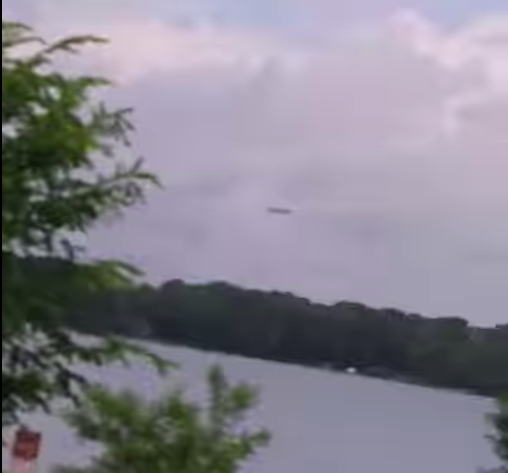 A man who claims to not believe in UFO's has ignited curiosity in North Carolina and beyond by posting a photo to social media of a strange, square, lighted unidentified image hovering above the tree line in the night sky.
Javion Hill, 35, of Kings Mountain, North Carolina, was driving along U.S. Highway 74 southwest of Charlotte in mid-August when he thought he "saw a tornado coming." Hill told the Charlotte Observer he was on speaker phone with his wife, trying to take a picture of the storm clouds.
"But then I saw something that wasn't normal and I was, like: 'Oh my god, what is that?'" Hill said, according to the Observer. I started trying to take as many pictures of it as possible while I was driving."
The photographed image he posted to social media on August 28 shows a square, lighted craft-like object hovering low in the night sky.
Identified as a "husband and father," Hill told the newspaper he doesn't necessarily believe in UFOs. He said he was so startled by the image he tried to pull over and get video but it was quickly gone and rain began to fall. (You can view Hill's Facebook photo here.)
Days before that another alleged UFO sighting over North Carolina's Lake Norman, north of Charlotte, created a stir. Video footage taken and posted to social media by Jason Swing shows a "long slender object hovering for more than two minutes over the man-made lake," according to a news report. But later reports clarified that the image was, in fact, a Goodyear blimp covering a nearby NASCAR event.
UFO sighting reports occur in the U.S. rather frequently. In 2010, sightings of an unusual tube-like object in New Jersey ignited interest and police were swamped with calls.
"I first noticed when all our mechanics started looking up at the sky," said Terry Weil, a sales associate at Honda Autosport in Bridgewater told nj.com. "It looked like a big black strip fluttering in the air. Maybe a cylinder."
North Carolina UFO sightings are not unusual, either.
"North Carolina is in the top 10 among the 50 states when it comes to alleged UFO sightings, according to the National UFO Reporting Center in Davenport in Washington state," the Observer reported.