Man Praised For Walking Out After Sister's Comments About His Wife's Outfit
The internet has slammed a woman who told her sibling to "control" their wife after she wore a suit to a pregnancy celebration dinner.
Reddit user u/mywifeinasuit shared a post on the website's popular r/AmITheA**hole forum where it has been upvoted more than 10,000 times since it was posted on Sunday.
In the post, the user said his sister "Betty" had invited them and their wife "Mina" to celebrate her pregnancy and that the event had a formal dress code.
The poster said Mina enjoys dressing up and is confident in her appearance while their sister believes in traditional ideas of femininity, including the way women dress.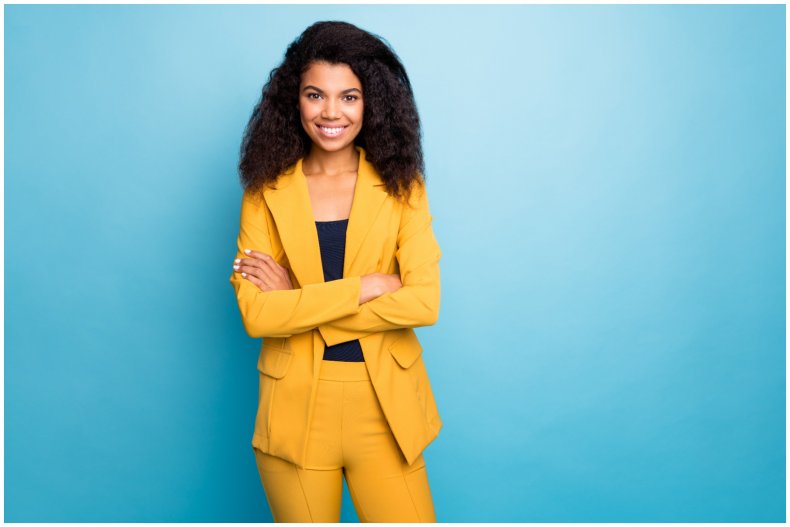 According to the Office of the United Nations High Commissioner for Human Rights, gender stereotypes can be harmful when they limit both women's and men's capacity to develop their abilities.
It added: "For example, the traditional view of women as caregivers means that childcare responsibilities often fall exclusively on women."
User mywifeinasuit explained Betty was visibly upset with Mina's appearance after they arrived for the dinner.
He posted: "When Betty opened the door, I could see the look of disgust on her face when she saw Min. The first thing she asked was her, (very condescendingly) 'are you really wearing that?' Mina only smiled and replied, 'yes.'"
Betty then continued to make several comments about Mina's outfit and also made faces each time she walked past, according to the user.
Mywifeinasuit added: "After we had all eaten, Betty stood up to make a toast. At first, her speech started off well. It was sweet. However, near the end, Betty decided to throw passive-aggressive comments towards Mina.
"I'm sure I don't remember all of it, but she essentially, 'it's going to be hard raising my daughter in a world where women want to act and dress like men.' All while making direct eye contact with Mina. 'The devil often hides in the people that are closest to us and if you can spot him, don't let him in your house.' During that entire section of her speech, her eyes never left Mina."
During the speech, both the user said he and Mina left which prompted Betty to call her later and berate them for not "controlling my hot-headed wife."
At this point, the man claimed to have laughed and hung up the phone.
Newsweek has contacted Mywifeinasuit for comment.
Unsurprisingly, many Reddit users took to the comment section to share their views with the vast majority slamming the sister-in-law's behavior.
One Reddit user said: "NTA [not the a**hole]. Your sister is a misogynist who tries to impose her rigid stereotypes on to others. I wouldn't apologize for shit because she was disrespectful as hell.
"You should walk around with zero f***s because your sister gave zero f***s when she decided to be passive-aggressive."
Another added: "I wouldn't be surprised if there was a hint of jealousy in there as well. I really don't understand women who are still trying to hold on to these outdated and misogynistic beliefs."
A third person posted: "I think she is super jealous. NTA and your wife sounds like a fantastic person."