Man Prepares Nightly Meals for San Francisco's Homeless 'Kids' Struggling Against the Coronavirus Epidemic
Newsweek's "Heroes of the Pandemic" series features everyday heroes showing service, sacrifice or kindness in the time of COVID-19.
When customers at the Grocery Outlet see Manfred Walzer's shopping cart filled with multiple packages of meat, bread, instant noodles, tea, peanut butter and other foods, they often accuse him of hoarding, but he's not.
Their assumption makes sense: The coronavirus quarantine has driven scores of people to stock their pantries so they won't go out for food. But the homeless don't have that luxury, and it's them that Walzer is buying for.
For the last 35 years, Walzer has lived in a tiny rent-controlled apartment that's a 10-minute drive from Haight-Ashbury, the San Francisco neighborhood just east of Golden State Park. Pretty much every day for the last eight years, he has delivered home-cooked meals to the homeless folks living on neighborhood streets.
He figures he has prepared 80,000 meals during that time, spending about $150,000 of his own money and serving about 200 to 250 homeless people each week.
He visits the supermarket twice each week, bargain shopping to keep the meal costs below $1.50 per person. He starts preparing food around 11 a.m. and finishes all the cooking and cleaning by 4 p.m. His kitchen is dingy and "completely wrecked," he says. "There's no dishwasher, which I f*cking hate," he adds, "excuse my language."
Around 6:30 p.m., he'll hit the streets. The area's predominantly young homeless population knows when to expect him, but sometimes he has to visit several street corners just to find them, especially when the police have tried sweeping them away. Since the coronavirus epidemic started, he says, the police have bothered them less often.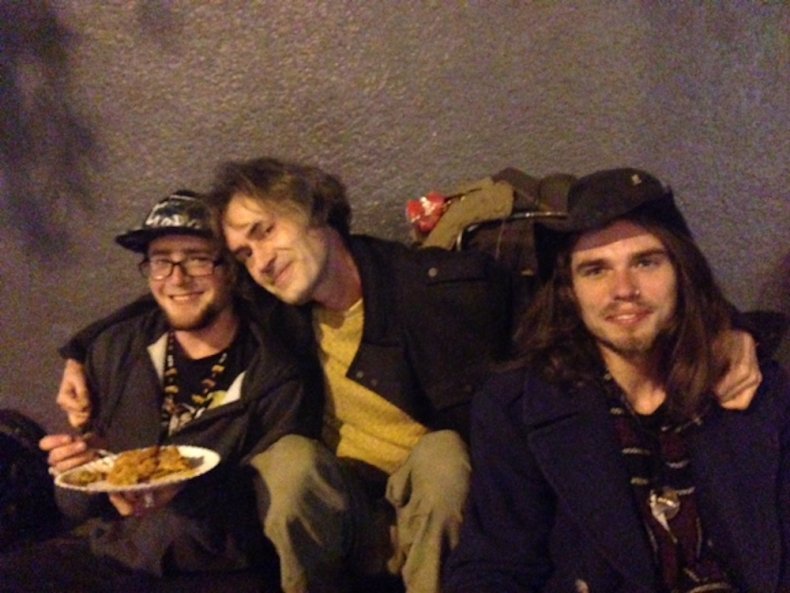 Walzer began cooking for them somewhat by accident on Thanksgiving 2012. At the time, he had invited friends over to dine with him, but he overplanned, and they ended up only eating one of the four large chickens he'd bought to roast.
His guilty conscience couldn't let the other chickens go to waste—"It's the weirdest thing," he says, "being German, we don't throw away food." So he immediately cooked and brought them to the Haight Ashbury area that night.
As locals flocked to him, some distrusted him, suspecting the food might be bad or that he might expect sex or favors in return. As others began eating, they showed their appreciation. Since then, they've grown to trust him, calling his meals "Manfred food," and occasionally giving him flowers, poems, crystals and other small trinkets to show their love.
The epidemic has been especially hard on the local homeless population, Walzer says. Coronavirus has shut down many of San Francisco's restaurants and compelled businesses to remove their garbage cans which once contained food scraps for them. Because of this, and the fact that the streets are now largely free of pedestrians that might've given food or money to the homeless, he's sometimes people's only source of food.
Over time, it has profoundly changed the way he feels towards the local homeless population.
"Eight years ago, I was always complaining about the young lowlifes, drug-addicted with their killer dogs always hanging in the streets. I'd always want to call the police," he said. "Then it occurred to me, these kids aren't just f*cked up. They're really cool!"
He calls them "kids" because most of them are between ages 18 to 30. (He's 64.) "They're hippy kids," he says, "The Grateful Dead crowd... They're always chewed up." Sometimes they're on drugs that kill their appetites. He asks them directly what they're on and encourages them to take some food anyway.
Many of them have been on the streets for many years. Some are gay like him. Some were kicked out by their parents. Most of them never share their stories or their real names, even with each other.
Each day, he brews two gallons of tea for them and serves them different foods: banana peanut-butter and Nutella sandwiches, chicken drumsticks, basmati rice with chili beef, pasta bolognese, burritos, salad with bacon, eggs and cooking wine.
"They're fussy," he says. "The hard thing is, they don't wanna eat vegetables. If it would be up to them, all they wanna eat is corn dogs and bloody donuts."
"So once in a while, I'll have revenge on them. I'll make German potato salad. I puree as much kale or anything I want into it," he laughs.
It's hard to do social distancing with them, he says, because he loves them too much and has been out on the streets with them every day for years. Working with the homeless population has made him realize a few things that he feels local residents and police either don't know or prefer to ignore.
In San Francisco, he says, if you're homeless, you've got to pay a $5 "protection charge" per day to ruffians that he calls "commandos," gang members who will come out in the early afternoon and stand in the streets, watching for homeless people panhandling. After a while, the commandos will approach the panhandlers and demand their daily cut, like a form of rent. As a result, many of the street dwellers he knows will try and beg for money early in the morning so that they can steer clear of gang members' attention by the afternoon.
A woman in one of the gangs once told him, "But you have to understand, if the gang members didn't do that, they would be homeless themselves."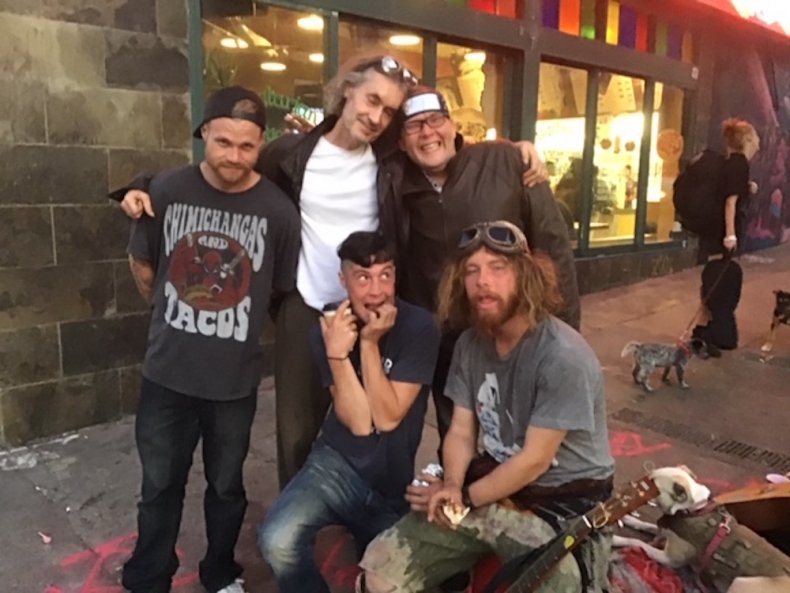 "In the beginning, the police tried to shut me down because eight years ago, it was illegal to feed the homeless unless you have a whole setup. I could never afford it," he says. "Then they told me, 'You're not allowed to give them unsealed food unless it's prepared professionally," meaning with permitting and usually at a fee. One time, a policeman told him, "Look, if you keep feeding them, they'll just keep coming back."
The truth is, San Francisco, like most cities, hasn't really figured out how to keep its roughly 8,000 homeless people safe during the epidemic.
Initially, the city intended to use the Moscone conference center and Palace of Fine Arts to house 562 homeless people, but their cramped conditions threatened to worsen the virus' spread. So the city decided to house homeless individuals in the many hotel rooms which now stand vacant from a lack of travel during the pandemic.
But the city first prioritized these rooms for people already living in shelters, people who had gotten tested for COVID-19, those over the age of 60 and those with underlying health conditions. In short, the plan didn't benefit most of the folks that Walzer feeds.
Some of his "kids" avoid shelters because they can be unclean and cramped, or hotbeds for physical harassment or theft. Many disallow dogs that the "kids" own for protection, or forbid the use of drugs or alcohol that some use to cope with unaddressed health and mental issues. Often, shelters will have strict curfews that make it difficult to job hunt or socialize outside of daylight hours.
Even shelters aren't immune from the virus: This week, one of the city's largest shelters, MSC South, experienced an outbreak of coronavirus among 90 of its 340 guests, according to The Guardian.
The city recently issued an emergency order to open 8,000 more hotel rooms for the city's homeless population, but the order won't go into effect until April 26. In the meantime, hotels have had to scramble to figure out how to handle sanitation and security for their unexpected guests. Many aren't providing any food. Some will institute "lockout" curfew hours that keep residents inside from sunset until sunrise.
"In seven or eight years, the homeless situation has only gotten worse and worse," Walzer said. "It's never gotten better." He says the police are even harder on the "kids" since Trump became president. "They chase them off the corner like rats."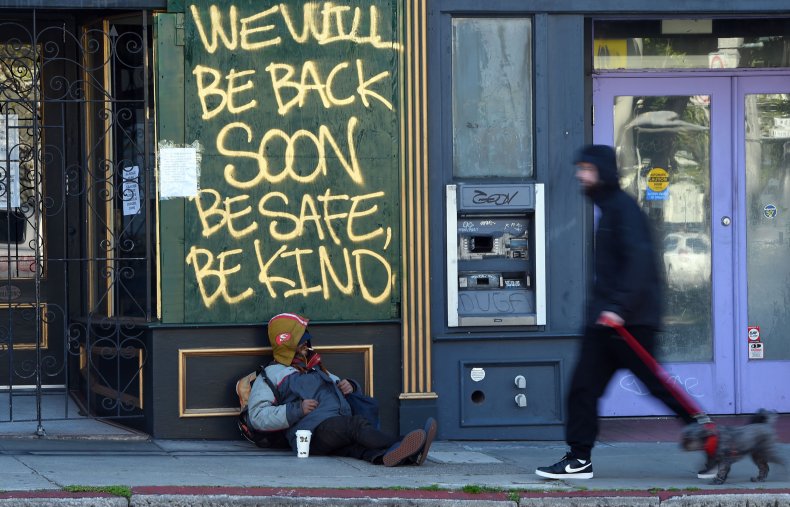 As such, Walzer's "kids" and the thousands of others living on the streets remain among the most susceptible to the virus, sometimes living in crowded encampments with no places to shower or wash their clothes. Because most businesses no longer allow customers to enter, most of the easily accessible public bathrooms are now unavailable, leaving them to literally defecate in the streets.
Though the city has set up 15 public handwashing stations and public toilets (open 24/7) in areas where the homeless congregate, it's not enough.
Lacking internet and TV access, many homeless people can't access basic information about the virus, how to prevent its spread, or the services offered by the city to help infected individuals. Inconsistent testing and a lack of access to health services had made it hard to know how many homeless people might already have been affected by the disease.
Some carry sanitary wipes, wear bandanas as face masks, and have stopped sharing cigarettes as a way to minimize exposure. But even these basic precautions won't protect them from the street's other dangers, Walzer says.
"What most people don't know is the most terrifying part of the day is the night. They're never safe," Walzer says. Many of the "kids" keep dogs to ward away would-be attackers. Even with a dog, thieves will still take their essential medications and survival gear or ruffians will beat them up for fun or money.
Every now and then, he'll direct "kids" to places around the park that are well-hidden or nestled against residential homes, making it difficult for thieves and gang members to see them sleeping in public.
He thinks his German accent actually makes younger homeless people more likely to trust him because they don't think he's part of the society that created the current social problems they're in.
He feels the city isn't doing nearly enough to help protect these "kids." He himself has also spent nearly all of his life's savings and, by September, will have maxed out his credit cards, leaving him unsure of how he'll be able to continue.
And yet, with the epidemic present, the homeless community needs Walzer's help now more than ever. That's why his longtime friend Julia Loggins recently set up a GoFundMe campaign to help fund his work. For many homeless youths, Loggins says, Walzer is not only their sole source of food but of constant kindness too. Thus far, the campaign has raised only $500 of its $25,000 goal.
Regardless, Walzer says he plans on serving his kids until he's no longer able.
"One day when I was serving," Walzer says, "a person said to me, 'God blesses you. You're going to go to Heaven.' I responded, 'I don't believe in heaven anymore. I believe only in Hell and a few heavenly moments. So let's have plenty of heavenly moments.'"
"Their hearts are broken open," he says of his "kids," "but their innocence is still there."
"Hey angels," he says, opening up the back of his car and retrieving the trays of food he has prepared for tonight, "come on. It's dinnertime."
Know a hero you want to nominate to be featured in our series? Drop us a line at heroes@newsweek.com.