Man Prioritizing His Anniversary With Wife Over Babysitting Sister Backed
The internet has backed a man who chose to go out and relax with his wife on his wedding anniversary, rather than babysit his little sister, while his parents were out to visit a sick relative.
In a post shared on Reddit earlier in February, under the username u/Cargorrrrrrrrrr, the 24-year-old man explained that after organizing a special day for his wife on their fifth wedding anniversary, his parents demanded he babysits his nine-year-old sister instead, saying they had to go out of town to visit their aunt, who was recently diagnosed with leukemia.
According to the National Cancer Institute (NCI), leukemia is a "broad term for cancers of the blood cells, which occurs most often in adults older than 55, but it is also the most common cancer in children younger than 15."
Given the little notice, since they only reached out the day before his anniversary, and the fact that he had already planned his special day, the poster "politely declined," his parents' request, and they didn't even give him an answer.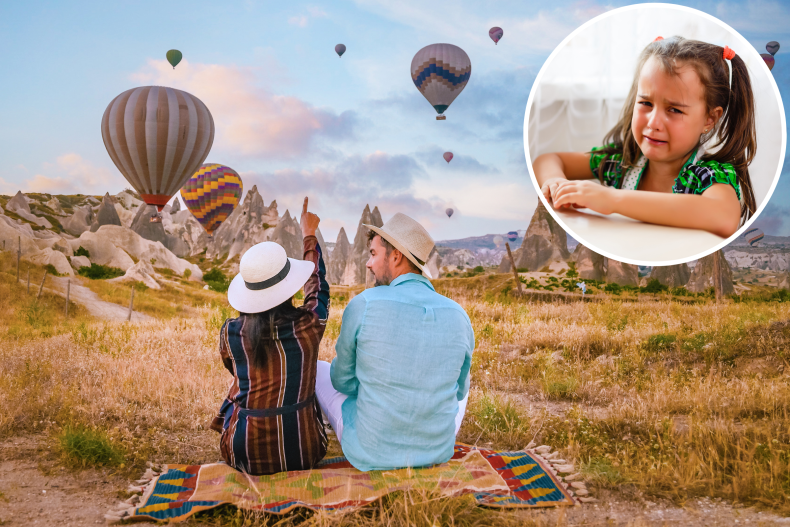 He wrote: "We had planned to go to a nice restaurant, then ride in a hot air balloon and then go to a lake and relax."
"The next day, we're at the restaurant when my phone starts buzzing like crazy, I check it and it's filled with texts from my mom and dad. They're calling me all sorts of things and saying that they showed up at my house, only for it to be empty. They're now ignoring me, when I write to them and I haven't gotten an answer."
The sister ended up staying with a friend of the family, who happens to have twins the same age as the girl, and said she wouldn't mind keeping her for the week.
"My aunt Is NOT in critical condition, she is doing fine. She also lives far away, and it takes a couple of hours to get to her (three hours and a little more due to stops and other things, so it takes 4-5 hours, probably)," he added.
At a later date, the poster went over to the friend's house to thank her for the nice gesture, and while there, she informed him that his parents were bad-mouthing him and his wife.
He said: "She told me they were berating me for 'being a bad son' and that 'my wife probably convinced me to stay away from an important situation.' I intent to speak to them about this once they come back, I don't want to intrude when my aunt has leukemia."
Long Island, New York-based licensed clinical social worker Jennifer Bohr-Cuevas told Newsweek that saying no can be really hard to do because we want to preserve our relationships, however, saying no can be a practice of self-care.
She said: "In my clinical opinion, the man was straightforward with his demanding parents when he asserted he was unavailable to babysit for his sister. The parents should have believed him! His parents were unreasonable to think that he would break his anniversary plans which were already bought and paid for!
"The man needs to address these issues with his parents, respectfully and reasonably. Perhaps he could set boundaries with his parents by explaining that he requires ample notice to help with his sister going forward."
According to Bohr-Cuevas, if the man continues to feel pressured by his parents for help, he could explain that as a grown and married man, he has commitments that are a priority, and should be cautious not to feel guilty about his commitments.
The post, originally shared in the r/AmItheA****** subreddit, where users discuss their actions with online strangers, has gone viral, receiving over 10,700 upvotes and 1,200 comments.
One user, diminishingpatience, commented: "[Not The A******]. This is ludicrous. Whose child is this? They need to understand that this is not how things work."
And sincerelyanonymus said: "One thing I don't see anyone pointing out is, in OP's edit they say the aunt isn't in critical condition. If there is no rush, why did his parents choose the exact date of his anniversary to go out of town? They could have easily waited a couple [of] days when OP's anniversary was over, and I get the impression he would have had no issues watching his sister for the week."
Another user, CrimsonKnight_004 wrote: "[Not The A******]. You had plans. You politely declined, with notice. You are not your sister's keeper. It's on them to find a sitter and they had plenty of time to do so, but they failed to do that. I hope you had a lovely anniversary in spite of it all.
"Even with the info that your aunt was diagnosed with leukemia, you're [Not The A******]. It was still on them to either make other plans or communicate with you at all rather than making demands. If they chose to go just one day later then you could've decided if you'd be willing to keep your sister for a week. There were workarounds and other options, they just chose to ignore all of them."
And need_more_coffeee said: "But I am sure they would also be the parents who if the roles were reversed they would be like 'be more responsible and don't expect us to watch after your kids.'"
Newsweek was not able to verify the details of the case.
If you have a similar family dilemma, let us know via life@newsweek.com. We can ask experts for advice, and your story could be featured on Newsweek.