Man Proposes at Airport's Security Check-In Line: 'Shoes Off, Rings On'
A couple's relationship really took off after a man got down on one knee to propose—at the security check-in line at an airport in Nevada.
A man decided to pop the question to his girlfriend as they stood in line—minus their shoes—to have their bags screened.
The unique proposal was captured on camera, with the Transportation Security Administration (TSA) sharing snaps of the touching moment on their Instagram page.
The trio of photos, posted on Monday, amassed more than 17,000 likes, as the caption confirmed she did say "yes."
"Marriage has a nice ring to it...," it said, continuing: "Everyone dreams of a security proposal, right!?"
The post, which has since been deleted, claimed the groom-to-be reached out the airport management before getting down on one knee.
"Shoes off, rings on! We can't think of a safer place to propose than in security! But if this isn't your first choice, we have something we'll honor.
"If your bag containing the secret rock needs to be checked, request a private screening."
The agency also advised couples and well-wishers that the $85 TSA-PreCheck makes a great "wedding gift" idea.
Meanwhile, people went wild for the unusual airport proposal as they speculated about the story behind it, while also making a few jokes about the setting.
Sweetestofcheeks thought: "I'd hate to be [be]hind them."
Marie_arter commented: "They better be going somewhere NICE after the engagement took place in security!"
Marykilleleamonroe quipped: "Romantic spot!"
Theadventureinsider asked: "Did the guy purposely bring it through the metal detector so it would go off and lead to this? However he did it, this is brilliant."
Amitabh_s joked: "... and the happy couple minus the shoes + the ring passed #tsaprecheck happily ever after."
Adriannaz2814 thought: "I would hate being behind them but only because I won't have my phone and no one would believe someone got engaged at a TSA screening without proof."
Shemfishwins wondered: "Unless they randomly met in the security line of TSA this makes no sense."
Mike_palmer769 said: "I want to ride through the scanner and come out the other side holding a ring lol."
Anthonyjlasala reckoned: "Still with the shoes off? It's a nice moment but all I can think about is her smelling people's feet while trying to enjoy this time."
Christyannalou pointed out: "[The airport] usually has a super short TSA line too, of all the airports to choose to not hold up the line this one makes the most sense lol."
While Cassiuswink added: "Imagine being missing ur flight cus someone was proposing at airport security."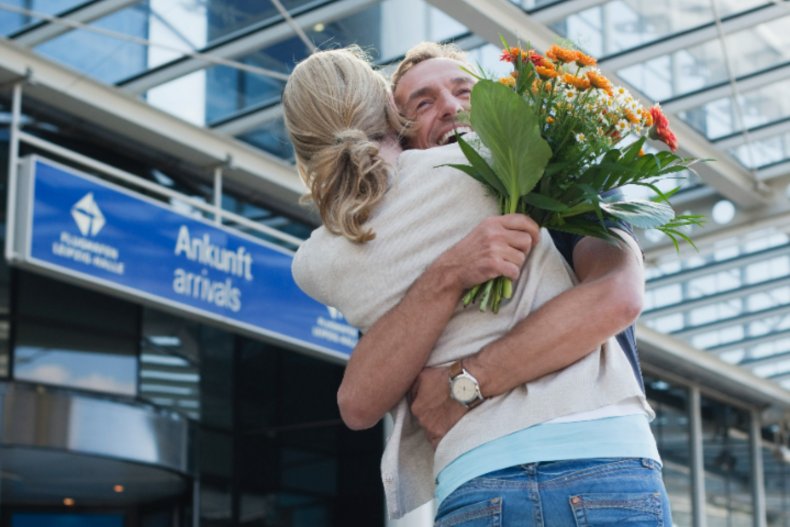 Nevada is a popular destination for weddings and bachelor parties, with many lured by the reputation of Las Vegas.
According to the Centers of Disease Control and Prevention (CDC), the Silver State has consistently seen the highest number of nuptials in the U.S. since 1990.
In 2020, there were 21.0 marriages per 1,000 residents in Nevada, with the next highest in Montana, with 10.4 marriages per 1,000 residents.
The year prior, there were 25.9 marriages per 1,000 residents in Nevada, with the second-highest in Hawaii, with only 14.2 per 1,000 residents.
Update 5/11/22, 4:41 a.m. ET: The Instagram post has since been removed from TSA's account.
Update 5/11/22, 6:14 a.m. ET: Identifying information was removed at the subject's request.