Man Proposing to Girlfriend at Friend's Wedding Divides Internet—'Tacky'
Weddings are supposed to serve as a celebration of the happy couple's exciting new union.
However, one man has courted controversy on social media after using the occasion of a close friend's nuptials to propose to his girlfriend.
In a video posted to Reddit, a bride can be seen preparing to throw her bouquet backwards, as is the tradition, only to suddenly stop and hand the flowers over to female guests.
At that point, the woman is tapped on the shoulder by a man, evidently her boyfriend, who then gets down on one knee with a ring to pop the question.
"So my friend got engaged on my wedding day," a caption overlaying the clip reads.
The video has racked up over 76,000 upvotes on Reddit. It was originally posted on TikTok back in July by Dana Najdzien under the handle danacaye and has been viewed over 38 million times.
The practice of popping the question during someone else's wedding is controversial to say the least.
In this particular instance, Najdzien, who was the bride in the original clip, posted a follow-up video explaining that "this was my idea."
The original version of the video can be viewed here:
"I couldn't be happier to share my big day with my BFF," she wrote. However, Najdzien did note that she would "totally understand that some people are not cool with it."
Indeed, for etiquette expert Elaine Swann, the idea of proposing during another person's nuptials is completely unacceptable, whatever the circumstances.
"The day of someone's wedding is one day out of an entire year," she told lifestyle magazine Real Simple. "We have to keep in mind that the couple is creating a memorable moment that will last a lifetime and a proposal should not be part of the one day that the couple has to themselves: Let them enjoy it!"
At the time of the original TikTok posting, the idea proved divisive to say the least. Four months on and it would appear the internet remains as conflicted as ever on the topic.
Thisisfakereality said the bride was "very kind" to let this happen, adding, "It's classless to upstage someone else's important day with your own."
RandyTheRealAmerican commented: "I don't think I'd want someone proposing at my wedding...if it doesn't work out and they get divorced, they'll f**k up the memory of my wedding day. Why do people need the attention of a public proposal anyway? It's not your day."
Elsewhere, OnlyPornStarsMatter wrote: "This is just tacky. Even though the bride obviously was OK with it, it's still a tacky thing to do." Bradtoughy added: "It doesn't take that much effort to plan something that doesn't take place during a wedding."
Despite the continued negativity around the concept, there were plenty who spoke up in support of the idea.
Panduhmoanyum said: "I think it is pretty awesome the bride was willing to share the spotlight with her friend. Some brides want it to be all about them, they practically forget the groom."
Emilypseu thought it was a "super classy" thing to do. "Now her friend will never forget her anniversary!" they added. AttackerCat commented: "Sometimes you just enjoy making your friends happy."
It's not the first time a wedding has sparked controversy on social media. One woman recently went viral after sharing a video detailing her strict rules for a "Christian" marriage.
In another notable instance, a woman ended up boycotting her sister's nuptials after her girlfriend was left off the guest list.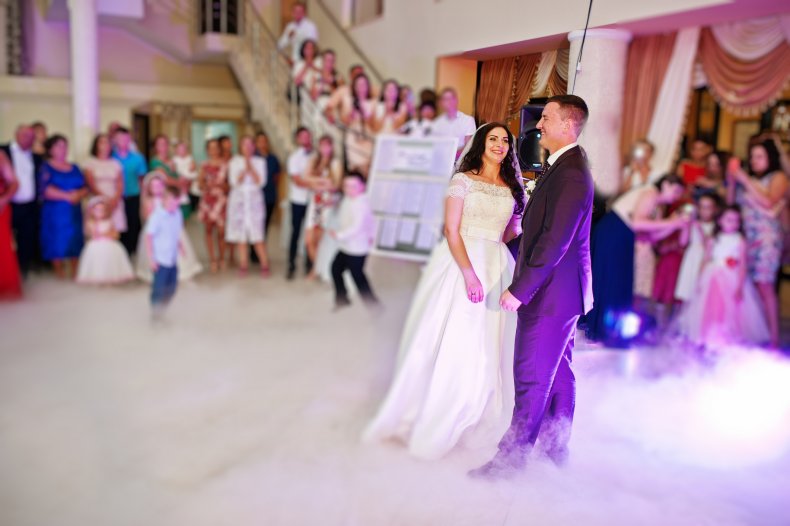 UPDATE 12/02/21 5:06 a.m. ET: This article was updated with a new picture.