Man Protesting Bikinis at Beach Confronted in Video Viewed Over 600,000 Times
In a world where women are so often criticized for how they dress, viral videos, showing how individuals clap back against unfair and unjust clothing standards, feel like a near-daily occurrence. In the latest instance of one of these clips, a TikToker confronts a religious protester who opposes "immodesty" in women's swimwear—while at the beach.
The clip, posted by @.katie.simmons earlier this week, shows a man, walking along the shore, carrying a sign that read: "God says Christian Women Dress Modest."
"Repent," it adds. "Turn to Jesus."
Meanwhile, the TikToker confronts him, yelling, "Sir, it's a beach."
"Are we supposed to dress modest at a beach?" she asks.
He begins to respond, saying, "God doesn't want women..." but the TikToker cuts him off before he can finish his sentence. "What if God's fake?" she retorts.
So far, the video has racked up 604,000 views and counting, along with over 100,000 likes. Viewers flocked to the comments section in droves to offer their support to the TikToker—and condemn the protester's stance.
Many, for example, pointed out the hypocrisy in his viewpoint: some cited archaic Biblical rules that are no longer practiced to highlight the ridiculousness of his point, while others pointed to tenants of Christianity that contradicted him.
Commented one viewer: "God says Christian Men Don't Look at Women Lustfully [Matthew 18:9 And if your eye causes you to sin, gouge it out and throw it away.]"
"Ask him if he's wearing two different types of fabric [also a sin]," wrote another.
Others specified the Bible verse he referenced was about "wealth modesty"—meaning it did not apply to this situation. As one commenter explained, the quote is "about women not dressing in elaborate [and] expensive things" and says "nothing about swim suits."
"That verse he chose was talking about how to dress for worship," added another. "Not for the beach."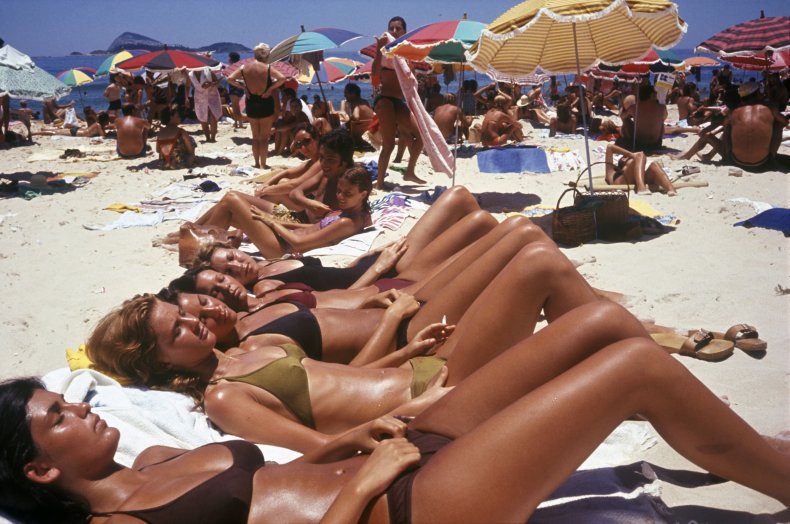 Newsweek attempted to contact @.katie.simmons for comment but did not receive a reply in time for publication.
The video comes as just the latest example of someone standing up against what they feel are repressive standards for women's attire. The issue has gained traction over the past several years, with many more critiquing—and outright rejecting—restrictive dress codes.
In late June, a woman on TikTok reported she had been asked to leave her gym because she was exercising in a sports bra—according to the TikToker, the gym employee told her that "you can't just have your belly hanging out."
Another woman had a similar experience at a Planet Fitness location in New Jersey, when gym staff reportedly "dress-coded" her for wearing a crop top. Planet Fitness has since apologized for the incident.
Meanwhile, a group of high schoolers made waves for protesting their school's dress code, as documented in a viral TikTok. After showing up to school in crop tops, the students staged a peaceful "walkout" to show their stance.