Man Protesting Dental Company by Shooting Gun in 'Daisy Dukes' Goes Viral
A Michigan dentist is trending on Twitter after sharing a video of him shooting a gun while wearing jean shorts to protest Delta Dental, a dental insurance company.
Gary Scott, a dentist based in Calcedonia, Michigan posted the video on his Facebook on July 4, but it went viral after it began circulating on Twitter.
Twitter user @davenewworld_2 shared the video with his more than 200,000 followers where it received more than 530,000 views and nearly 4,000 retweets.
"This dentist from Michigan has a message," the tweet read.
Now, #DeltaDental is trending on Twitter in the United States, with more than 5,600 tweets commenting on the video.
Dental Insurance
While healthcare professionals stress the importance of dental hygiene when it comes to overall health, only about half of Americans have dental insurance according to Centers for Disease Control reports.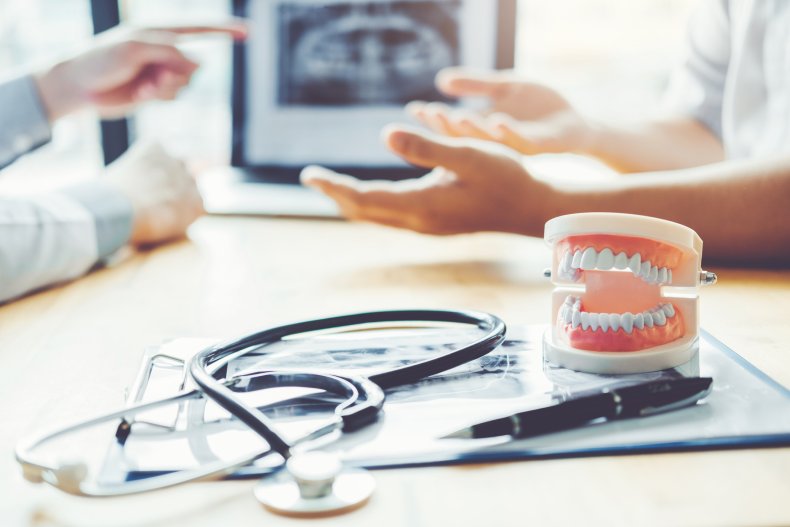 Without insurance, the average dentist appointment for a routine teeth clean can be upward of $100 while some insurance plans cover 100 percent of the dental care services.
Delta Dental, one of the numerous insurance companies, offers individual policies, senior policies, and featured state plans in the following states:
Arkansas
Kansas
Kentucky
South Dakota
Virginia
Wisconsin
The Video
In the 13-second video, Scott stands in the cargo bed of a truck flying an American flag and holding up a gun.
"Happy Independence Day America," Scott said as he stood in his cowboy boots and denim shorts. "Freedom was brought to you by a bunch of guys with guns. We're celebrating freedom from England."
He then shot off the gun once before he continued.
"And Delta Dental," he said as he reloaded the gun and shot it off again.
Viewer Reactions
Thousands of viewers, many claiming to be current or former Delta Dental customers, and others commenting on the dangers of shooting off rogue bullets.
"Delta dental is trending. A good time to remind ppl that infected teeth affect your heart yet health insurance doesn't cover dental," user @clarice1919 tweeted.
"I don't know what Delta Dental did to that guy but I will relay my story that after getting my wisdom teeth removed, Delta refused to cover it citing my insurance didn't cover extractions," user @go_ACC_ tweeted.
"Perhaps there's a reason that 60% of Americans want universal healthcare. And perhaps that reason is that insurance sucks a**," user @Steven_Chappell tweeted.
"A .40 pistol shoots a bullet @ 954mph," user @AspiringOne tweeted. "Shot @ 45 degree angle it can travel 1.4 miles before falling. Its terminal velocity is over 200mph. A bullet can penetrate skin @ 102mph & the skull @ 134mph. With 1 trigger pull you can change someone's life over a mile away from you."
"Does he realize that bullet will have to come down somewhere and could kill or damage someone/something? No...because he doesn't think. And if he's your dentist, I'd consider getting a different one." user @MajorDunn2 tweeted.
"Those Daisy Dukes and boots scream satire," user @@Anthony57918569 tweeted. "This is what 45 brought us. We don't know what's real or satire anymore."
Other users used the opportunity to make jokes about the dentist.
"Gives 'flossing' a whole new meaning," user @AynRandPaulRyan tweeted.
"Daisy Duke wants her shorts back, hotpants!" user @HeatherThomasAF tweeted.
Newsweek reached out to Gary Scott, Delta Dental and @davenewworld_2 for comment.
In another viral video that circulated TikTok, viewers were left divided by a mom's reaction to her son's dental mishap.
In other videos, dentists went viral for sharing their tips and tricks. In one, a dentist claimed they can tell if a patient is pregnant just by looking at their teeth and in another, a dentist explained why it is bad to brush your teeth after breakfast.