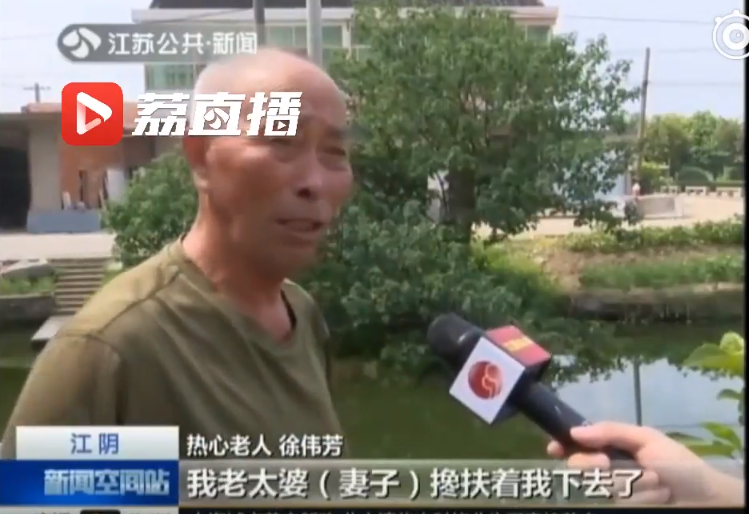 An elderly Chinese man risked his life to save a drowning boy from a river in the Jiangsu province last week—only to later find out that he had rescued the child's father 30 years ago.
The 80-year-old man, Xu Weifang, told Jiangsu Television that he heard the 8-year-old boy yelling for help, while splashing around to stay afloat, last Friday at around 9 a.m.
Despite an injury he suffered from falling down a flight of stairs two years ago, Xu managed to lower himself into the water and save the child with the help of his wife, Wu Xiaomei.
The boy, who was not identified, told the couple that he was playing outside with his grandmother when he accidentally slipped over and fell into the river. He was later taken to a nearby hospital to be treated.
After the incident, the man and the boy figured out an incredible coincidence: Xu had saved the child's father from drowning 30 years ago.
"When I was younger, her son [the boy's father] was drowning in the river and I jumped to save him," Xu recalled. "Now that I'm old, I can't jump anymore."
Xu and Wu revealed that they have rescued at least four people from drowning in the same river by their house.
Reports of children drowning in the Jiangsu province are not uncommon. In February, the South China Morning Post reported that a 65-year-old man—named Zhang Chonghua—died after he rescued two children from a frozen lake in the village of Luxiang.
Like Xu, Zhang heard the children screaming for help from his home and rushed outside to rescue them.
The elderly man jumped through a hole in the ice into the 13-foot-deep lake to help the drowning boy, aged seven, and girl, nine, after they accidentally fell into the water while playing nearby.
After he pushed the two children out of the lake, Zhang, who was exhausted from swimming around in the icy lake, stopped breathing and could not be resuscitated
Wang Yifu, the children's grandfather, praised the elderly man for saving his family. "If Zhang hadn't risked his life to save our children from the frozen lake, they would have lost their lives," he said. "He is our family's savior and we couldn't be more grateful to him. It should've been me in that lake, not him."