Man Puts on 15 Layers of Clothing Rather Than Pay Airline's Excess Baggage Fee
A Scottish man decided to skirt an airline's excess baggage fee by wearing the extra clothing that tipped his suitcases over the limit.
John Irvine of Glasgow was boarding an EasyJet flight from Nice with his family Friday night when he was told his check-in baggage was too heavy. Rather than pay, he opened his bag and began putting on layers—as his amused son, Josh, filmed the incident on Snapchat.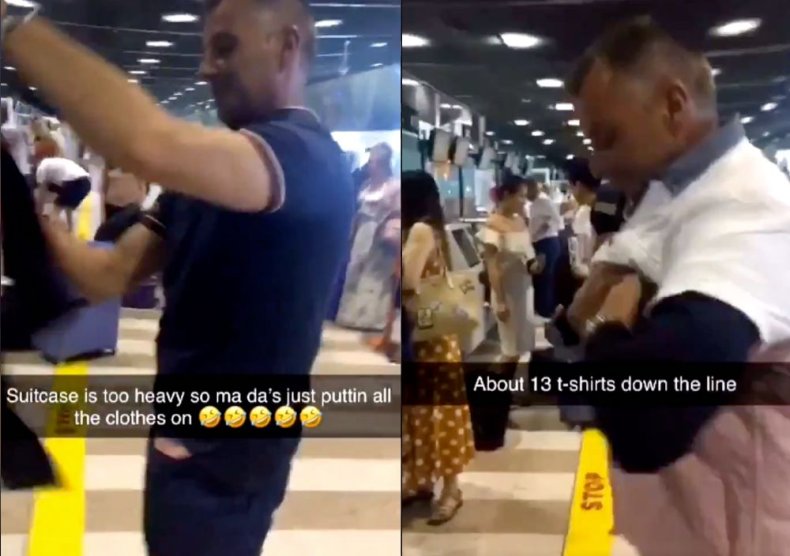 "We spent too much on our holiday anyway so he didn't want to spend anymore," Josh, 17, told the Mirror.
John, 46, had arrived at the airport in just a t-shirt but was soon bulked up to about 15 layers of t-shirts and sweaters for the flight back to Edinburgh. According to Josh, his father had done some shopping on their trip, leading to the excess weight.
"Suitcase is too heavy so ma da's just putting all the clothes on," Josh captioned his first clip. "About 13 t-shirts down the line," he added, noting that his father was "absolutely bloody roasting."
Some of Josh's clothes were in his dad's suitcase but he was too tickled by the reverse striptease to offer to put extra layers on himself. "I was too busy recording him."
Eventually, the Irvines made their way to security, but John's unusual appearance caught the attention of Nice Airport guards. "They told him to take off some tops, and he kept taking them off because they were wondering what he was hiding," said Josh. When the guards were satisfied John wasn't a threat, he made his way to the gate with armfuls of shirts, which he brought onto the plane.
John was surprised when Josh told him video of the ordeal had gone viral online. "I showed him and he was a bit mortified to begin with but he saw the funny side, eventually," Josh told the Mirror. "He laughed it off."
As airlines tighten fees for excess baggage, travelers are increasingly turning to extreme measures to avoid paying: In April, a woman donned nearly nine pounds of clothes to avoid an $84 surcharge on a Thomas Cook flight from the UK to the Canary Islands.
"I put on four dresses, two pairs of shorts, I tied a dress around my neck, put a skirt on, I shoved two dresses down the dresses I had on, and two pairs of shoes as well, and a cardigan," said Natalie Wynn.
Last year, a man flying from Reykjavik to London was removed from a British Airways flight for trying to wear ten shirts and eight pairs of pants rather than pay a $125 excess baggage fee.
"They're really having me dress like this to go on, and they won't even let me go on," the passenger, Ryan Carney Williams, tweeted with a photo.
That encounter was not as pleasant as Irvine's: The airline called security and Williams was reportedly arrested when he refused to leave.
"We give our customers a wide range of fares to choose from to meet their needs," a British Airways spokesperson told The Washington Post. "We explained our policy to our customer, and offered him an alternative flight to London."
The following day Williams was turned away from a second flight back to the UK, this time on easyJet.
In 2015, Trainspotting 2 actor James McElvar passed out from heat exhaustion after wearing 12 layers of clothing on a flight from London to Glasgow.
Man Puts on 15 Layers of Clothing Rather Than Pay Airline's Excess Baggage Fee | World