Andrew Peters was refunded $600 he was charged for an Uber ride after he got stuck on Interstate 95 near Washington D.C. when a winter storm shut it down.
"We have refunded Mr. Peters after this terrible ordeal and are so glad that he and his Uber driver got home safely," Uber said in a statement sent to The Associated Press.
The statement also said the driver's pay will not be impacted.
Peters, of Richmond, Virginia, took an Uber ride from Dulles National Airport on Monday after flying from San Francisco when got stuck on the interstate, according to WTOP-FM.
"It was kind of scary," Peters said. "We didn't have any food or water."
"We hopped on the first exit and then it was just, we stopped moving right there. There was cars behind us. There was nowhere to go," Peters said, WRC-TV reported. "It was like being in some weird parking lot."
The standstill occurred on a 40-mile stretch of the highway, The New York Times reported. The winter storm had made the roads icy, resulting in hundreds of incidents and people stranded in their cars, some for over 24 hours. The road was no longer passable when tractor-trailers jackknifed in the storm, police said.
"People were walking around a lot, which was crazy," Peters said, according to WRC-TV. "I was like, I don't want to go too far out there in case traffic starts moving again."
State troopers went from person to person, bringing supplies they could while tow trucks worked to drag car after car, according to The New York Times.
The interstate reopened Tuesday night.
Gov. Ralph Northam said it rained befor the storm, which would have washed away any chemicals or salt to prevent icing on the roads, WTOP-FM reported.
"First we had rain, which meant that we couldn't adequately pretreat the roads. Then we had slushy snow that fell a lot faster than our snowplows could move it," said Northam, according to WTOP-FM. "And then, as night fell, the temperatures dropped below freezing. All those together created the perfect storm for what happened on I-95."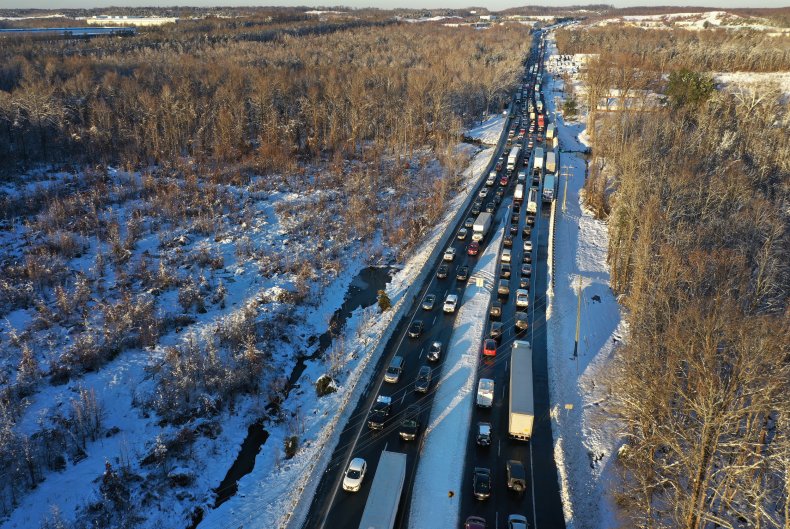 After a nine-hour trek, Peters got home Tuesday and paid a $200 bill. But then Peters said Uber added $400, raising his total bill to $600. He disputed the additional charge.
According to Uber's website, "heavy traffic may cause your trip to take longer than expected and to compensate your driver for the additional time, your fare may change."
The Associated Press contributed to this report.