Man Refuses Mask in Grocery Store, Pelts Manager With Frozen Pizza and Flees
Pennsylvania man Patrick Steiner allegedly threw boxes containing frozen pizza at a grocery store manager after being confronted about his refusal to wear a face mask in August.
Wearing a face mask any time a Pennsylvanian leaves their residence has been mandatory since July when cases of the coronavirus began to surge in the state. Some individuals have refused to wear face coverings in places of business, leading to confrontations with employees. Guidance from the Centers for Disease Control and Prevention (CDC) suggest that employees not argue with customers who refuse to follow virus mitigation mandates. Steiner's alleged unsolicited pizza delivery took place at a Giant Eagle grocery store in Altoona, Pennsylvania.
"The investigation revealed that the actor identified as Patrick STEINER was refusing to wear a mask inside the store and when approached by the manager, STEINER threw boxes of frozen pizza at the manager and fled the store," read the report from the Logan Township Police Department.
When police arrived, the manager gave officers Steiner's license plate number. After locating and pulling Steiner over, police took him into custody.
Steiner was charged with harassment and disorderly conduct in relation to the incident on Friday.
Newsweek reached out to Giant Eagle for comment.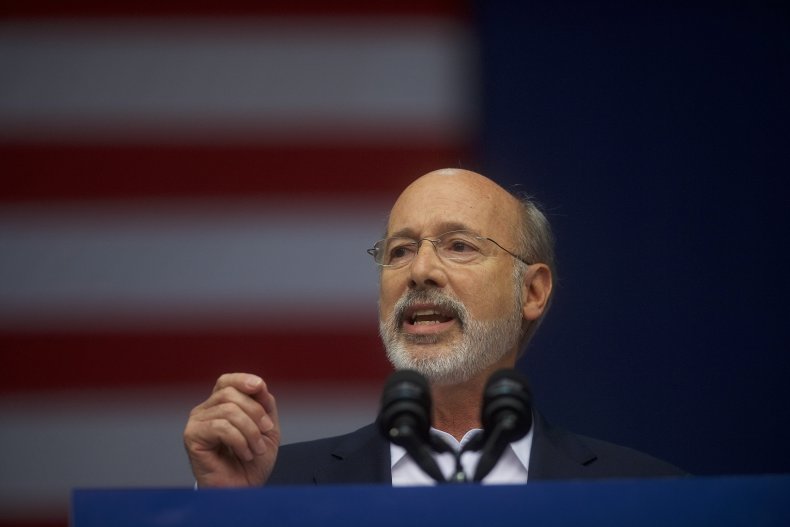 Some individuals have resorted to higher levels of violence in their defiance of Pennsylvania's mask mandate. In August, Adam Zaborowski was asked to wear a face mask while visiting a Cigars International retail location in Bethlehem Township, Pennsylvania. Angered by the request, Zaborowski snatched two cigars from a shelf and left the store without paying. When a store employee followed Zaborowski outside to retrieve the merchandise, Zaborowski fired a gun at the employee twice. The employee was not injured.
Zaborowski was arrested the next day after a shootout with both Pennsylvania State Police officers and local law enforcement authorities. He was charged with attempted criminal homicide, aggravated assault, aggravated assault with a deadly weapon, carrying a firearm with a proper license, reckless endangerment and two counts of robbery.
On its website, the CDC recommends not forcing individuals who appear "upset or violent" to adhere to virus mitigation policies. Employers are also encouraged to provide conflict resolution and threat recognition training to their employees.
When the mask mandate was announced in July by Pennsylvania Governor Tom Wolf, he said the order was "essential" in the fight against the coronavirus.
In September, Wolf was hit with a lawsuit by two Pennsylvania couples who claimed that being forced to wear a face mask was akin to "an attempt by the government to control the citizenry."
"Because a mask has become a political symbol during this current and highly politicized pandemic," the lawsuit read, "the wearing of a mask is a form of symbolic speech. Consequently, via the mask mandate, defendants are compelling plaintiffs to engage in a form of expression and to convey a message with which they disagree."
According to recent data, Pennsylvania has reported 147,316 positive cases of COVID-19 with a total of 7,924 fatalities attributable to the virus.