Man in McDonald's Suddenly Stabbed Multiple Times by Random Stranger—Police
A man was stabbed multiple times at a McDonald's in Chicago on Tuesday morning, according to local reports.
The 32-year-old man told police he was at the Rock 'n' Roll McDonald's in the 600 block of North Clark Street in the city's River North neighborhood when he was approached by an unknown male.
The stranger came towards him and started yelling before pulling out an object and launching his attack, Fox32 Chicago reported.
Police said the unknown attacker stabbed the victim several times in the arm, hip and chest, according to the outlet.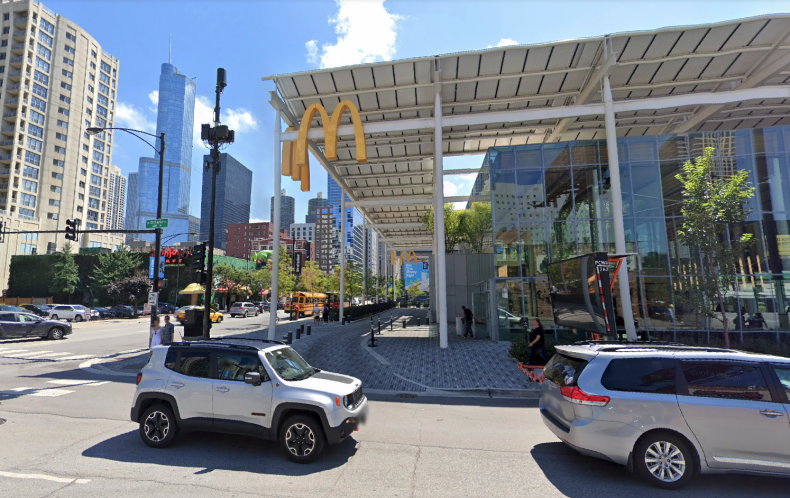 The victim ran to the first block of East Wacker Drive, where he called for help. He was then taken to Northwestern Hospital with several lacerations but was listed in a fair condition, according to the outlet who cited police.
Currently, no one is in custody in connection with the attack. Chicago Area Three detectives are investigating.
The news comes just hours after Chicago Police Superintendent David Brown addressed the media regarding violence in the city over the weekend.
Brown told reporters that so far this year officers in the Chicago Police Department had seized 9,000 illegally possessed firearms and have made over 4,000 arrests for illegal possession of firearms.
"Those numbers are on record pace for a historic high number of guns seized," Brown said. The superintendent also addressed the role of gangs in perpetuating violence throughout the city.
On Thursday, September 16, a man was stabbed during an argument in the same neighborhood in a hotel on the Near North Side.
The man, 29, was repeatedly stabbed around 3:40 p.m. by another man in the 600 block of North Wells Street, authorities said.
He was taken to Northwestern Memorial Hospital in good condition, police said.
In that case, a person has since been taken into custody and charges are pending.
Earlier this month, a 24-year-old woman was stabbed on the side of her neck while working at the Chase bank in River North around 11 a.m. on Wednesday, September 1.
The victim, identified as Jessica Vilaythong, died "after having a brief conversation" with her attacker inside the bank, Chicago police said.
Jawaun Westbrooks, 35, has since been charged with one count of first-degree murder in what police believe to be a random attack, the Chicago Sun Times reported.
Witnesses reported seeing a man screaming at pedestrians and holding a knife before walking into the bank and stabbing Vilaythong.
"I saw a guy with a knife, a pretty big knife, with blood on it and he was running with a head of steam," one witness told Fox32 Chicago.
Newsweek has contacted the Chicago Police Department for comment.