Man Rescued After Getting Stuck in Chimney of Home He Was Trying to Burglarize: Police
Police in Maryland say that a man who was trying to rob a home Saturday morning got stuck in a chimney and had to be taken to the hospital.
Officers responded to a call about an attempted robbery at a home in Silver Springs, Maryland, just after 5:30 a.m., according to news station WTOP.
Shiera Goff, a spokesperson for the Montgomery County Police Department, told WTOP that the man was trying to rob the home when he got trapped, though the station noted that it's unclear how the man got stuck in the chimney.
Fire crews rescued the man on Saturday morning.
Pete Piringer, a spokesperson for the Montgomery County Fire & Rescue Service, tweeted Saturday that firefighters were called just before 6 a.m. to assist police "in removing a man stuck in chimney" and noted that the man "was not authorized to be there."
"Rescue crews methodically removed the wall & bricks from around the chimney. He was extracted ~730a & transported to trauma center," Piringer tweeted.
Photos from inside the home posted on Twitter show firefighters working, a large hole in the wall above the fireplace, and rubble piling up next to it.
A video posted by Piringer shows firefighters removing bricks from the inside of the chimney.
The news station reported the man was taken to the hospital with minor injuries.
It's unclear if the man has been charged with a crime, and he has not been identified.
Newsweek reached out to the Montgomery County Police Department for details about the incident, but did not receive a response before publication on Saturday evening.
Similar incidents have occurred throughout the U.S.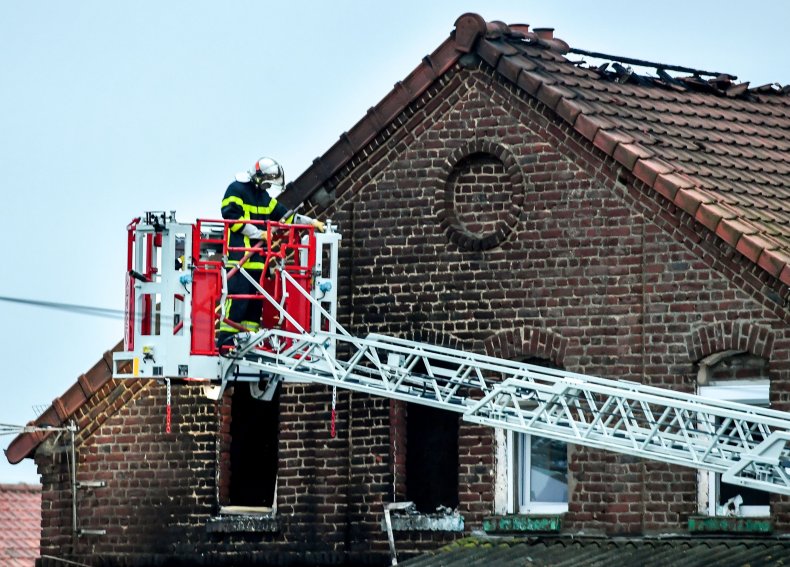 In Claremont, California, in 2018, a man accused of trying to steal items from a home got stuck in a chimney and was arrested on burglary charges. USA Today reported that the man was heard screaming coming from the bottom of the chimney, where he was allegedly trying to enter the home to steal items.
In 2013, police said that a man in Naples, Florida, got trapped in a chimney and had to be rescued by firefighters while trying to break into a home. According to NBC Miami, firefighters discovered the man stuck with one foot in the fireplace of the home. The man faced burglary charges after the incident and caused damaged to the chimney.
The homeowner described the incident as a "reverse kind of Santa," the news station reported.