A woman was reunited with her engagement ring after it was lost in a snowdrift in Breckenridge, Colorado, thanks to the help of a stranger and a metal detector.
CBS4 reported that an engaged couple—Paulina Morales and Deven Maraj—were on vacation when the ring went missing in the snow. After spending several days searching for the ring, they came up empty-handed and had to return home to Texas.
They decided to offer a $500 reward to anyone who managed to find it on the trail where they believed it went missing. CBS4 first ran a story about the couple asking for help finding it.
Tony Pizzamiglio saw the initial report on the station and got to work looking for the ring with a metal detector. He told the outlet he had one false hit, but it wasn't long before he found the round band.
"It was clear it was going to be tucked in a snowball," he said. "I pulled that apart with my hands and straightaway saw it was there."
He said he received the reward money and planned to donate it to the Summit Rescue Group, which is an organization that aids in rescue services.
Pizzamiglio is no stranger to the world of metal detecting.
He told Newsweek he runs a side-project called CNFLNC, and the main idea is to get people outdoors. One of the activities they do together is to go out metal detecting.
When he got to the spot where the ring was reported missing, Pizzamiglio explained it was likely that as the couple was looking for the ring, it was inadvertently tossed aside and compacted into the snow.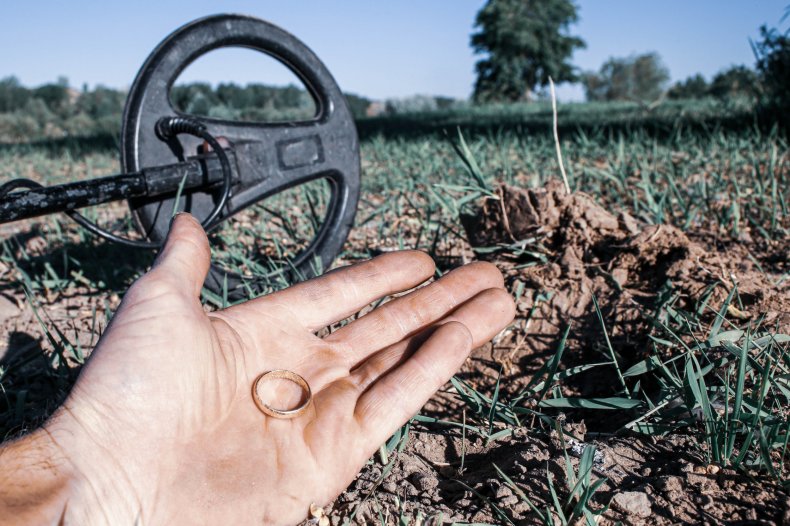 Many have turned to metal detecting as a hobby, which has led to some interesting discoveries. A piece published by Texas Outside discussed the different reasons that people use metal detectors.
Individuals may stumble across some interesting and possibly valuable find, and they can also share some interesting stories about what they've discovered.
"You can spot old coins, old personal belongings, weapons, relics, even jewelry," the piece stated. "On the other hand, it is totally possible to find modern jewelry lost in public places, with is also a valuable find."
Spencer Wilson, the station's reporter, revealed the newly found engagement ring to Morales over Zoom.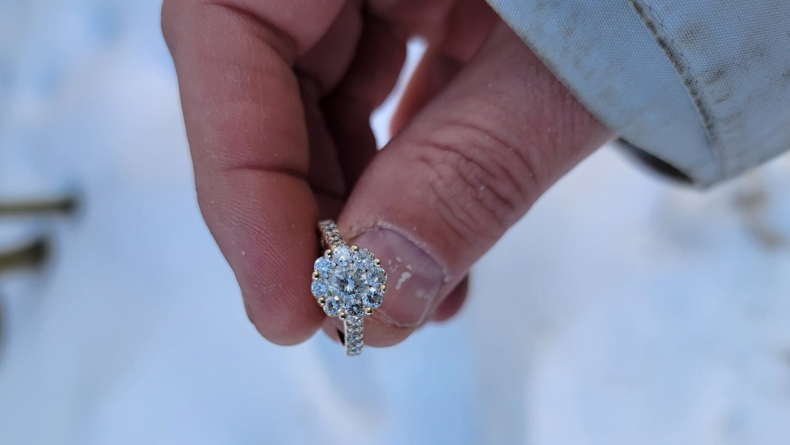 "I've got chills, this is such good news," Morales said on the Zoom call.
In addition to the engagement ring, Pizzamiglio said he used the metal detector recently to find a pocketknife that was lost during a snowball fight.
"It's nice to have some good news," he said. "It's so much easier than people think to do good stuff than to be wrapped up in ourselves."
Newsweek reached out to Morales for further comment.
Engagement rings are not the only discoveries that metal detectors have helped uncover. Thirteen-year-old Milly Hardwick of Suffolk, England, was metal detecting with her father and came across an axe that dated back to approximately 1300 B.C., per the BBC.
It was only her third outing when they came across the axe. Hardwick and her father found an additional 20 artifacts, and archeologists investigated the site the next day. In total, 65 items were excavated and taken to the British Museum in London.