Man Reunited With Lost Wedding Ring After Stranger Found it in the Ocean, Posted to TikTok
A man in Hawaii lost his wedding ring while cliff jumping over a year ago during a photoshoot to celebrate his wedding anniversary. That is until another couple went cliff jumping off the same cliffs and noticed the gold wedding band glistening on a lava rock nearby and posted the ring to TikTok.
Lexi and CJ Jorden-Ames were jumping off the cliffs last year for a cliffside photoshoot when CJ noticed his ring was nowhere to be found. The couple searched the water around the cliffs for over a month with a metal detector before realizing it was probably lost for good.
Another couple, Ryan and Corrine are elopement photographers from Hawaii who were hanging out one day at the same cliffs. After they found the wedding ring, they took to social media in an attempt to find the ring's rightful owner.
"We were just at those cliffs on our day off," Ryan told Newsweek. "I jumped into the water and as I was climbing out of the ocean I noticed a gold ring that was kind of nestled right into the lava rock."
On August 8, 2020, Ryan and Corrine posted a TikTok captioned, "We want to find the owner for this!!" that showed the wedding ring they found.
"Immediately we went home and made a TikTok video, posted it to Instagram, also Facebook groups. We posted it everywhere and unfortunately didn't hear anything," Ryan told Newsweek. "We literally just kept it in a jar in our house for a year."
But a few days ago, CJ and Lexi's photographer Jamie Ronning decided to download TikTok on her phone and found herself scrolling through Ryan and Corrine's photography page on the app.
That's when she came across the video of Ryan and Corrine showing off the lost gold wedding band they found while shooting photos at a cliff. She immediately knew she recognized the ring, especially because there was a specific word engraved on the inside of the ring.
"I thought there's no possible way that this could be the ring. Sure enough, I reached out," Ronning told KHON2.
It turned out that it was the ring that CJ lost over a year prior, so Ronning called Lexi to give her the good news. That's when Lexi decided to plan a surprise for CJ.
"We were already going to the beach after I got out of work," Lexi told KHON2. "So I just kind of like was I got out of work early, and I have a surprise for you."
She planned a surprise meeting with Corrine and Ryan on the beach without CJ knowing.
"We looked at a photo of them so we knew what they looked like," Ryan told KHON2. "When we saw them walking along the beach I started to get my phone out. I started to take selfies of Corinne and I. After taking some selfies they were walking past, and I go 'excuse me I'm really bad at taking selfies do you mind taking a photo of us at this beautiful ocean?'"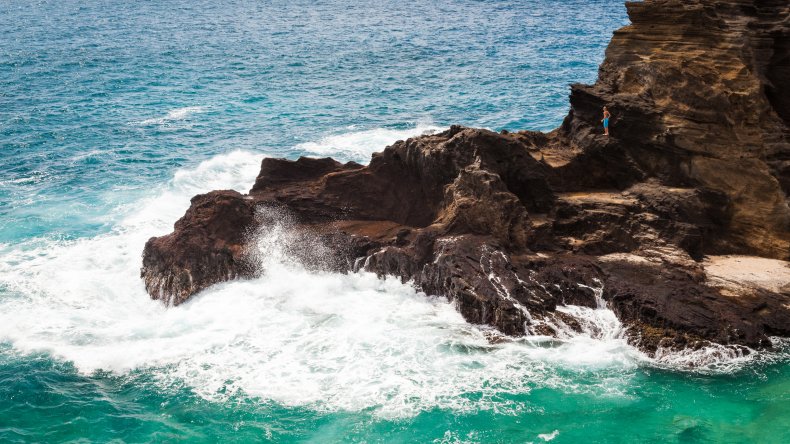 The entire exchange was filmed and posted to Corinne and Ryan's TikTok account. After CJ finished taking the couple's photos, Ryan told CJ he had dropped something. Ryan scooped up a handful of sand and revealed the gold wedding ring. CJ was in shock as he realized his ring was found and emotionally hugged Ryan.
"Honestly it just worked out perfect. Some Hawaii-style perfect aloha," Lexi told KHON2.
Three days ago the couple posted a follow-up TikTok excitedly announcing that the ring was returned to the rightful owner. The video currently has over 766,000 views and 43,500 likes.
"It goes to show just that there is so much good with social media," Corinne said.
Updated 10/04/2021, 3:39 p.m. ET: This story has been updated with a new hyperlink for Aloha Zoe.
Updated 09/30/2021, 2:04 p.m. ET: This story has been updated with comments from Ryan, the man who found the lost wedding ring.