Man In Rubber 'Gimp' Suit Terrorizes Small English Town
A man in a rubber "gimp" suit is terrifying the residents of a town in Somerset, England. The unnamed assailant has been startling the people of Claverham, grunting at them while grabbing his genitals, and then running away.
Over the past weeks, the BDSM bandit has made more than a dozen appearances, always at night. His suit's mask also has Xs over the eyes and a wide, toothy cartoon grin drawn in red.
After the latest incident Thursday night just before midnight, the Avon and Somerset Police were called in. Their manhunt, which included using a helicopter and bloodhounds, proved fruitless.
Today, however, police have arrested a suspect, a man in his 20s. "[The arrest] follows 14 reports of a man approaching people while wearing disguises, one of which was a black bodysuit," police said.
According to police, no one has been physically injured during the incidents.
"While we're keeping an open mind about the motive for these incidents," a spokesperson for the Avon and Somerset Police said. "It's clear the individual responsible is deliberately attempting to cause alarm to the men and women he's approaching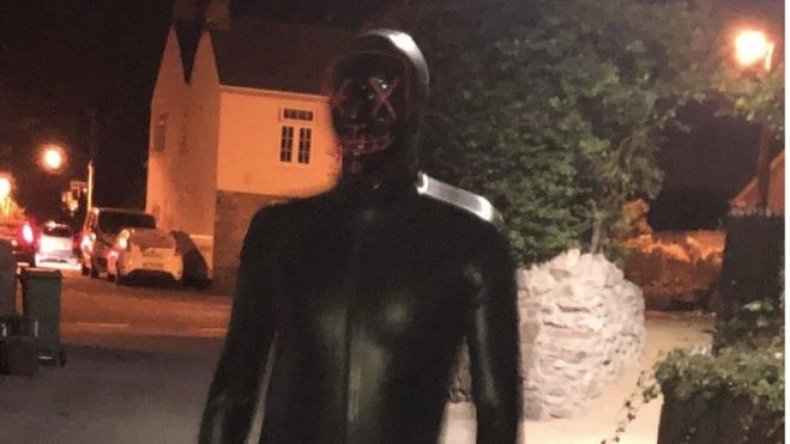 One of the man's victims, who requested to remain anonymous, said she was on her evening walk when he surprised her.
"I was walking along with my [flashlight] and looked up to see someone charging at me in a full black rubbery suit," she told the BBC. The woman managed to take a picture, which has been distributed by police.
The woman says the rubber-suited man rushed towards her while touching his groin, grunting and breathing heavily.
"As I tried to take a step back he was right in front of my face and he put his leg forward. I was just trying to assess the situation in my head quickly."
She pushed the man back and screamed, and he ran backwards towards the main road.
"Everything was running through my head. I thought: 'This is it, I'm going to get attacked'. I was looking 'round thinking, 'oh my God,'" she said.
Thursday night's victim has been "hugely affected" by the incident, she said, adding that she spoke out because she's afraid it would happen again. "I would never forgive myself if this happened to someone else and I hadn't said anything.".
She admits she's been reluctant to leave the house since the man leapt out at her. "[I feel] panicked... that there's someone watching," she told the BBC. "It's not just a man jumping out at me going 'Boo.' Every time I close my eyes, I just see that face," she added.