Man Says He Logged Off Mid-Interview in Viral Post, Sparks Conversation
A man wrote in a viral post on the subreddit r/antiwork that he logged off during a job interview after becoming "flustered" following multiple questions asked during his presentation.
u/WellofCourseDude wrote in his post, which received more than 14,000 votes, that he was asked to prepare a presentation using data from the company he interviewed with. After facing numerous questions, he said he logged off and blocked the interviewers. This sparked a conversation in the comments section about the expectations from potential employers during the interview process.
In addition to answering common interview questions, a company may request the applicant to complete an assignment as part of the process. These assignments, according to Indeed, are meant for hiring managers to assess the candidate's technicals skills.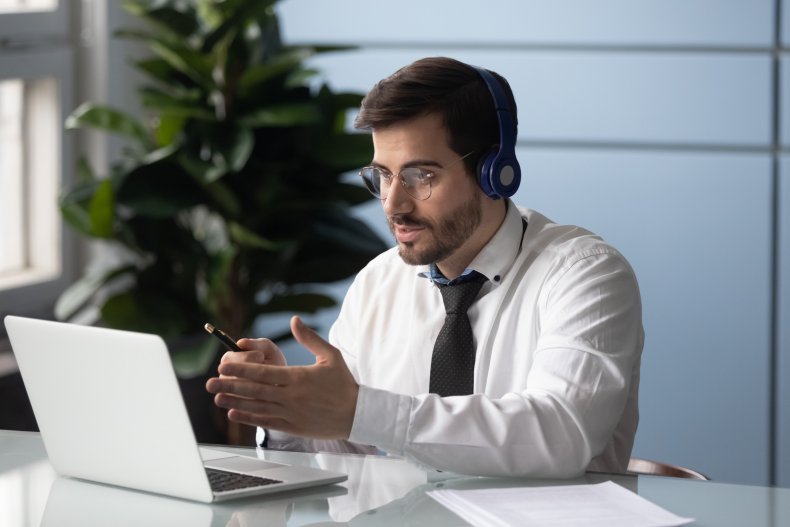 u/WellofCourseDude wrote that he was given an hour to research and prepare a presentation. He put together a slideshow that included the product breakdown and cost.
"I start presenting and I get asked why that font? Why did you choose that formula? I know that formula and find it the easiest to do, why didn't you do this? Why did you choose that?" he recalled.
He wrote that he began getting "flustered" by the questions and told them that if he were with a client, they would be confident to trust his skills.
"That wasn't enough for him so I logged off and I blocked them," u/WellofCourseDude wrote. "I am interviewing for multiple roles, with the same kind of interview process and not once have I been asked more than once why."
He continued and said he had a different interview for a similar role, but the interviewer did not "grill" him.
In addition to the presentation, u/WellofCourseDude said he took several tests, participated in two phone interviews and underwent a personality assessment.
According to Indeed, a job interview assignment relates to a position that the potential employee is applying for.
"Many hiring managers use these assignments in addition to a traditional interview to learn more about your skills and work ethic and evaluate how your abilities align with the job requirements," the piece stated.
u/WellofCourseDude's post drew comments from people who commended him, but others said the questions asked of him were simply part of the process.
"You got asked about the font?" u/dataslinger commented. "That's so petty."
One commenter wrote that u/WellofCourseDude dodged a bullet.
"I just left a good paying job because of the same thing," u/ ____CrimsoN____ wrote. "The boss felt the need to test me even though the company was a toxic, chaotic, disorganized s**t show. There's no shame in saying no to the bulls**t."
However, some criticized u/WellofCourseDude.
One commenter pointed out that he should have expected to answer questions behind each detail of his presentation.
"Of course they'll make you defend it and explain the choices you made that led you there," u/TommyTuttle wrote. "They're trying to ascertain deeper elements of your competence than what shows up in the presentation itself."
Another commenter suggested that leaving the interview may cause problems in the future.
"If you decided you didn't want to work there because of how they treated you, GREAT," u/monka_giga commented. "Don't work there then. But logging off and blocking them in the middle of it, that's some bridge burning behavior. Recruiters talk, people have networks, should've just finished it up politely, learned from it, and moved on."
Newsweek reached out to u/WellofCourseDude for further comment but did not hear back in time for publication.