Man Says He Was Suspended From Work After Driving Drunk Co-Worker Home
Commenters backed an anonymous man who claimed he was suspended from work by HR after offering a drunk co-worker a ride home from a party.
The anonymous man, known only as u/HeyIt'sYonder, posted about the situation in Reddit's popular r/TIFU (Today I F**ked Up) subreddit where it received nearly 25,000 upvotes and 2,000 comments, many from users telling the man to seek legal action for the suspension.
In an article written by Doreen Matemba for LinkedIn, she explained that employees on suspension should receive full pay and benefits—unless it is clear in the contract that the employer has the right to suspend compensation.
A suspension is when an employee is sent home from work for a decided amount of time during an ongoing investigation by HR. Suspended employees often receive a letter laying out the reason for the suspension as well as any terms required during the investigation.
The employee should also make it clear to the employee why they are being suspended.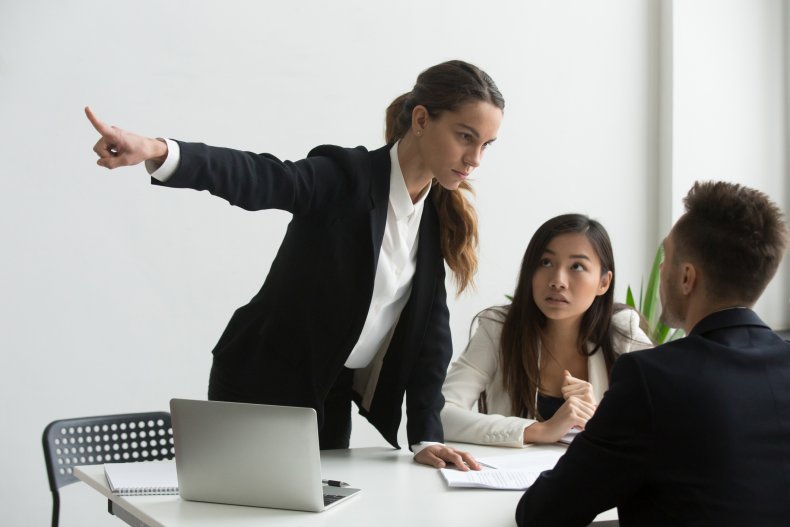 In the post titled "TIFU by helping drunk coworker and trusting HR," the man, 29, explained that about a month ago his company held a party to celebrate the completion of a large project and that as he was leaving, he noticed a drunk co-worker, 30, who was struggling to walk.
He explained that although he'd worked with her for three years, he didn't know much about her because of how big of a department it is.
He offered the woman help as she struggled and she held out her hand. She said she took an Uber and he called her another one as she threw up next to him. Once the Uber driver saw the state she was in, they drove away without her.
So the man said he would drive her home. He explained that he has a dual front and rear dash cam in his car and that he moved the rear camera and adjusted the angle so it would film the inside of the car.
"Fast forward one month to April 25 (last week) and I was called into HR," the post read. "My manager was sitting with a serious expression. They asked what I did after the party. I immediately became defensive and asked what the meeting is about."
The person from HR said they received a complaint from another employee accusing him of "inappropriate behavior."
"I responded, 'I have no idea what you are talking about. I did nothing inappropriate during or after that party. Whoever complained has the wrong guy!'" the post read.
When his manager and the HR person went into the hallway, the man said he got nervous even though he said he did nothing wrong.
"They step back into the office, manager says they have a witness who saw me put a drunk co-worker into my car," the post read. "I said, 'Yea, I drove her home. Nothing happened...and I did not 'put' her in. She accepted the help.' Silence."
He said the two stared at him like he was "guilty" and acted suspiciously toward him. HR told him they would continue investigating and speak to him the following week.
"I received an email today, telling me to make a statement for the police and that I'm suspended until the case is dismissed," the post read. "I'm pissed. Really pissed. I hired an attorney and submitted a statement to police. After asking around, I learned the co-worker I gave a ride to is apparently the ex-wife of my manager's golfing buddy. Yea."
The man explained that the dashcam footage "protected him" and that there was also cell phone footage of him walking her to her house.
"I am innocent and will fight this," the post concluded.
Nearly 2,000 users commented on the man's post, the majority of which defended the man and suggested the man try to receive monetary damages since his name was "tarnished" and he was losing money by being put on leave during the investigation.
"If you're not being paid while suspended you should seek damages," one user commented.
"Sucks now, but in a few months do send us a picture with all the compensation money," another wrote.
"Likely they are not calling the police, but rather using that as an excuse to get a written statement from OP. HR loves written statements for a lot of reasons," another user commented. "If it was really for the police, then the police themselves would be talking to OP."
But some users claiming to be HR professionals said a lot of the advice people were offering was not actually helpful and that their workplace did what it should have.
"First and foremost when there is a complaint involving 'inappropriate' behavior which could be some type of sexual harassment, or worse, you absolutely suspend the person being investigated," the comment read. "If no wrongdoing is found, you are brought back and paid for the time you were suspended, which is the case almost always. Whether is it legally owed depends on a lot of factors."
The user suggested that the man write to HR asking to be compensated for the suspension when this misunderstanding is resolved. They also suggested getting the full nature of the complaint to better understand why police are being involved.
Newsweek reached out to u/HeyIt'sYonder for comment.