Man Sculpts a Nearly Full-Sized T-Rex Using Snow, Spray Paint, Wood
While some create snow angels and snowmen in the winter, a Becker, Minnesota, man decided to sculpt a 10-foot Tyrannosaurus rex.
Using sculpting tools, spray paint and plenty of snow, Paul Larcom spent about 170 hours over the course of three weeks perfecting the terrifying creature, according to CBS affiliate station WCCO. A photo of Larcom's creation later appeared on Reddit, where it went viral and received more than 71,000 votes.
Some participate in competitive snow sculpture contests, which require time, attention to detail and innovation as pointed out by Smithsonian Magazine.
"They seem kind of in awe of this...that there's almost a full-sized dinosaur, you know, right in front of them," Larcom told WCCO. "Most of them have been really excited about it and I really enjoy that."
He posted some behind-the-scenes photos on his Facebook page that showed the process from start to finish.
What was once an unidentifiable shape transformed into the fierce beast that stands tall in his yard.
Speaking with the radio station KNSI, Larcom said he constructed a wood skeleton that provides support underneath the snow. Larcom told Newsweek in a message that the structure used about 10 wooden sticks for the legs, pelvis, tail, back and head. To make things easier for sculpting, he packed the snow.
And, while he's had previous experience creating snow sculptures, the dinosaur was the largest one he's completed.
Larcom said it took a few hours to plan how to execute the sculpture, though he knew he wanted to create something big since last year.
"I kind of chose to sculpt a dinosaur sort of at the last minute," he said.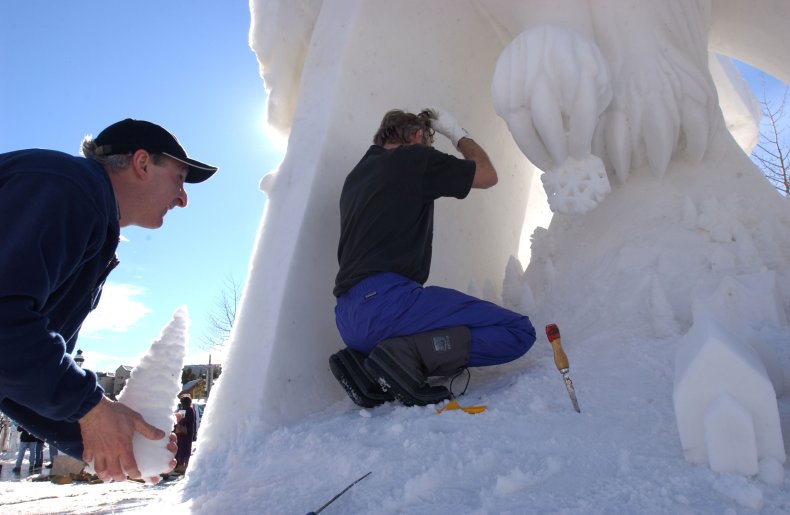 Larcom studied art under an artist by the name of Parker McDonald and learned about it while in school. He also spoke with fellow artists over the internet and was able to teach himself some techniques.
"As for my background in constructing things out of snow, I've played in the snow ever since I was able to walk and I've tried to teach myself how to sculpt and a little about architecture, but that's about all the background I have," he said.
Those who have pursued competitive snow sculpting are creative with what they make, as well as with the methods they use to create the sculpture.
Competitors take a block of compressed snow and use tools like ice chippers, chisels, sheetrock saws and machetes to bring their visions to life.
"A sculpture takes about 100 hours from conception to completion, with work split between up to three team members," a piece about the U.S. National Snow Sculpting Competition published in Smithsonian Magazine stated.
The piece noted that there is not a "standard set" of tools that exist for snow sculpting, so a competitor may use anything, like sandpaper or hatchets.
Larcom's sculpture went on to gain viral attention on the subreddit r/interestingasf**k, where commenters applauded his efforts.
"Wondering what this dude does for a living?" u/Quiet-Try4554 pondered. "He's definitely very talented."
"I feel like something like this belongs in the Guinness book," u/No-Doubt7655 commented.
"Wow, it looks great," u/Avera01 wrote. "Hope the weather stays cold for a while!"
Many wondered what went into Larcom's process to make the sculpture. Some were curious about how much snow was used for the piece.
One joked that they wanted the sculpture on their own front lawn.
Redditor u/dextracin couldn't help but offer the pun "Tyrannosnowrus rex" in response to the sculpture.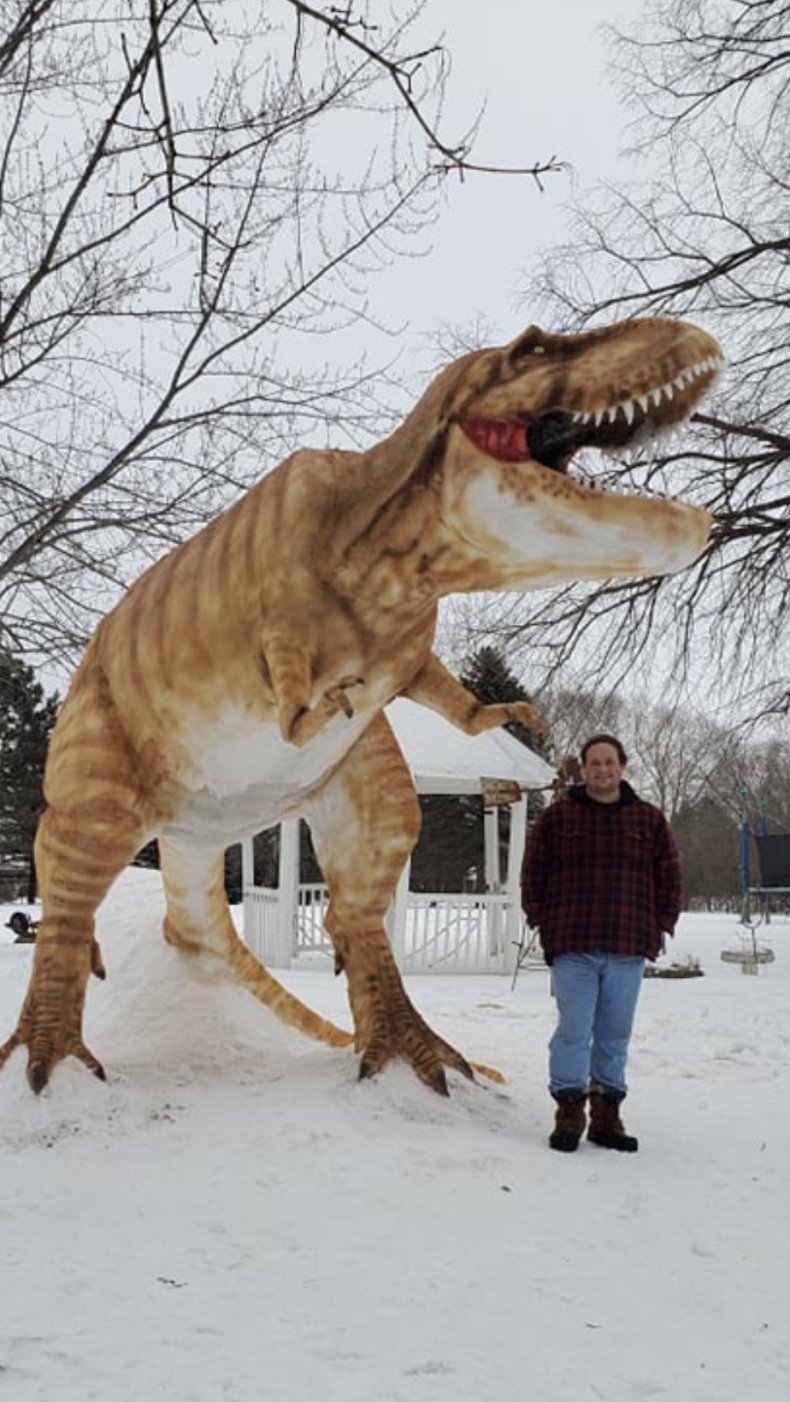 With this sculpture completed, Larcom said plans to create more snow sculptures.
"I hope to make a lot more snow sculptures in the future before I hang up my tools and maybe work on a few small projects in clay, but that's about it at this point," he said.
Updated 02/10/2022, 6:36 p.m. ET: This story has been updated with comments from Paul Larcom and a picture of the sculpture.