Man Seen in Viral Video Punching Southwest Employee Faces Battery Charges
Atlanta police have arrested a man who allegedly assaulted a Southwest Airlines employee after earlier being booted from a flight for "behaving disorderly."
A video of the alleged assault posted online this week has been widely shared and drawn headlines. The incident is the latest in a rise in reports of unruly or aggressive passenger behavior as flight crews have attempted to enforce COVID-19 restrictions.
Courney Drummond was arrested on Tuesday at Hartsfield-Jackson Atlanta International Airport and charged with simple battery, battery and obstruction, according to police. The incident began earlier when Drummond "refused to comply" with flight attendants as a Southwest Airlines flight taxied from the gate to the tarmac, the police reported. The plane had to return to the gate due to what police said was Drummond's "aggressive behavior."
After being escorted off the plane, Drummond threatened a Southwest gate agent before assaulting him, police said. Officers responded around 9:19 p.m. local time and arrested Drummond.
A video of the alleged incident shows airline staff attempting to deescalate the situation by forming a barrier between what appears to be Drummond and the targeted employee.
Drummond, of Henderson, Nevada, is currently being held in Clayton County Jail, according to its website.
Police did not release details regarding Drummond's alleged behavior on the plane. It is unclear at this time if Drummond is currently being represented by a lawyer.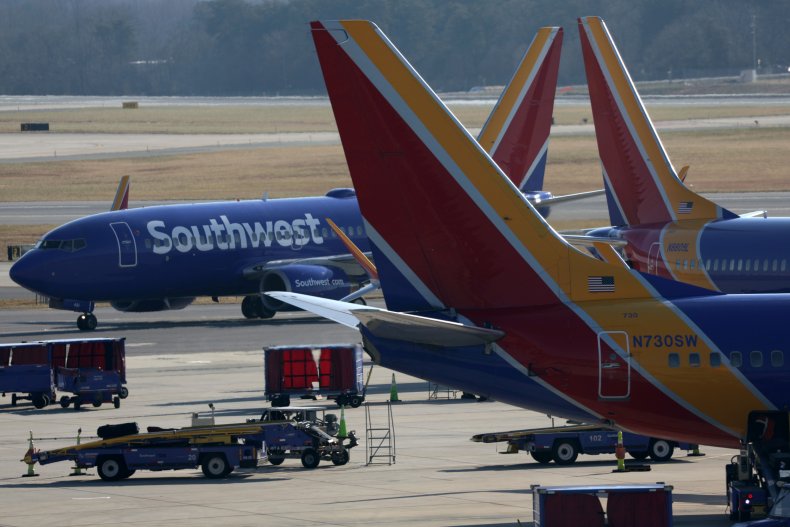 Southwest Airlines told Newsweek in a statement the airline appreciates the quick actions of nearby employees to protect their colleagues and law enforcement.
"Southwest Airlines has zero tolerance for any type of assault against our Employees or Customers," the statement said. "As a result of this inexcusable attack, the individual has been banned from flying with Southwest Airlines."
Figures from the Federal Aviation Administration (FAA) show a spike of unruly passenger incidents. Data from the administration show that the number of investigations into incidents of unruly passengers rose to 1,099 in 2021 as consumers returned to travel once the COVID-19 pandemic showed signs of waning.
So far, the FAA has launched investigations into 274 incidents in 2022, already more than the 183 incidents recorded in 2020.
The FAA said in September the frequency of unruly passenger incidents has decreased since it began its zero-tolerance policy in January of 2021, fining travelers instead of issuing warnings. In 2021, the FAA proposed $5 million in fines against unruly passengers.
Incidents centering around required face coverings on commercial flights have accounted for 66 percent of reports of unruly passengers, according to the FAA.
Earlier this week, TWU Local 556, which represents more than 16,000 Southwest employees, asked President Joe Biden and other federal transportation officials to lift the masking requirement for public transportation, citing ongoing difficulties crews have faced trying to enforce the mandate.
"Serving onboard during these contentious times and enforcing mask compliance is one of the most difficult jobs we have ever faced as flight attendants," TWU Local 556 wrote in a letter. "The number of physical and verbal assaults in our workplace has increased dramatically, many of which are related to mask compliance."