Police in Evansville, Indiana, say that a man admitted to fatally shooting a woman on Wednesday and sent the recorded footage of the killing to his mother.
According to a statement the department posted on Facebook on Wednesday, officers responded to a report of a woman who was shot inside a home that day. The person who made the call provided officers "with the name of the victim and for the offender, Scott L. Terry Jr. (30)," police wrote.
The homicide comes as many areas of the U.S. have seen an increase in violent crime in the wake of the COVID-19 pandemic.
When they went into the home, they found the woman dead on the floor with a gunshot wound to the head. The coroner's office later reported her official cause of death was "multiple gunshot wounds to the head," according to 44 News. Police made contact with Terry over the phone, and later took him into custody "without incident."
"While being interviewed, he stated he was in a tumultuous relationship with the victim and admitted to the shooting," the Evansville Police Department Stated. Police say he was transported and booked into the Vanderburgh County Confinement Center for murder.
The Vanderburgh County Coroner's Office later identified the victim of the crime as 30-year-old Candilyn Michelle Sexton and said that she was in her third trimester of pregnancy when she was killed, according to 44 News.
The Evansville Courier & Press reported that police said Terry told them he called 911 and sent footage of the killing that had been captured on the woman's cell phone to his mother. His mother also called 911, police said. Police found the footage of the killing on the cellphone the newspaper reported, citing an affidavit.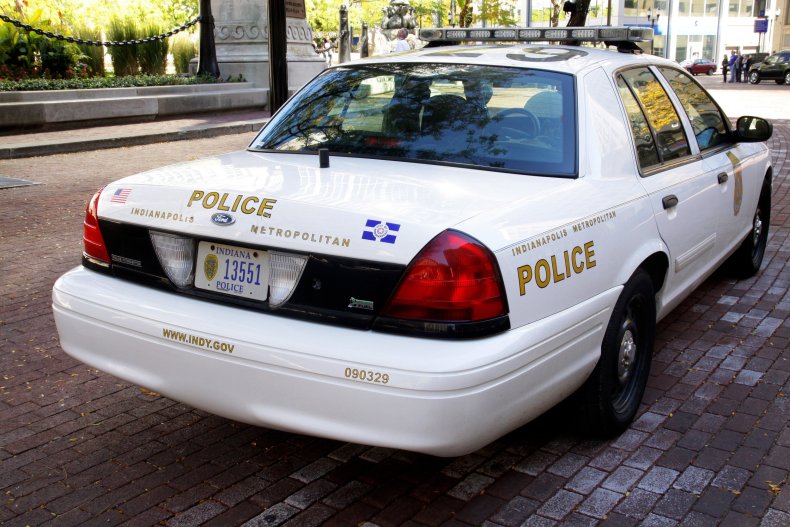 Newsweek reached out to the Evansville Police Department for additional details about the incident but did not receive a response in time for publication on Friday afternoon.
In a separate incident in Florida in January, police said they believed a man shot and killed his girlfriend and shot her 14-year-old son before turning the gun on himself. Police found the woman dead and her son with gunshot wounds at the scene of the shooting. The man was brought to the hospital in critical condition.
In another fatal shooting in Maryland in December, police accused a man of fatally shooting both his ex-girlfriend and ex-wife before taking his own life.
And in another incident this month, police said that a pregnant teen was fatally shot by a teenager who was playing with a gun. Police said the teenager, who was arrested in connection with the girl's death, was sitting behind the victim in a car when he fired a handgun, hitting her in the back.