Man Set Building on Fire, Tried to Trap and Kill Someone Inside: Police
A man in North Carolina is accused of setting a duplex on fire and trying to kill someone inside the building, holding the door shut while someone was trying to get out.
The man, Jason Ray Weeks, 48, has been charged with attempted first-degree murder and first-degree arson, after he allegedly set fire to the building in Thomasville, North Carolina, according to news station WGHP.
When firefighters responded to the duplex around 6 p.m. on Wednesday, both units were on fire. A man who had been inside the burning building told law enforcement officials that he initially couldn't get out because Weeks was holding the door shut, and shouting "You're going to die," the news station reported, citing police.
Weeks was on the scene when firefighters arrived, and police said that the suspect tried to run into the burning building but was stopped. He then ran away but was later arrested by police.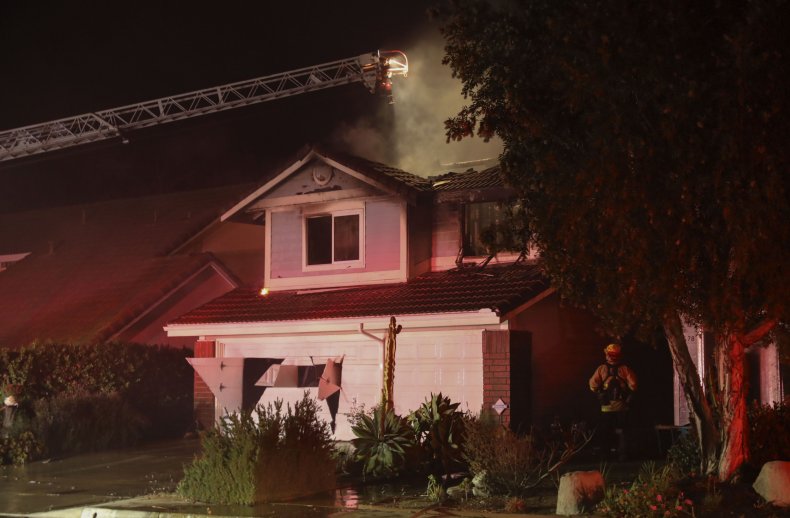 Newsweek reached out to police in Thomasville, North Carolina for more information about the incident and Weeks' arrest, but did not receive a response before publication.
In a separate incident in July, a man in Texas was charged with capital murder for allegedly setting fire to his home while his mother and brother were still inside.
That same month, a woman in Kentucky was charged with arson, attempted murder, resisting arrest, and disorderly conduct, for allegedly setting her neighbor's mobile home on fire.
Asked about why she committed the offense, the woman, Sheena Johnson, allegedly said "Why not?" and added that she wanted to "cleanse this place."
In Maryland in May, a woman was charged with attempted murder when she allegedly set her home on fire while someone was in the basement. She reportedly watched from a lawn chair while the house burnt down.
At the time, a fire official said "the 911 caller stated that [the suspect] actually went inside the house, set multiple items, multiple fires inside the house."
He added: "She then exited the house and proceeded to sit on a lawn chair where she actually watched the fire spread throughout the house."
In 2019, U.S. law enforcement agencies reported that 33,395 arson offenses were committed across the country, according to the Federal Bureau of Investigation. The FBI says that more than 42 percent of those crimes involved "structures" such as homes or public buildings.