Man Sets Guinness World Record by Skydiving Naked 60 Times in a Row
Nebraska man Rian Kanouff not only set a new Guinness World Record yesterday, he created an entirely new record category: most naked sky dives completed in 24 hours.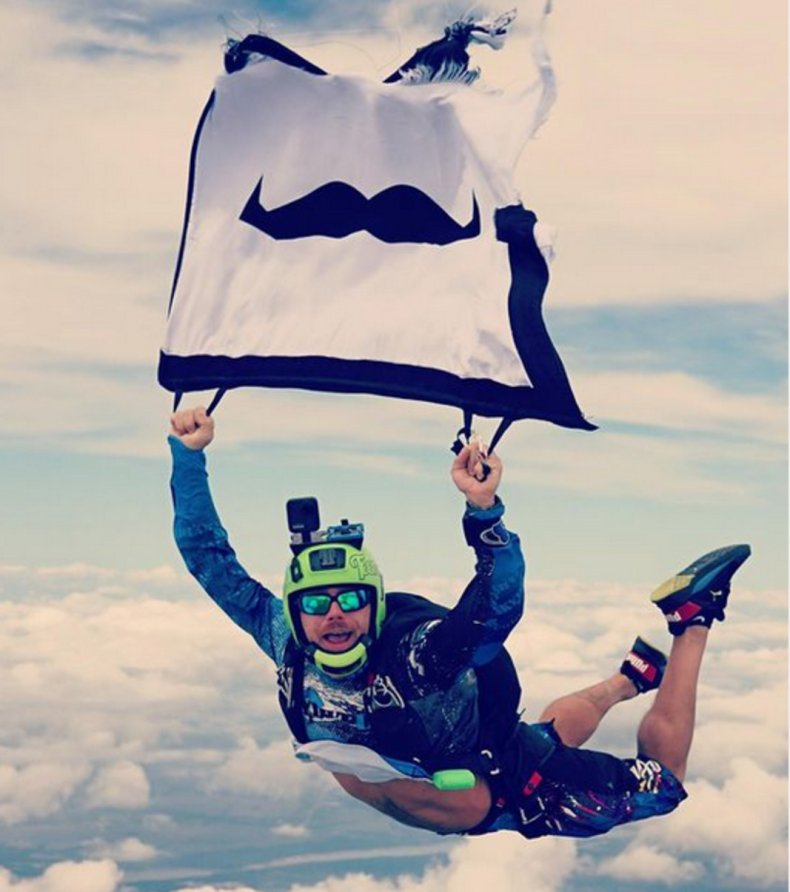 While the salacious stunt made local headlines, Kanouff, who describes himself as "a motivational speaker, a skydiving and wind tunnel coach, and an extreme sports athlete," told 10/11 NOW he did it not to shock (or, at least, not only to shock), but to raise awareness of the mental health issues that men can and do face. Several of the Omaha resident's close friends and family members have died by suicide, including a fellow skydiving enthusiast who was approaching his 100th dive.
He was "[c]lose enough that he talked about it all the time, and he didn't get to make it, so I am out here for him and a lot of other people that we lost," Kanouff told 10/11 NOW of his friend, adding it is tradition to celebrate the milestone in the nude.
In advance of the day of, Kanouff partnered with the Movember Foundation, a charity that aims to raise awareness of male health issues such as depression and prostate cancer, to support suicide prevention and mental health awareness efforts. Elaborating on his motives in the caption of a GoFundMe page, he wrote, "My goal is to raise enough support to cover the expenses, but my primary purpose is to exceed that with the publicity I have planned to raise a greater community awareness and involvement in helping the local community with mental health issues." So far, the GoFundMe page has raised $2,384, approximately a quarter of its $10,000 goal.
In the early hours of Wednesday morning, the third day of International Men's Health Week, Kanouff and his team drove to Weeping Water Airport to prepare for the demanding day ahead of them, according to 10/11 NOW. With the help of a team that included pilots, nurses, fellow skydivers, and onlookers, Kanouff averaged about one jump every 10 minutes in the hours that followed, his friend Scott Dvorak told the station.
"From the time he loads the plane till he takes off and gets out is about five minutes. Then, about a three-minute descent, so we're about seven minutes there. He spends about two minutes on the ground re-rigging and getting back in the plane for a total of 10 to 11 minutes per turn," Dvorak, who helped organize the effort, said.
By 12:06 p.m., Kanouff had recorded 31 jumps, he stated in an Instagram video. By 9 p.m., he had documented an additional 29 for a total of 60, 35 more than Guinness World Records staff had told him he needed to make in order to set a world record.
"It is so humbling how much my friends and the people I care about are there to care about something I also care about," said Kanouff, who marked the moment with a cake to the face and a well-deserved break, according to 10/11 NOW. "They are not here just to support me—they're here to support what we're doing and the strength that we all have in this community is something that I think the world needs."
Update, 06/18/2021 at 10:19 a.m.: This article has been updated to clarify that Scott Dvorak took the featured image of Rian Kanouff.