Man Sets Himself on Fire Inside Paris Subway Station
A man suffered from serious injuries after setting himself on fire inside a subway station in Paris on Thursday evening, according to local media outlets.
The man, whose name has not yet been reported, was seen burning inside the Pigalle metro station shortly before 6 p.m.
The victim is believed to have been in his 30s, and was covered in gasoline before catching fire at the subway station, Le Parisien reported Thursday. He was rescued after a person nearby used a fire extinguisher to quell the flames, before a team of firefighters arrived to the site minutes later.
The man was then taken to a local hospital for emergency treatment. Firefighters later told reporters that his whole body "is very badly burned," and that his injuries are likely severe, actu Paris reported.
Those who were present during the incident described the scene as chaotic, "shocking," and full of "panic."
"There was like a mini-explosion, I saw the man on fire on the platform while I was in the train. We were evacuated urgently, I saw shocked people, prostrate on the ground. It smelled like burnt... When I left, I saw the man on the ground," an onlooker at the subway station told Le Parisien.
Another man told the news outlet that witnessing the man on fire was "excruciating."
"Everyone started to scream, I turned around and saw someone caught in a big flame on the platform," the person stated. "Everyone started screaming and coming down. Some people were in tears, it was very shocking."
Another passerby said he saw the victim "curled up in himself" after the flames were put out. According to Le Parisien, police do not yet know the identity of the person who used the fire extinguisher.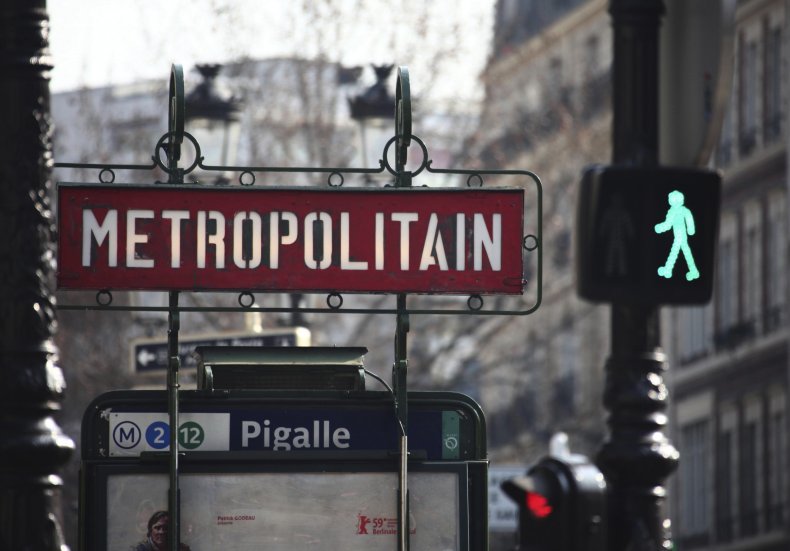 In addition to the man, firefighters took five other victims to nearby hospitals after experiencing shock. It is unclear whether those individuals suffered any injuries.
Police in the 18th arrondissement station in Paris are now conducting an investigation of the incident. Surveillance footage shows the man on the subway track before leaving view of the camera, only to come back into view on fire "like a human torch," Le Parisien reported.
Police say they are now working to uncover exactly how the man caught fire, along with the motive for the incident.
The incident disrupted service between multiple subway lines on Thursday, as witnesses reported seeing smoke across the station. However, some service lines resumed less than an hour later, Le Figaro reported.
Newsweek contacted the 18th arrondissement police station for additional comment, but did not hear back in time for publication.