Man Sets Unofficial World Record by Wearing 90 Shirts During Half Marathon
David Eliuk "did an amazing thing that no one in the world has ever done before."
That was how Eliuk, of Edmonton, Canada, described his feat on Instagram of unofficially breaking a Guinness World Record for wearing the most layers of clothing during the successful completion of a half marathon. He completed the Hypothermic Half Marathon on Sunday in Edmonton in 2 hours, 38 minutes while wearing 90 shirts.
The current official world record holder is David Smith of the United Kingdom, who on November 24, 2019, wore 76 shirts during a half marathon.
"I know I was successful with what I did and what I accomplished," Eliuk told Newsweek regarding his new record.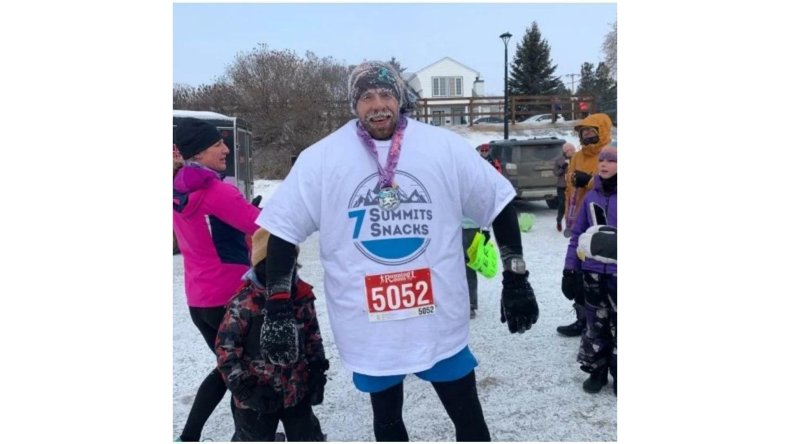 After running triathlons in high school, he moved strictly into running. He has been road running for the last five or six years. He ran the Boston Marathon in 2018 and plans to participate in the Chicago Marathon this October.
"I've kind of been doing it my whole life," he said.
When asked why he set out to break Smith's record, Eliuk said he "was just looking for something fun and off the wall." Guinness has myriad records and some include what Eliuk described as "costume records."
"I saw David's picture on his record page and it made me smile," he said. "It looked pretty funny wearing his 76 shirts and I thought it was something I could do."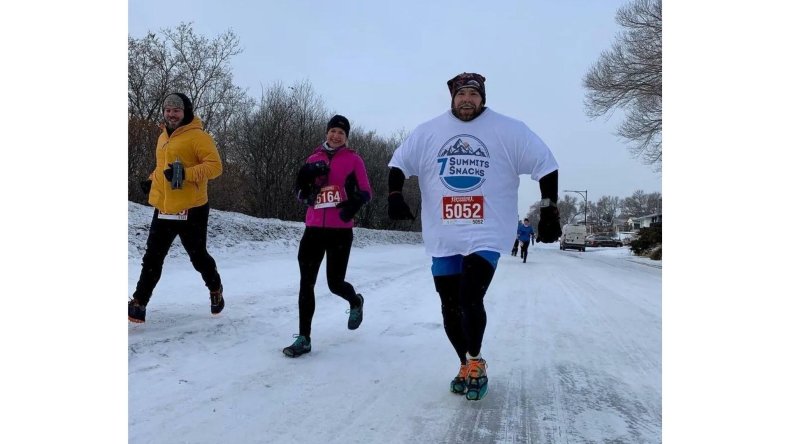 Eliuk began training for the record-setting performance about five months ago. Knowing he had to complete the race in under three hours to meet Guinness' standards, he strategized by adding 12 layers every two weeks. He told Newsweek that the most shirts he wore during training was 72, and that was just within the last couple of weeks.
"It definitely got increasingly harder," he said. "I was able to get myself dressed until about 60 shirts, and anything above that I just didn't have the range of motion to physically put the shirts on myself."
When general movement became difficult, he received assistance from family members, running partners and crew members.
As if wearing 90 layers of clothing and being sedentary isn't enough, Eliuk soon discovered how the impact of all the shirts affected his range of motion—sometimes to the point of personal injury or worse.
"It was definitely challenging," he said. "Just with so many layers pressing down on my shoulder and back and arms, I was actually running into problems early in the race— with a loss of circulation in my left arm."
His crew aided with his blood-flow issues, making adjustments so Eliuk could cross the finish line. He said that running a half-marathon while hunched over and with a bad running posture is causing pain two days later, notably on his back and shoulders.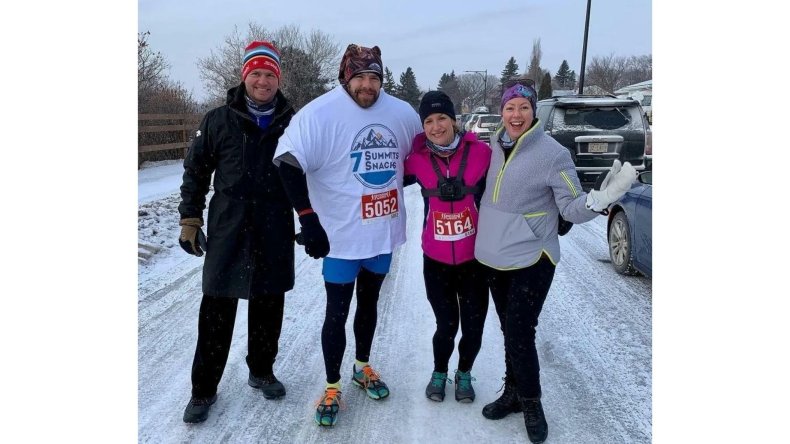 Amanda Marcus, spokesperson for Guinness World Records North America, confirmed to Newsweek that the organization received an application from Eliuk for the record title and attempt.
"We are currently awaiting evidence to review," Marcus said. "Within our application process, we provide the applicant with guidelines that are specific to that record category and must be adhered to, to qualify. These guidelines also detail the evidence that must be submitted."
Guinness' standard application review process can take up to 12 to 15 weeks. Once received and reviewed, its records management team will then confirm the success or failure of the record attempt.
Eliuk said that he and his team were ready to collect and provide all the necessary evidence for a new world record, going as far as creating multiple photos and video backups of his successful attempt.
Now, he waits.
"It's a little nerve racking because you want to make sure you have everything you need," he said.