Man Shares Hilarious Video After Being Locked Inside Aldi at Closing
A man chronicled his experience when he was reportedly locked inside an Aldi grocery store and shared it to TikTok, where it earned more than 5 million views.
TikTok user @khaosblackmetal opened his video, which was first filmed in April 2020 but just posted on TikTok recently, by showing the locked exit door.
"I could unlock it myself but called the cops to avoid setting off the alarm," the text over the video read.
He showed his watch and said the store closed early.
According to Aldi's webpage addressing some of the frequently asked questions regarding the chain's policies during the COVID-19 pandemic, some stores adjusted their hours. These hours, however, meant that the store would open at a different time. The page did not contain information about a different closing time.
"To continue serving our communities and adhere to local occupancy limits, some Aldi stores have adjusted their opening hours of operation to 8:30 a.m. daily," the website stated. "We will continue to reserve the first hour of business on Tuesdays and Thursdays for vulnerable shoppers."
A piece published by Shopify gave a rundown of some of the procedures employees should follow when opening and closing a store.
In addition to making sure the store is clean before leaving, restocking products and closing the registers, Shopify also recommended that employees should make an announcement that the store is closing.
When it is time to close the store, the piece noted that employees should check the store to ensure everyone left.
Although @khaosblackmetal was stuck in the store until police arrived, he did not allow the situation to dampen his spirits.
"I don't have to worry about starving to death because there's plenty of food and there's also a bunch of alcohol on that rack," he said, pulling a six-pack of beer from a shelf in the next video clip.
The police eventually arrived, and @khaosblackmetal was able to leave.
In the comments section, he explained that he went grocery shopping and saw one other shopper and a cashier. After about 10 minutes, he said the lights turned off before they came back on. He said he thought it was the store's way of notifying shoppers that it was going to close.
He waited about 10 minutes before he and the other shopper went to look for the cashier.
"As I was walking back to the checkout, I saw the cashier leaving and I ran up to the window waving at her as she drove off," @khaosblackmetal recalled. "She never noticed us."
When he found that the door was locked, he called the police and said the dispatcher "got a good laugh" and notified the store manager.
He said he first began recording his experience on Snapchat for his friends, but he began recording his full experience. The video was first posted to @khaosblackmetal's Facebook account where it also received attention.
The manager arrived and first accused the shoppers of breaking into the store, but security footage showed that was not the case.
"I still shop at Aldi and there are no hard feelings," he said.
Newsweek reached out to @khaosblackmetal and Aldi for comment.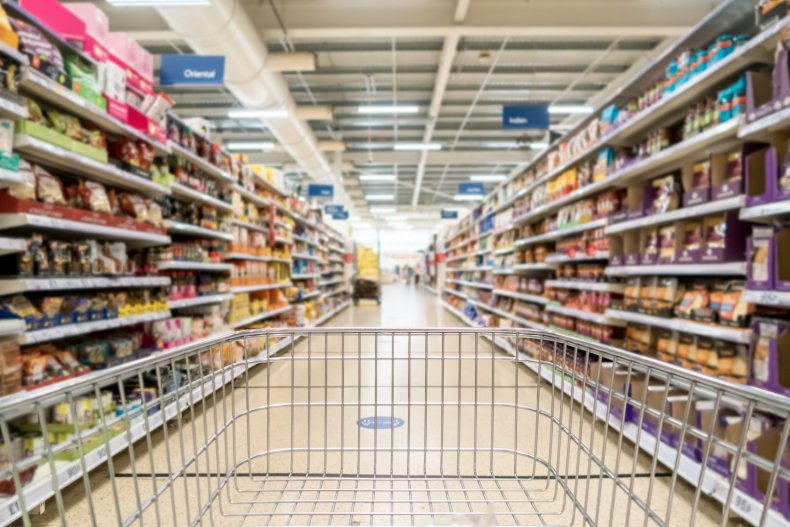 Many commenters were shocked and wondered how the shoppers were locked in the store, and others suggested an employee may be getting fired.
"Omg. How? Why? So many questions," Sarah Finken commented.
One commenter claimed their father was an officer who responded to the incident.
"He's since retired, but he had a good laugh at that call," mooparnature wrote.
Joked TikTok user irisagosson17, "All the food and alcohol. And [A]ldis usually has blankets. I would have camped out and surprised the opener the next day."