Kentucky Man Accidentally Shoots Himself in Mall Restroom
A 61-year-old man accidentally shot himself with his own firearm inside an Indiana mall restroom on Saturday, the Evansville Courier & Press reported.
According to the Evansville Police Department (EPD), the Kentucky native was legally carrying the derringer pistol in his jacket pocket during a visit to Eastland Mall. However, while he was in a restroom near the mall's food court, he dropped his jacket causing the gun to discharge as it hit the floor.
Read more: Arizona man carrying handgun in waistband shoots himself in the groin in Walmart meat department
The bullet struck the man in the ankle and he was promptly rushed to hospital. His injuries were not life-threatening, according to NBC-affiliate WFIE, and no one else was hurt as a result of the accidentlal discharge.
While most modern weapons are built with mechanisms to prevent them firing when dropped, Jason Cullum, a spokesperson for the EPD, said the derringer pistol in question—a small handgun which is neither a revolver nor a semiautomatic pistol—may not have contained such a system.
In a statement provided to the Courier & Press, Cullum said: "We advise people if they are carrying a firearm to make sure it is secured in a manner that it will not discharge unless you intend it to."
"If it is not in a proper holster, things can happen you don't intend to," he said. "A lot of the smaller frame pistols are referred to as pocket guns because they fit in a pocket. But there are holsters designed to go in a pocket to decrease the likelihood of accidental discharge."
Cullum also stressed that the man had a license to carry the weapon—which was valid both in Kentucky and Indiana—and was allowed to bring it into the mall.
The latest incident comes just two weeks after a 32-year-old man, Brandon Neal Brucken, threatened his ex-wife and her partner with a gun outside a shoe shop inside Eastland Mall.
In fact, several gun-related incidents have occurred at Eastland in recent years, according to the Courier & Press.
An incident occurred on September 15 this year when a 33-year-old man fired several shots at two robbers who were trying to make a getaway from the mall car park in their vehicle after stealing an elderly woman's purse. Prosecutors decided not to file charges against the man because he was deemed to have acted legally.
And in another incident in February 2007, a man accidentally discharged his handgun in the food courtwhere, luckily, no one was injured.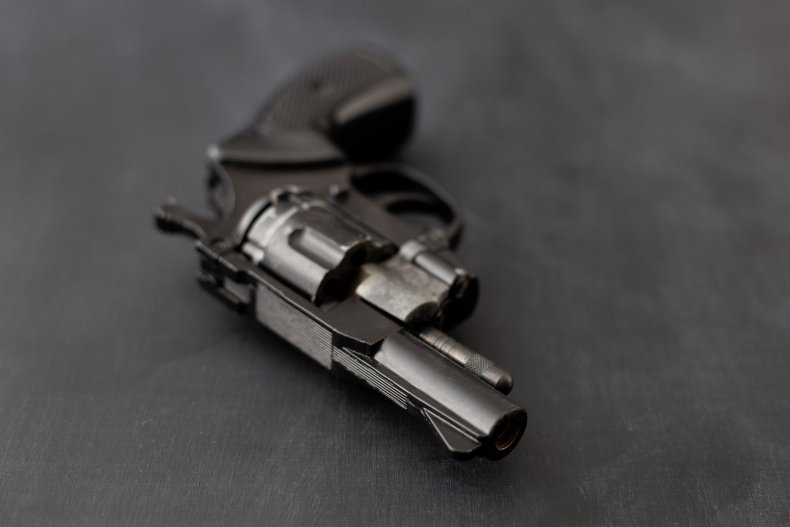 Kentucky Man Accidentally Shoots Himself in Mall Restroom | U.S.