Phoenix Man Shoots Himself in Face Trying to Quiet Down Neighbors
After attempting to quiet down his upstairs neighbors, a frustrated man pulled a handgun and fired multiple shots into his ceiling. The final one wound up in his face instead.
On Sunday night, police responded to a call from an apartment building on Baseline Road and 36th Street in Phoenix, according to KXNV. When they got there, they found a man with a gunshot injury to his face.
After interviewing witnesses, police determined that the man had been upset by his upstairs neighbors making too much noise around midnight. He attempted to confront them directly, to no effect.
Phoenix police sergeant Vince Lewis told KTAR that the man "had banged on the (neighbors') door, yelling at them, trying to make contact during this argument." He then headed back downstairs and allegedly retrieved a handgun from his apartment.
Police say that he then pointed the gun upwards towards his ceiling and discharged several shots, the last of which somehow wound up striking him in the face. No other people were injured in the incident.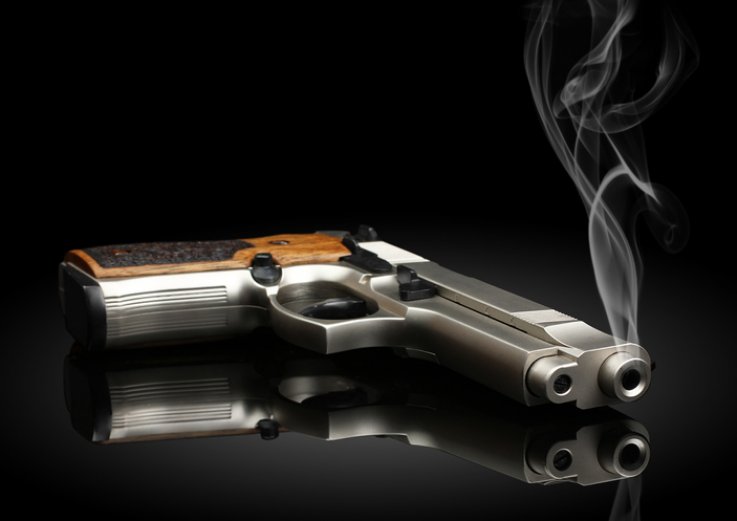 The gunman was taken to a nearby hospital in critical condition. Police are still not certain as to how the suspect managed to shoot himself in the face. The investigation is continuing but no charges have yet to be filed.
The nonprofit Gun Violence Association recorded 28,159 firearms injuries in the United States in 2017, a 10% decrease from the previous year. Incidents categorized as "unintentional shootings" accounted for 1,597 of those.
Unintentional shootings make up 1.3% of gun deaths and 18% of gun injuries according to the Giffords Law Center. The majority of those involve victims under 24. Interestingly, younger victims are more likely to be accidentally shot by someone else, while older victims are more likely to shoot themselves.
Having a firearm in the home significantly increases the risk of being injured in a gun-related accident. A 2003 study found that the relative risk of death in a home with a single gun was 3.7, increasing to 3.9 in a home with multiple firearms.
Just last Wednesday, a 63-year-old Michigan man discharged his .22 caliber rifle into his face while raccoon hunting, according to Michigan Live. He was able to walk to a nearby house to call for help and get taken to the hospital.
On September 7, police found the body of a young man in Lynnwood, WA north of Seattle. Investigators said that 15-year-old Zae'Shaun M. Easton had been playing with a handgun when it accidentally went off, killing him. Detectives are still trying to determine where he obtained the weapon.
Phoenix Man Shoots Himself in Face Trying to Quiet Down Neighbors | News