Man Shoots at Wife And Her Brother After She Lands at Tulsa Airport—Police
Police say a man started shooting at his wife and her brother shortly after a flight landed in Tulsa, Oklahoma.
The couple had gotten into a fight in Houston, Texas, over Thanksgiving.
The husband returned to Tulsa alone, but had threatened to harm his wife when she landed at Tulsa International Airport (TIA), Tulsa Police Captain Jerrod Hart told KRMG radio station.
She was being escorted to her brother's car by airport police after her flight landed on Tuesday night.
But Hart says her husband then ran out of a nearby parking garage and started firing at the siblings. Both managed to avoid being injured, he said.
Airport police returned fire, striking the man in the foot. One of the airport officers was shot in the chest, but was protected by his bulletproof vest and is expected to recover as he was wearing a bulletproof vest, Hart added.
The husband was taken to hospital. He will be taken into custody after undergoing surgery, police said.
Authorities have yet to release his name or detail any charges he could face.
Police said they were interviewing his wife and her brother and working to determine what prompted the shooting.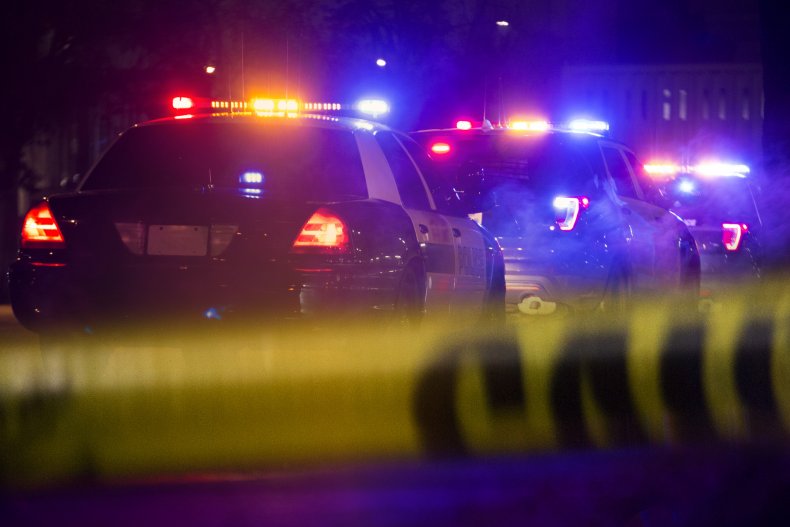 Fox23 reporter Julia Gorman wrote in a tweet that an airport transit van with five people inside, including a young child, got caught up in the shooting. Some of the people in the van were hit by shrapnel, but sustained no serious injuries.
The Tulsa Police Department has been contacted for additional comment.
In unrelated news, the man accused of firing a gun in his bag at Atlanta airport has turned himself in.
Kenny Wells, 42, had been waiting at Hartsfield-Jackson Atlanta International Airport's main security checkpoint on November 20 when his bag was pulled aside by a Transportation Security Administration worker for an extra search.
During the search, Wells lunged into the bag and grabbed a gun, causing it to go off, police said. Wells fled with the gun, then dumped it in a trashcan—where authorities discovered it a few days later.
The incident prompted chaos at the airport and false reports of an active shooter.
Wells turned himself in to the Clayton County jail on Tuesday. He is charged with carrying a weapon or long gun at a commercial service airport, reckless conduct, discharging of firearms on property of another and possession of a firearm by a convicted felon.
Updated at 9:40 a.m. ET on 12/1/21: This article has been updated with additional information.