Man Shot Dead by Officers Used Woman As 'Human Shield,' Denver Police Say
A man who was killed by officers in Denver at the weekend had used a woman as a human shield, police said.
Christopher Escobedo, 33, was shot dead in the 1500 block of North Meade Street at around 4.30 a.m. on Saturday—one of three men killed in police shootings in the city in a week.
During a news conference on Wednesday, Lt. Matt Clark, of the Denver Police Department's Major Crimes Division, provided details about what led up to Escobedo's death.
Clark said an Adams County deputy had noticed Escobedo's vehicle in the parking lot of a store with no visible license plates.
Deputies followed the vehicle and initiated a traffic stop shortly after 4 a.m. Escobedo initially pulled over, but then drove off as a deputy exited his vehicle to approach him, Clark said.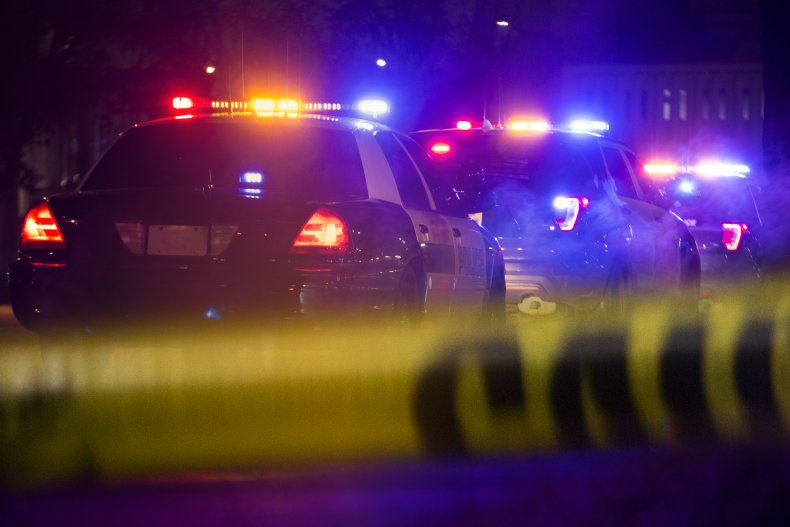 Clark said Escobedo then shot at deputies several times during a high-speed chase lasting 14 minutes.
"Shortly after the pursuit was initiated, the driver flashed a handgun in the air with his left hand out the driver's door window," he said. "He then pointed it back out the window toward the deputies and fired multiple shots."
At one point, a "frantic" woman who was in the car with Escobedo called 911 and said Escobedo threatened to kill her if the pursuing deputies didn't back off. The dispatcher heard a man screaming during the call, according to Clark.
Escobedo eventually crashed his car after Adams County deputies deployed stop sticks, deflating the vehicle's tires.
After he and the woman exited the vehicle at Conejos Place and Meade Street, Escobedo allegedly held a gun to the woman's head and used her as a human shield.
"As she was attempting to get away from the vehicle, the male grabbed her and he continued to maintain control of her by wrapping his left arm around her chest and neck while holding the handgun to her head with his right hand," Clark said.
"The male positioned himself between her and the officers, using her as a human shield."
Escobedo refused to comply with verbal commands and made "suicidal statements," according to Clark.
An Adams County deputy shot Escobedo, leading him to fall to the ground and allowing the woman to escape.
But Escobedo was still moving, Clark said, and maintained possession of his handgun.
Clark said when he pointed it toward officers, four additional officers—two Adams County deputies and two Denver police officers—fired their weapons at Escobedo.
They immediately called for an ambulance and provided medical aid, but Escobedo was pronounced dead at the scene.
The woman, who was not identified, was unharmed. The officers at the scene were not injured either.
Investigators recovered 51 shell casings at the scene of the shooting, Clark said. They also recovered a loaded, semi-automatic handgun as well as an additional magazine with ammunition.
Clark said there is no evidence Escobedo shot his weapon during the standoff, but investigators removed four shell casings from his vehicle.
None of the five officers involved in the incident have been involved in a police shooting before.
The Denver police officers were wearing body cameras, which were activated at the time of the shooting. They are on modified duty, Clark added.
Adams County deputies aren't equipped with body cameras.