Man Shot Inside Atlanta Theater Over 'Spider-Man' Seating Assignment Dispute, Police Say
A man in a movie theater in Atlanta was shot and taken to the hospital on Monday after being involved in an argument over seating during a showing of Spider-Man: No Way Home.
In a statement released on Tuesday, the Atlanta Police Department said that around 10:45 p.m. on Monday they responded to an AMC theater to "a report of a person shot."
"On scene the officers found an adult male with a gunshot wound. The preliminary investigation found that the victim was involved in a dispute with the suspect about seat assignments in the theater," police stated.
During the argument, the suspect shot the man, and then fled. The victim was taken to the hospital in stable condition, according to police.
The department said it is seeking the public's assistance in identifying a male suspect involved in the alleged aggravated assault.
Police told the media Tuesday that they had released footage of two people who are "significantly involved in this incident," The Atlanta Journal-Constitution reported.
A video posted by online by the police department shows two people, a man wearing a black jacket over a white hooded sweatshirt and a woman in blue wearing a winter hat, walking into the theater.
In an incident report posted online, police say that the victim, Re Quan Kentrell Otey suffered a gunshot wound to the abdomen. A witness, Miranda Renae Ross, who said she was on a date with Otey at the theater "stated the suspect proceeded to tell Mr. Otey multiple times that they were sitting on their seats," according to the report.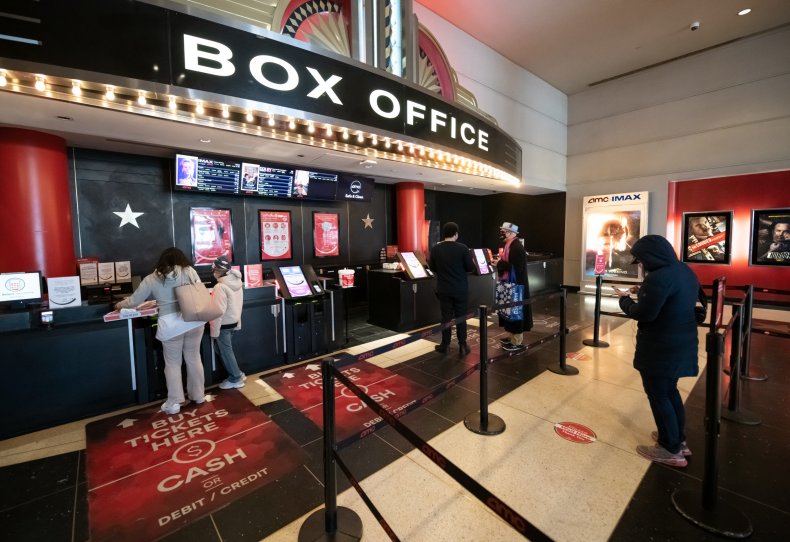 "Ms. Ross stated Mr. Otey and the suspect began to get loud, argue back and forth and that is when the suspect stepped back, lifted his shirt and pulled out a handgun and fired one shot at Mr. Otey," police wrote.
"Ms. Ross stated she then ran out the theater and made her way to the exit when she observed Mr. Otey had been shot in the abdomen," they added.
When reached for additional details and updates in the case, the Atlanta Police Department referred Newsweek to the information it has posted online.
In a separate incident in Corona, California, in July, a man was accused of shooting and killing two people in a movie theater.
One of the people killed in the shooting at the theater in Corona was TikTok star Anthony Barajas. Police said at the time that they believe the attack was unprovoked.