Man Slammed for Returning Fiancée's Wedding Dress at Mom's Request
Commenters slammed a man on Reddit for returning his fiancée's wedding dress behind her back after his mom picked out a different one.
The original poster (OP), known as u/Throwaway9757657, posted about the incident in the forum "Am I The A**hole?" on Friday where it received more than 18,000 upvotes and 9,100 comments. The post can be found here.
Mothers-in-Law and Conflict
Research shows that toxic mothers-in-law often have a tough time respecting boundaries and are inconsistent with their moods, causing added stress for some individuals.
According to one study published in the journal Evolutionary Psychological Science, both men and women reported experiencing more conflict with their in-laws than with their biological parents. Nearly half of respondents also said they experienced more conflict with their mothers-in-law than with their biological mothers.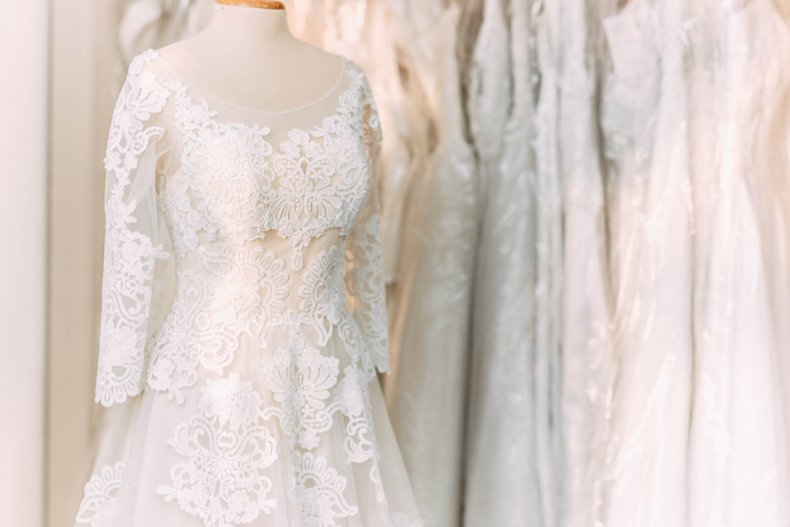 'AITA?'
In the post titled, "AITA for my reaction when I learned that my fiance returned my wedding dress and replaced it with the one his mom picked for me?" the 28-year-old woman said she is getting married in December.
While she said she gets along with her fiancé's mother, the OP explained that she is the "intrusive type," but "nice overall."
"I hate to admit that wedding planning has been an absolute nightmare," the post read. "His mom wasn't willing to agree on most things, and my fiance said that since he's her only son then I should respect and appreciate this 'vision' she has for the wedding and how it should be."
Recently, the OP went wedding dress shopping with her mom, some friends, and her future mother-in-law who "insisted" on going.
Although she found the dress she was looking for, she said her fiancé's mother picked a different one and said that she "always pictured her son's bride in it." The OP said her friends and mom were "creeped" out by the comment and she said the dress was not her style.
"I apologized and thanked her for her 'vision' but told her that I'd already decided on a dress that I had 'envisioned' myself wearing at my wedding," the post read.
'Consider the Dress'
When her fiancé came home later that day, he started "ranting" about how upset his mom was that she "turned down" her dress choice and "excluded her" from the experience.
The OP told her fiancé she didn't think his mother should have a say in her dress at all, but he became upset and told the OP her "attitude" wasn't "working on him" or his mother.
"He said that I should consider the dress his mom wanted me to buy especially knowing that 'both dresses weren't that much different anyway' like she said," the post read. "But I told him yes they were different...like so much different."
On Thursday, the OP said she came home to find her wedding dress was gone before later finding out that her fiancé returned it in exchange for the dress his mom chose.
"I called him and he was straightforward about what he did and why he did it," the post read. "I lost it and started screaming at him. He asked me to calm down and really give this dress 'a chance.'"
The two then got into another argument before she left and went to stay at a friend's house. She then began receiving texts and calls from her fiancé saying she "overreacted" and that this is "his wedding too."
"He went on and on about how his mom has a 'vision' and good intentions and just wants what is best for me as her future daughter in law," the post read. "Mom is livid and has been wanting to go scream at him and his mom but my dad said that this isn't worth ruining my relationship with my in-laws."
Rather, the OP's father suggested she "wisen up" and "go with the flow."
"Is it too much for me to be able to pick my own wedding dress without being guilted about it just to keep the peace?," the post read. "AITA for my reaction?
Redditors React
Many who commented suggested that the OP leave her fiancé over the situation.
"Hand him the ring back...say 'I hope you get the wedding you and your mom have always hoped for.' Walk away," one user commented.
"NTA. It's good that this is happening now," another user commented. "This is not a dynamic that is going to change with either your fiancé or his mother. RUN."
"Maybe his mum could wear it to the wedding and stand in for you," another user commented.
"Wise up and run a mile. Next step is picking your honeymoon and coming along," another user commented. "Run, run, run, run and then run some more."
"NTA, sane response: call off the wedding," one user commented. "Comedy response: take his suit back and exchange it for a clown outfit. Also, your Dad is being ridiculous too."
Newsweek reached out u/Throwaway9757657 for comment.
Other Viral Posts
In another viral Reddit post, a bride was slammed this week for lying to a guest about children being at the wedding while another was backed in July for keeping her nephew away from her wedding.
In addition, a woman was praised earlier this month for "upstaging" an insecure brideat her wedding.
Has a wedding come between your relationship with a loved one? Let us know via life@newsweek.com. We can ask experts for advice, and your story could be featured on Newsweek.