A man who was found dead at a Maryland home, where he kept more than 100 snakes, died of a snake bite, according to reports.
The man was found dead on January 19 this year after officers responded to a report from a concerned neighbor who had not seen the 49-year-old since the previous day.
The neighbor checked on him and saw that he was lying on the floor, according to a Charles County Sheriff's Office press release at the time.
Emergency responders forced entry into the home and pronounced the man deceased. Inside, they found over 100 venomous and non-venomous snakes that were being kept in tanks on racks.
The species of the snakes varied.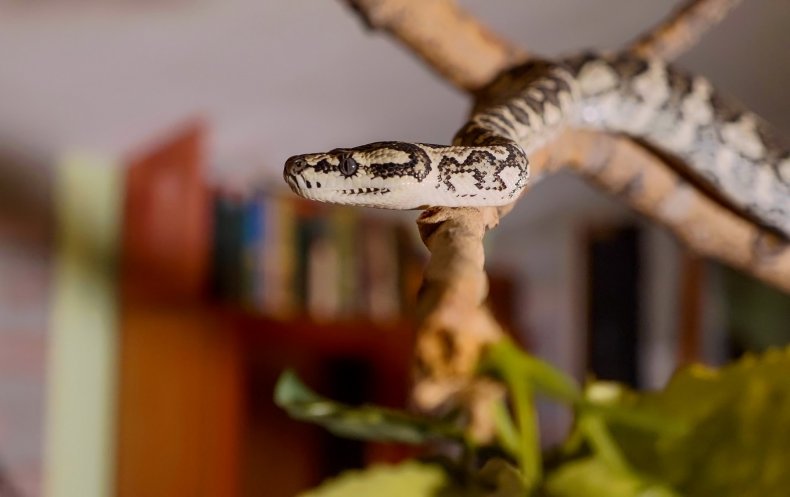 The sheriff's office said there were "no obvious signs of foul play" and that the death was being investigated.
On Wednesday this week, the state medical examiner's office ruled that the man died of "snake envenomation" and was accidental, officials confirmed, according to NBC Washington.
Charles County spokesperson Jennifer Harris told reporters at the time that nobody seemed to be aware of the large number of snakes at the property, NBC News reported, and that the animals held there included rattlesnakes, cobras, black mambas and a python.
NBC journalist Tom Lynch posted footage on Twitter back in January of people unloading snakes in containers from the property into a vehicle.
Newsweek has contacted a Charles County animal control official for more information.
Snake envenomation refers to someone being exposed to snake venom by being bitten. Some snakes also spray their venom, which can lead to exposure.
The World Health Organization (WHO) states that the exact number of people bitten by snakes per year is unknown, but is estimated to be 5.4 million with 2.7 million envenomings.
The health agency states that around 81,000 to 138,000 people die each year because of snake bites, while the number of amputations and permanent disabilities may be around three times that.
Bites by venomous snakes can be dangerous, potentially causing paralysis that may prevent breathing or lead to organ damage. Venomous snake bites can be treated with antivenom.
Snake bite numbers are particularly high in Asia, where up to two million people are envenomed every year. In Africa it is estimated that around half a million snakes bites need treatment annually, the WHO states.
The health agency says under-reporting of snake bites is common and that it has taken steps to raise the awareness of health authorities on the issue.