Man Sought After Cutting Cables to Satellite Dishes, Knocking Out TV Stations in Florida
A man was caught on camera Sunday slicing through the cables of a local TV conglomerate's satellite dishes in Florida, temporarily knocking a number of stations off the air.
Video footage shows the man cutting through and removing cables from nine satellite dishes in the parking lot of WJHG Panama City abound 9:30 p.m. Beyond shutting down WJHG, the damage led to the station's parent company, Gray Television, losing the signals of a number of other networks.
A team of repair crews was forced to work through the day on Monday to restore power to the satellites.
After noticing the satellite signals were down, a WJHG employee went outside to check, where he found the unknown man, according to the station. The man told the employee that he was stationed at nearby Tyndall Air Force Base as a member of the Navy, and was told to cut the wires.
Before the employee could confront him further, the man took off running and disappeared.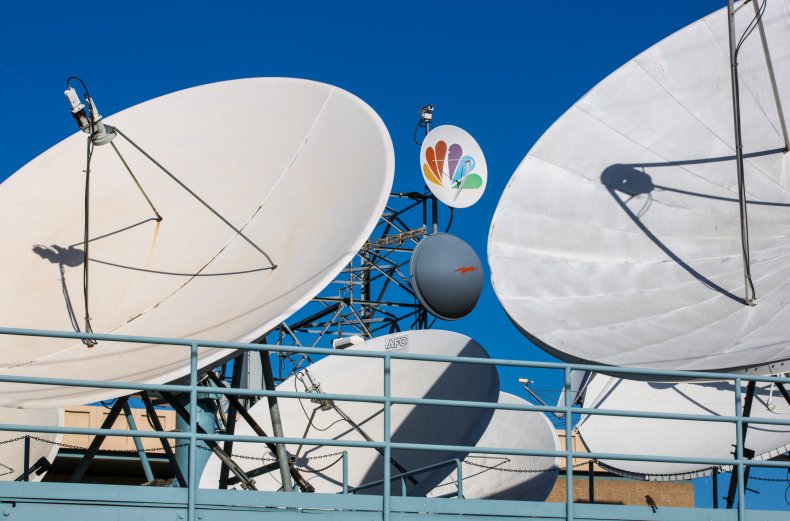 The employee told law enforcement that the man, reportedly a white male, had been dressed in camouflage pants with a darker jacket. The Bay County Sheriff's Office, within the station's jurisdiction, was unable to locate anyone who matched the description.
If he is eventually caught, the sheriff's office stated that he could potentially face a number of serious federal charges.
Network officials stated that the person seemed to know what he was doing, and that the crime was likely not a random act of vandalism.
"This person ... knew how to disable and make it very difficult to repair the satellite dishes," said the general manager of WJHG, Ulysses Carlini. "... The individual was methodical in disabling and strategically cutting cable that linked all of our satellite dishes to our facility."
"So we are asking for the public's help. That's so important that you take action to hopefully avoid another situation like this in the future," Carlini added.
WJHG's parent company, Gray Television, is a large broadcasting company that operates TV stations in over 100 U.S. markets. Notable cities with Gray stations include New Orleans, New York, Anchorage, and Nashville.
Currently, the group has a multibillion pending purchase of the television branch of Meredith Corporation, another large media company with notable magazine brands like Travel + Leisure, Entertainment Weekly, and People.
At the completion of the sale, Gray Television states that it would own "television stations serving 113 television markets that collectively reach 36 percent of US television households."
Newsweek has reached out to the Bay County Sheriff's Office for comment.