Man Spent 20 Years Protesting Confederate Monument, It's Now Being Removed
A Texas man spent more than two decades protesting a Confederate monument in his town square—and it is finally being removed.
Willie Hudspeth has fought for the removal of the Confederate solider memorial in Denton's Courthouse on the Square for almost 21 years.
On June 9, Denton County Commissioners Court voted to remove the monument, which was erected in 1918, and relocate it.
According to NBCDFW, Denton County Judge Eads said during the meeting that the decision was "not taken lightly."
He said the court decided that the monument should be moved after "weighing the potential for future harm to our businesses, potential for harm to anyone who might seek to destroy it and the enforcement resources needed to protect it."
"Some may view this as a symbolic victory, but at the end of the day, this is a matter of public safety," he said.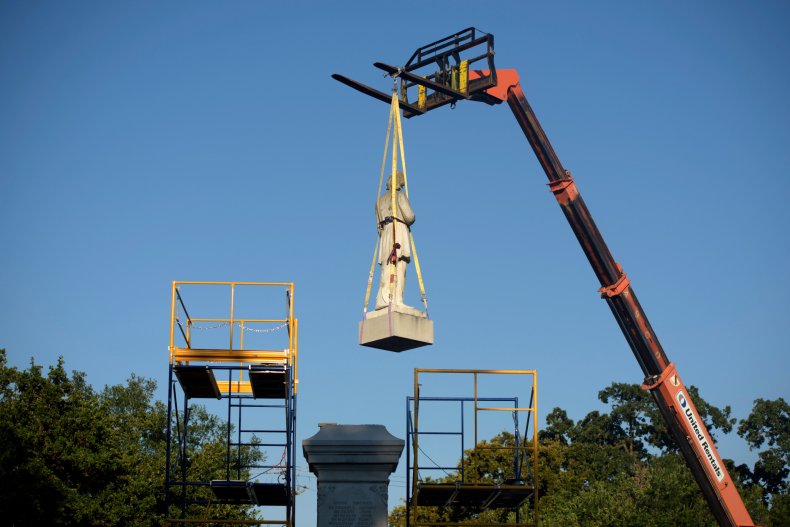 Despite the reasons for the decision, Hudspeth welcomed it.
He told the station that he disagreed with those who said the monument was intended to honor soldiers from Denton County.
"This is not for the soldier, I don't think," he said. "I think it was put in a prominent position to show honor to that cause."
Hudspeth, a retired teacher and Vietnam War veteran, spent many Sundays over the past 21 years holding signs protesting the monument.
He said he originally wanted to see it torn down, but over the years, started calling for it to be moved.
Following his victory, an online petition is calling for Denton City Council to declare June 9 "Willie Hudspeth Day" in "honor of his years of service to the community and dedication to equality."
Meanwhile, a Denton resident started a GoFundMe campaign to raise funds to send Hudspeth and his family on a well-earned vacation.
"For over two decades Mr. Willie Hudspeth has spent his weekends protesting the confederate soldier monument on our town square," Stephanie Alessandra wrote on the page.
"With the news of its removal to a museum we would like to honor Mr Hudspeth and his dedication and determination with a celebration. Though we know there is much change to still be made we are thrilled for this victory and grateful to you sir."
The campaign, started on June 9, has already raised more than $8,000. Alessandra has been contacted for comment.
Protesters in recent weeks have torn down monuments of Confederate generals and other controversial figures, such as Christopher Columbus, amid ongoing demonstrations against racism sparked by the death of George Floyd while in police custody last month. Others have been removed by authorities.