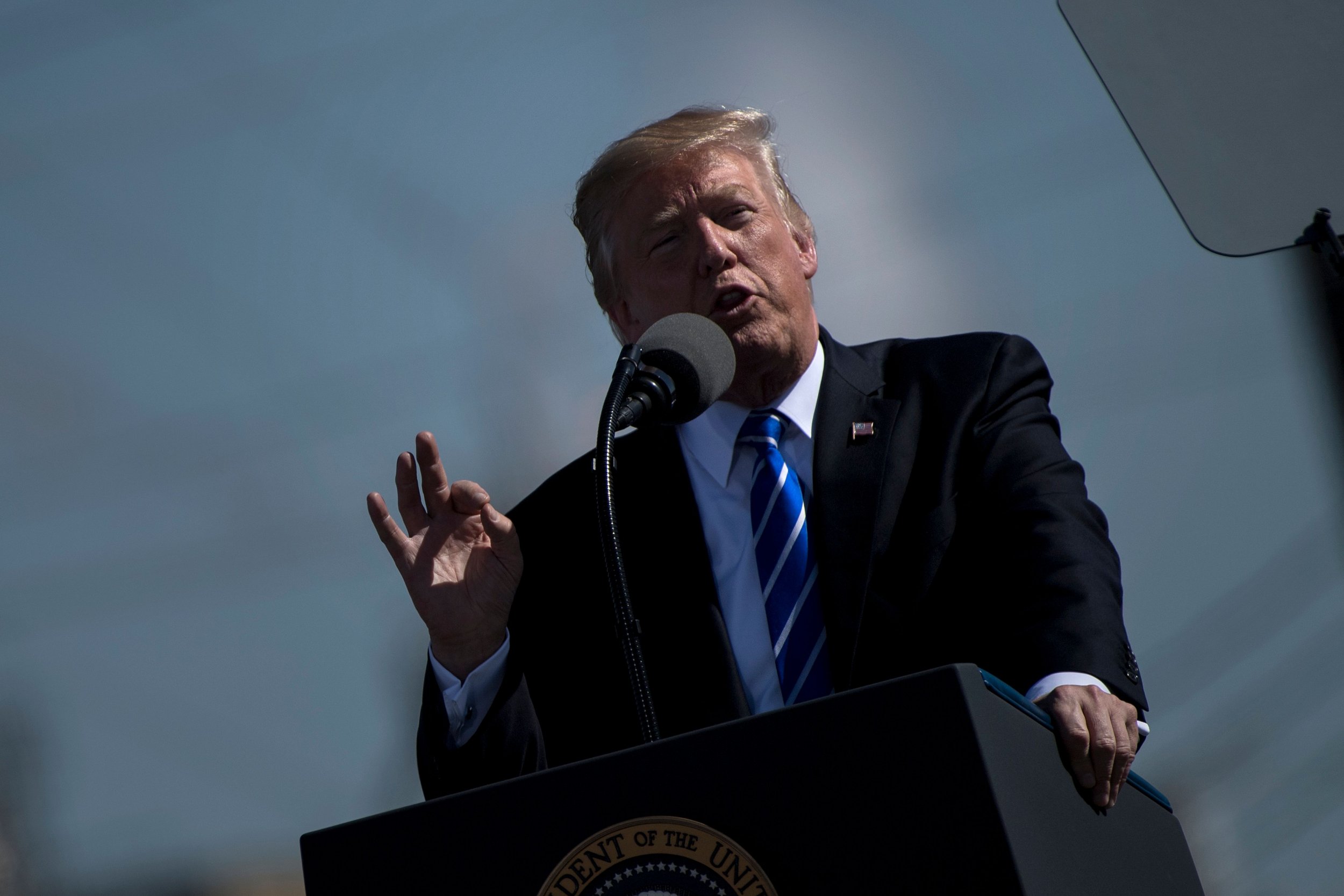 A North Dakota man reportedly admitted to hatching a plan that would possibly injure or kill President Donald Trump.
In federal court on Friday, Gregory Lee Leingang, 42, pleaded guilty to attempting to enter or remain in a restricted building and on grounds while using a dangerous weapon. Leingang was charged after he hatched a plan to steal a forklift with the intent of flipping Trump's limousine, according to The Bismarck Tribune.
Prior to the president's arrival in Mandan, North Dakota, on September 6, 2017, for a speech at Andeavor Refinery, U.S. Assistant State Attorney Brandi Sasse Russell said Leingang stole a forklift. He then entered the motorcade route with Trump as his target.
"The intent was to basically try to get to the limo, flip the limo and get to the president, and he wanted to kill the president," Sasse Russell said.
However, his plot was foiled when the forklift got stuck in a gated area. Sasse Russell explained that after the forklift got trapped, Leingang fled but was apprehended by Mandan police. He later admitted to Mandan detectives and a member of the United States Secret Service that he planned to use the forklift to flip the president's limousine, according to Sasse Russell.
Before he stole the forklift, Leingang set two fires at the Bismarck Municipal Ballpark maintenance shop and the state parole and probation office. Leingang told U.S. District Court Judge Daniel Hovland that he was diagnosed with attention deficit hyperactivity disorder and bipolar disorder, for which he has been taking medication for on and off since he was 12 years old.
"He was suffering a serious psychiatric crisis during this incident," Michelle Monteiro, Leingang's public defender, said in court, according to The Bismarck Tribune.
Leingang pleaded guilty to stealing the forklift and setting the fires, as well as, burglary in a separate case. He was sentenced to five years for stealing the forklift, 10 years for setting the fires and five years for burglary, making his estimated release date 2038.
Given the length of prison time already assigned to him for his previous guilty pleas, Sasse Russell told The Bismarck Tribune that she is considering time served concurrent to the state sentences. Leingang is scheduled to be sentenced in February.
This isn't the first time someone has been arrested on accusations of attempting to kill Trump. In June 2016, when Trump was a presidential candidate, Michael Steven Sandford was arrested at a rally in Las Vegas after he reportedly tried to grab a police officer's gun in an attempt to kill Trump.
Sandford, a resident of the United Kingdom, told a Secret Service agent that he planned to be killed during the assassination, according to NPR. In December 2016, he was sentenced to one year in prison, the Independent reported, but was allowed to return to the United Kingdom in May 2017.