Man Stumbles on Porsche Abandoned 'Deep in the Woods' 40 Years Ago
An incredible abandoned car in Millersburg, Ohio, has amazed the internet after pictures of the 1957-1959 Porsche 356 Cabriolet were shared on Reddit.
Nestled "deep in the woods" on a piece of land that his mom's friend owns, David snapped the picture of the car that has been there for "at least 40 years" on a trip to her house.
"Every year we go over for a cookout. I would always walk into the woods to look at it. I just decided to post it this time," he told Newsweek.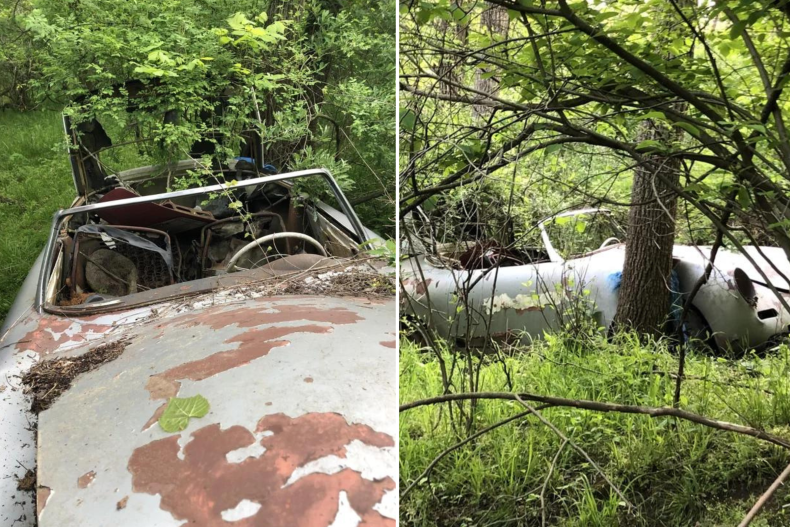 Rusted, broken up and overrun with nature, nobody is quite sure when or how the Cabriolet ended up where it is.
The classic Porsche 356 Cabriolet is part of the Porsche 356 range which was produced from 1948 to 1965. One of the earliest sports models manufactured by the famed car maker, the sleek body and curved roofline has become synonymous with classic automobiles.
Designed by Ferdinand "Ferry" Porsche, son of company founder Ferdinand Porsche, the 356 Cabriolet is said to have been inspired by the Volkswagen Beetle.
With a convertible roof, the 356 Cabriolet had a star-studded fanbase, including iconic Hollywood actor James Dean who famously owned a Porsche 356 Speedster, a variant of the Cabriolet.
Singer-songwriter Janis Joplin also drove a 1964 Porsche 356C Cabriolet—famously customized with a vibrant paint job.
Alongside the abandoned car there is also a trailer, which made David think that maybe someone has tried to rescue it in the past. "There is a trailer near it with a license plate still attached. That plate expired in 1984. The car itself has no plates," he said.
"Based on the trailer being there, I believe there was an attempt to remove it but it didn't work for some reason. I would best predict that it rolled into the woods, and was scrapped there," he added.
David shared pictures of the abandoned car on the subreddit r/whatisthiscar where hundreds of people reacted to the incredible discovery.
"That still is worth some serious bucks for parts alone," said one Redditor, while another wrote: "It's probably absolutely worth restoring it. For some rarer models alone the peice of metal where the vin is stamped in is worth to build a complete new car around that."
"It's your retirement if you can get it out," suggested another reply.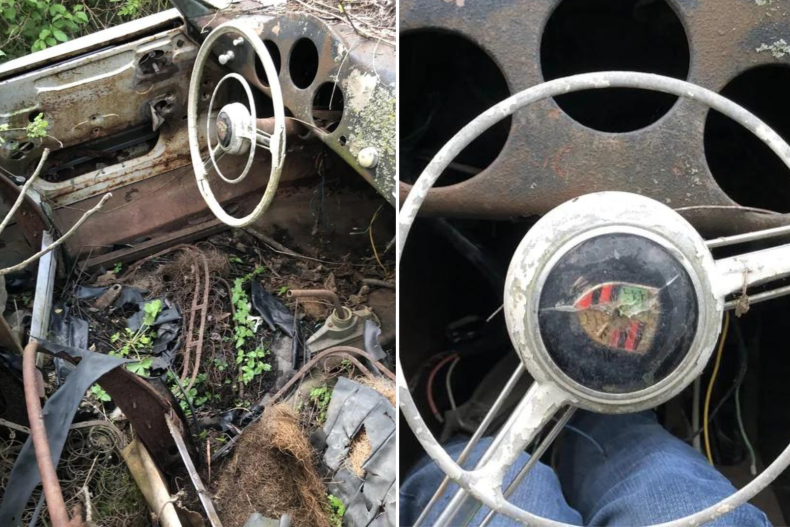 "I'd certainly be interested in retrieving it. It's deep in the woods and surrounded by trees," said David. "Getting it out would be a hell of an effort but ultimately very cool to do."
"I don't own the land. My mom's friend does and therefore has the authority to make that decision," he said.