Man Sues After Being Blasted With Fire Extinguisher in Viral Video
Jonathan Bird, who went viral after a restaurant owner sprayed him with a fire extinguisher for smoking in Salt Lake City's Gallivan Plaza, is suing his assailant for damages, according to the Salt Lake Tribune.
On September 20, Bird was volunteering for the city's Urban Arts Festival. He left his post for a smoke break and lit up near vegan restaurant Boltcutter. Quickly, the owner of the restaurant, Alex Jamison, approached him and asked him to move, which Bird did.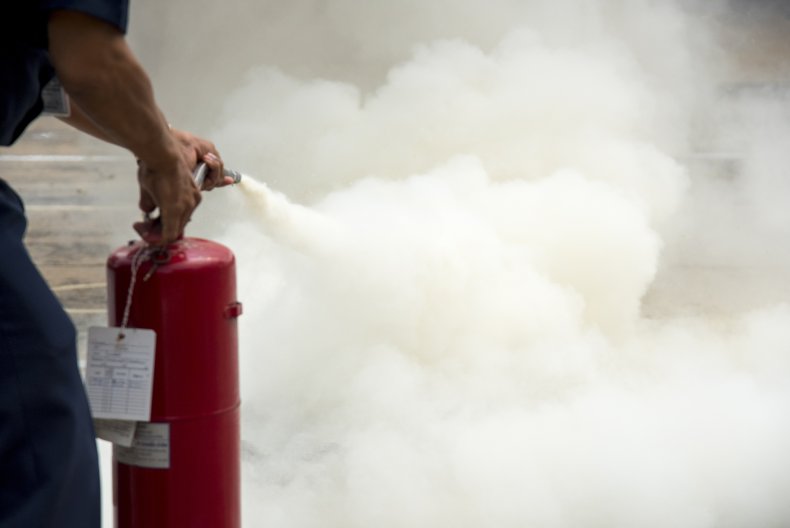 When Bird returned to the plaza several hours later for another cigarette, according to his suit, he made sure to stand at the opposite end of the plaza from Boltcutter. Even so, he says that Jamison once again approached him and requested he put his cigarette out.
Witness Elaina Henderlite pulled out her phone during the second confrontation and began recording. In the video, which she posted to Facebook, Jamison says "You can't smoke right here" and points the nozzle of the extinguisher at Bird's face. Bird flinches away, then turns to face Jamison, at which point the restaurateur pulls the trigger on the extinguisher from a few feet away and gives Bird a full force spray in the face.
Henderlite posted the clip on Facebook, where it quickly racked up over 100,000 views. She has since deleted it.
Bird spoke to ABC 4 after the incident, where he expressed his intention to sue. He told the station "It's not just white powder that magically puts out a fire. They put certain chemicals in there for a reason. One of them is to suck the oxygen out of the fire. So potentially putting that into my lungs is suffocating them and sucking my oxygen as a human."
Fire extinguishers contain a variety of chemicals, none of which are considered immediately toxic. The most common include monoammonium phosphate and sodium bicarbonate, both of which can irritate skin and mucous membranes but typically present no long-term health risks.
The suit claims that both Bird and Henderlite have experienced health problems since being sprayed with the fire extinguisher, and are seeking damages to cover their medical expenses as a result of the incident.
Jamison has announced that he will be stepping away from Boltcutter and the two other restaurants he co-owned, Cultiva and Monkeywrench. The suit alleges that Jamison's divesting himself from the businesses is an attempt to protect his assets, as his umbrella company Buds, LLC is a named party in the lawsuit.
According to the Tribune, the Salt Lake City Police Department has investigated the incident and sent their findings to the county prosecutor, who will determine if criminal charges can be filed against Jamison.